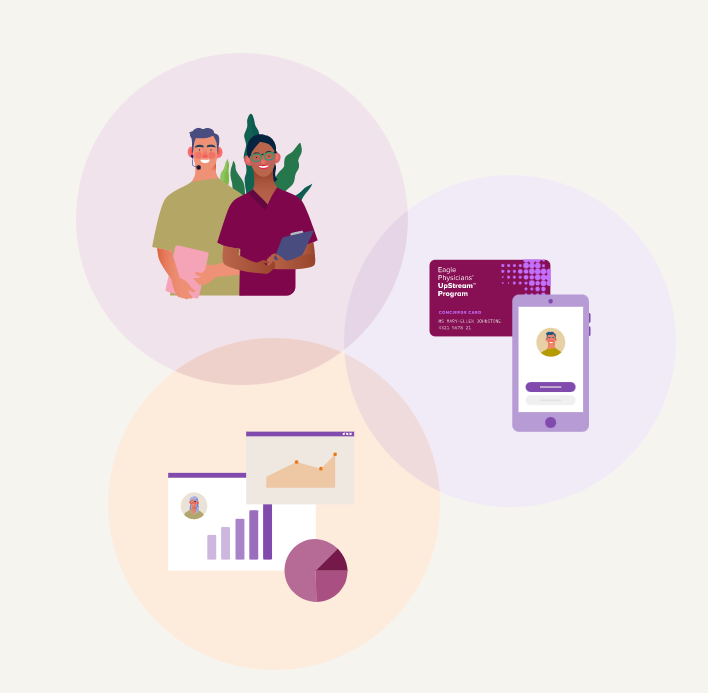 What You Should Know:
– Value-based care provider UpStream raises $140M in Series B funding co-led by Coatue and Dragoneer with additional participation from other top healthcare and technology investors, including Avidity Partners, Define Ventures and Mubadala. This round brings its total funding to nearly $185M to date.
– UpStream supports physicians operating under full-risk, value-based arrangements who are providing care to seniors on Medicare with an integrated platform that emphasizes care quality, health equity and total cost of care. Its comprehensive suite of services and technology solutions empower physicians to achieve better outcomes for themselves, their practices, and their patients.
How Upstream's VBC Model Works
UpStream works by embedding pharmacists and other clinical staff into primary care physician practices and supports physicians with proprietary technology that anticipates patient needs, supports patient care, improves quality, and helps coordinate care for seniors with chronic conditions. UpStream also takes on full risk for patients as well, and has been proven to drive mid to high single-digit cost savings per patient in its contracts.
UpStream's clinically led teams coordinate care for patients with the greatest medical and social complexity. The company has helped its provider customers decrease in-patient and post-acute spend by 20 percent in mature cohorts while still allowing them to maintain an average 4.5-star quality performance for contracted seniors attributed to those practices.
Recent Expansion
Powered by this success, UpStream has expanded rapidly, partnering with physician groups in multiple states like North Carolina, Virginia, and South Carolina. For 2023 UpStream already announced new network relationships with Community Care Physician Network in North Carolina, Tidewater Medical Group in Virginia, and Medical University of South Carolina Health Alliance, and independent physician association Primary Care Associates in South Carolina. As adoption of value-based care models continues to spread across the healthcare industry, UpStream plans to use the funding to scale its model to physicians nationwide, enabling them to transform the lives of their senior patients. J.P. Morgan acted as sole placement agent.