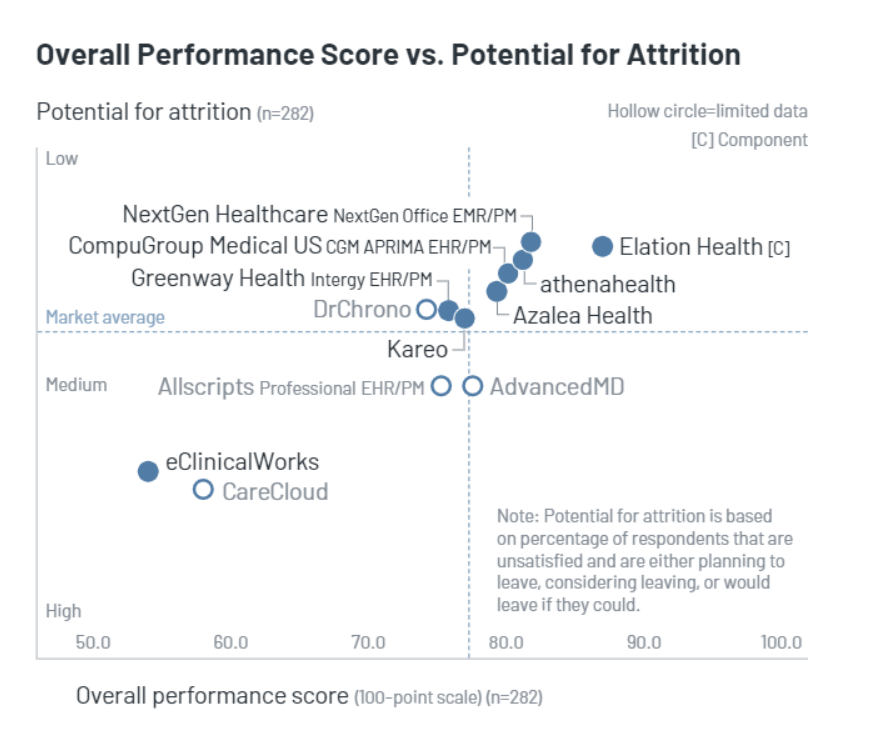 What You Should Know:
– A new report by KLAS provides the latest view on how the major vendors in this market perform and which ones stand out in the areas that small practices (2–10 physicians) care about most.
– Small practices provide a significant amount of outpatient care in the US, and their needs differ from those of their larger counterparts. When it comes to EMR/PM technology, these practices expect up-to-date functionality, steady product performance, solid implementation and training, and an integrated suite of solutions from a single vendor—all at a price point that makes sense for a small practice's budget.
Expanding Horizons and Evaluating Functionality in the Sphere of Small Practice Ambulatory Settings
Each year, KLAS interviews thousands of healthcare professionals about the IT solutions and services their organizations use. For its latest report, interviews were conducted over the last 12 months using KLAS' standard quantitative evaluation for healthcare software, which is composed of 16 numeric ratings questions and 4 yes/no questions, all weighted equally. Combined, the ratings for these questions made up the overall performance score, which was measured on a 100-point scale. The questions were organized into six customer experience pillars—culture, loyalty, operations, product, relationship, and value.
Key insights garnered from the report are listed and explained as follows:
1. The Top Overall Performers For Small Practices: Elation Health has the highest-scoring EMR among small practices.† Though the vendor does not offer their own native PM solution, interviewed customers—whose average practice size is just three physicians—report that the EMR has the functionality they need to deliver care. Customers also say the vendor provides stable, effective developments to meet practices' changing needs.
NextGen Healthcare, athenahealth, and Azalea Health offer stable, comprehensive, and easy-to-use cloud-based solutions that don't burden customers with the complexities of a multivendor technology stack. Following CompuGroup Medical US' 2020 acquisition of eMDs, customers of the latter have seen a notable jump in satisfaction, due in large part to improvements in account management, proactivity, and vendor relationship. eClinicalWorks and CareCloud customers are highly dissatisfied (see next sections for details), and many are currently exploring other options or expect to do so in the near future.
2. Improvements in Vendors' Delivery: AdvancedMD customers have reported steady improvements to the vendor's delivery of new technology over the last few years, and AdvancedMD is now one of the top-rated vendors in technology-related metrics (i.e., functionality, product quality, ease of use, and delivery of new technology). Many respondents highlight the PM functionality for enabling them to better manage their financial performance. athenahealth customers have seen more moderate product improvements.
Customers feel athenahealth does well at communicating and following through on a development road map. Allscripts, DrChrono, CareCloud, and eClinicalWorks have all seen their delivery of new technology ratings fall more than 10% since 2019, with many customers feeling that the vendors do little to communicate about what is being developed.
3. Receiving Strong Value: Elation Health customers report strong value from the solution, citing its simple navigation and reliable functionality. Additionally, customers appreciate the vendor's transparent pricing that limits unexpected costs. Kareo customers tend to be quite small (~three physicians); they report that Kareo is transparent about pricing and provides good functionality for practices their size. athenahealth customers feel the vendor's comprehensive ambulatory solution meets most (if not all) of a small practice's HIT needs, allowing them to efficiently deliver care and removing much of the burden that comes from running a billing office in-house. NextGen Healthcare's robust technology and integrated, comprehensive suite lead customers to report that the solution provides good value; however, some cite nickel-and-diming as a concern.
4. Leaders in Key Areas of Training and Relationships: Though training is not always a top priority for provider organizations, it can significantly impact users' overall satisfaction. Data from KLAS' Arch Collaborative demonstrates that clinicians who receive strong initial training are significantly more satisfied with their overall EMR experience than those who don't. Elation Health customers say the vendor ensures customers use the product effectively and takes the lead in training on new capabilities (e.g., telehealth), allowing customers to focus on patients. Of particular note is the vendor's "panic button," which gives providers access to immediate support during a patient visit. NextGen Healthcare has made significant improvements to their account management, and customers now say the account managers are empowered to resolve issues and are proactive in identifying areas in which customers could use additional help, including navigating changing government requirements.
Some eClinicalWorks customers report that needed training is no longer free and that the training they do get is too generic to be useful. There is also strong frustration with the vendor's support, with representatives often described as unknowledgeable, unhelpful, and unresponsive to tickets. Those using CareCloud have seen their relationships deteriorate considerably since the acquisition by MTBC in 2020. Respondents say MTBC eliminated account representatives from the support structure, leading to extremely unresponsive support people who do not follow up on tickets. Customers looking for extra training are often deterred due to the extra cost.