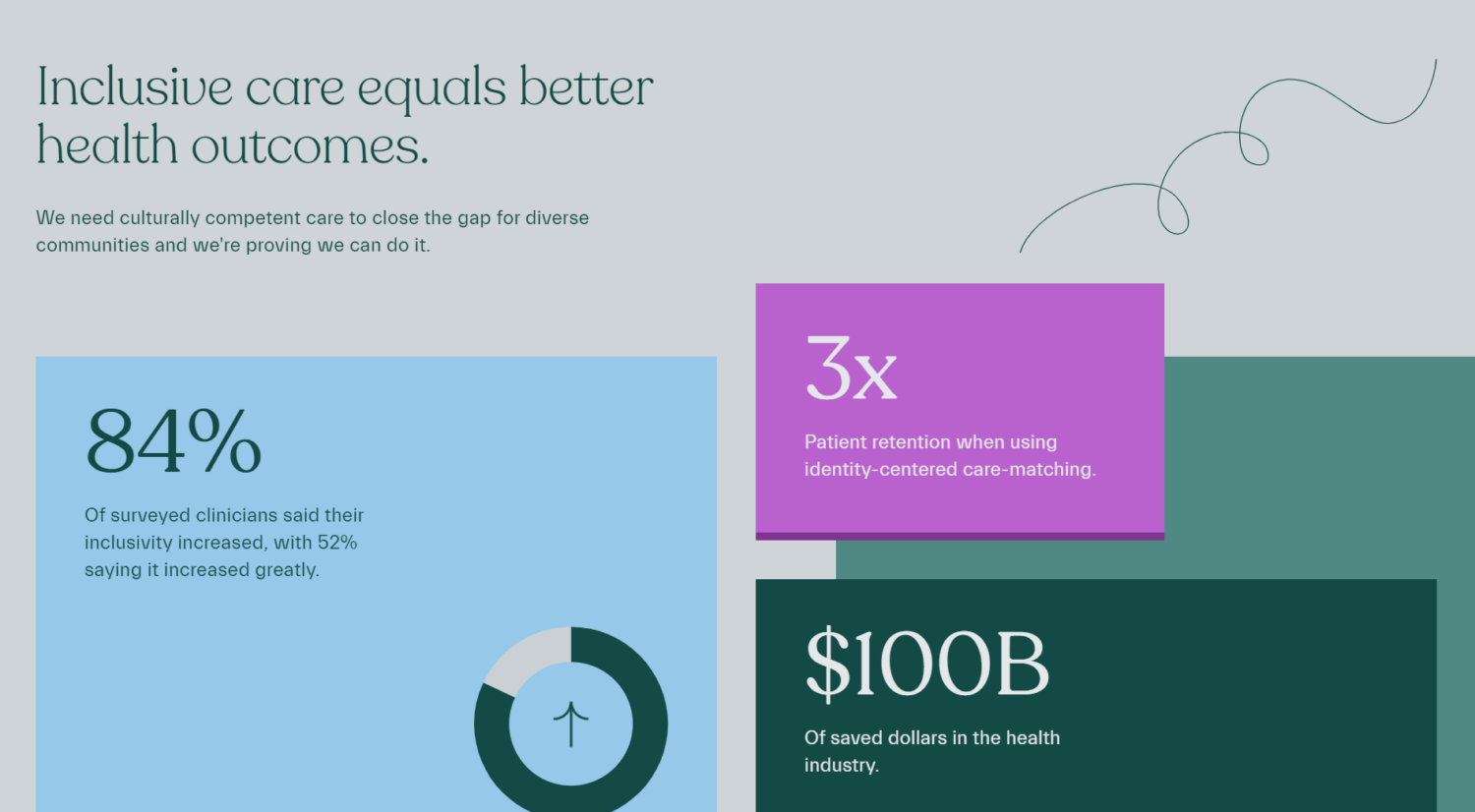 What You Should Know:
– Violet, the first-ever cultural competence credentialing, upskilling, and care coordination platform for clinicians, released today a new clinical research report showing the validity of a framework for standardizing and measuring cultural competence in clinicians.
– The framework was piloted with payors and providers, and garnered a 90% retention rate over industry standards of care. Developed by two academic researchers at Violet, the report explains the need for standardization of cultural competence and why the previous lacking of this standardization is a barrier to better care.
Improving Patient Retention Rate Through Increased Cultural Competency
Violet is the first healthtech platform to offer cultural competence credentialing, upskilling, and care coordination for clinicians. Research shows that inclusive care is proven to generate better health outcomes and Violet's credentialing platform is the first step to building health equity for all.
Violet's proprietary framework for cultural competence in clinicians paired with identity-centered care coordination can achieve both better engagement and better care.
Payors and providers that have engaged with Violet's framework, credentialing, and upskilling, have already seen better outcomes immediately. Some of the reports key findings include:
1. 89.7% patient retention on day 90 of care; 40% higher than rates frequently cited for mental health services
2. On average, patients missed less than a single session across one year of services, with the majority of patients attending all scheduled sessions
3. Clinicians were successfully onboarded to Violet's pilot clinician marketplace in less than two weeks on average and had 100% retention
The results of the study support the feasibility and utility of credentialing cultural competence in clinicians and provide evidence of benefit in both patient–and clinician–level outcomes.
As a proof of concept for the application and benefits of identity-centered credentialing and care routing, Violet offered a pilot platform matching clinicians with patients. Violet recruited mental health clinicians and benchmarked them on their understanding of LGBTQ+ communities along with competencies across a range of intersectionalities. These clinicians were matched with a socioeconomically diverse group of mental health service-seeking patients with a broad range of clinical and identity intersectionality-related needs, which allowed Violet to a) test a framework for cultural competence in clinicians and b) create a care coordination model for what identity-centered care can achieve.
"Personalized, identity-centered care is essential to improving outcomes," said Gaurang Choksi, CEO and founder of Violet. "It's one thing to find a clinician who can treat a patient's symptoms, but it's never been more imperative for a patient to have someone who understands their identities. Our preliminary research reveals through Violet's early-stage product that cultural competence in clinicians helps patients return to that clinician and follow the prescribed level of care, all due to increased trust and relatability. We're excited to build upon our research so that we can say conclusively that Violet simply leads to better outcomes. Right now, our research is a good indication."
By 2045, over half of Americans will be diverse with race, sexual orientation, gender identity, and more. Yet, health care is failing these Americans. Racial disparities alone have led to 3.5M life years lost in just 2020. Violet's team—a group of mission-driven queer, BIPOC, and Disabled individuals—believes the solution is at the clinician level, thereby improving health outcomes and saving almost $100B in excess care spend.
Since its pilot in2020, Violet now offers a continuing education platform built on the initial concept and research, and upskills and credentials clinicians in cultural competence for better patient outcomes. Today, the platform is trusted by leading health orgs, including Brightline, Galileo, Parsley Health, Headway, Octave, and NOCD to launch identity-centered care for their patients. Violet's customers are continuing to prove the power of inclusive care with improved patient health outcomes.