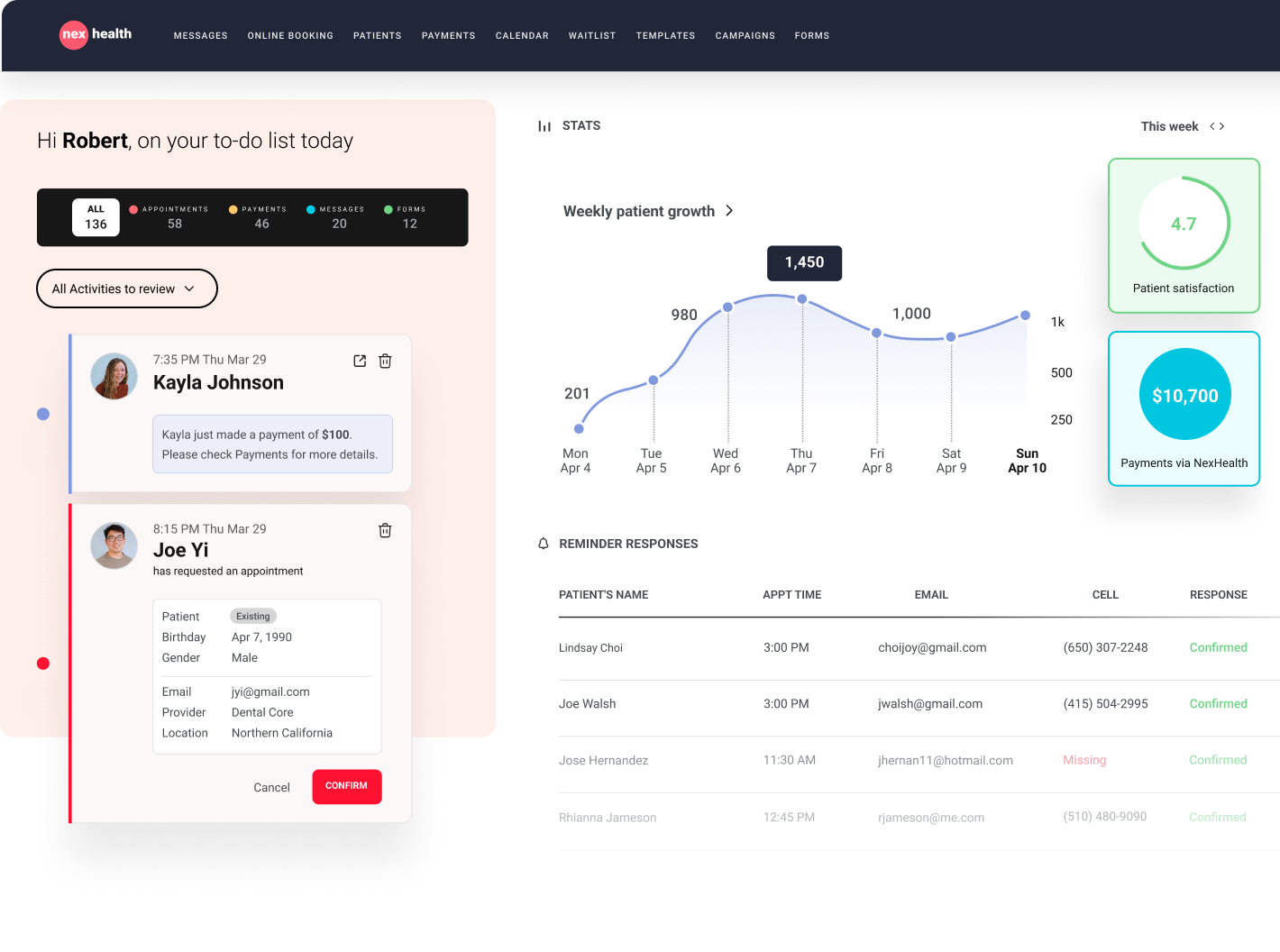 What You Should Know:
Today, NexHealth announced its $125M Series C funding, bringing the company's valuation to $1B for its patient experience platform.
– The funding will support the company in advancing its mission to create a more streamlined doctor and patient experience while building the seamless technological infrastructure needed for future health tech entrepreneurs to innovate upon. 
---
NexHealth, a San Francisco, CA-based patient experience management platform for patients, doctors, and developers announced it has raised $125M in Series C funding at a $1B valuation led by Buckley Ventures, with additional participation from Lachy Groom, Jack Altman, Scott Belsky, Shreyas Doshi, Eric Glyman, Shahed Khan, Packy McCormick, and Rahul Vohra. The financing will fuel talent acquisition as well as the development of new platform features designed to streamline the patient experience. Customers using the NexHealth practice management platform include Mid-Atlantic Dental Partners, Coast Dental, and Jefferson Dental.
Patient Experience Platform Built for Doctors and Developers
Patients today spend more out-of-pocket, shop for care, and have high expectations from their doctors. Doctors, on the other hand, are struggling with low reimbursements and increased competition. Patients are expecting more, and doctors want to meet those expectations. This is where NexHealth comes in.
Founded in 2017 by Alamin Uddin after working as a medical receptionist while enrolled in a pre-med program in New York, NexHealth CEO Alamin Uddin saw first-hand the inefficiencies and technical barriers for patient management facing medical practices. NexHealth's patient experience management platform enables doctors to give their patients an end-to-end experience with key features like real-time online booking, text/email billing, automatic reminders, recalls, two-way messaging, reviews, campaigns, and reports. The Series C funding marks the investor's confidence in NexHealth's path towards digitizing the front-end patient experience, automating the back-end administrative processes for providers, and building a universal API to empower developers to build the next great healthcare product.
NexHealth API
NexHealth's Universal API integrates healthcare data from many EHR systems to break down the data silos that have traditionally slowed the pace of health tech innovation. Health tech companies including Quip, Swell, and SmileDirectClub have partnered with NexHealth to enable their developers to build and deploy new products faster for patients and doctors. With its developer-centric approach, NexHealth's API provides a gateway to patient health records for developers so they can rapidly innovate and go to market with new technology solutions.
Expansion Plans
The new financing will be used to drive strategic talent acquisitions to advance NexHealth's mission to accelerate innovation in healthcare. In addition to developing new doctor-facing platform features designed to streamline the patient experience, such as one-click booking and integrated forms, NexHealth will expand its integrations with practice management systems and EHRs to provide developers and health tech entrepreneurs with greater access to healthcare record systems through its universal API.
"Consumers have frictionless digital experiences when doing virtually anything except visiting the doctor's office," said Uddin. "We've come to expect very little innovation in the healthcare world, and NexHealth is here to change that, accelerating innovation in healthcare by connecting patients, doctors, and developers," said NexHealth CEO Alamin Uddin.