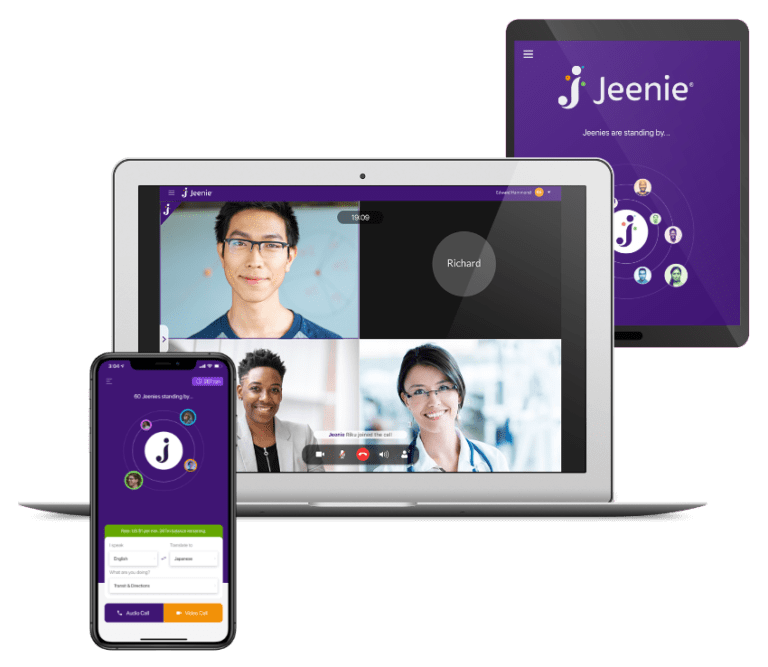 What You Should Know:
– Jeenie, an industry-transforming virtual interpreting platform that connects clinicians and patients to live interpreters on-demand raises $9.3M in Series A funding led by Transformation Capital.
– Jeenie is a virtual interpreting platform that connects users to a video or audio call with live, qualified interpreters in 300+ languages for on-demand language assistance, 24/7. Jeenie's interpreters are accessible through the Jeenie platform from any smartphone, tablet, or computer, as well as through third-party integrations.
Eliminating Language Barriers Across U.S. Healthcare 
Language barriers in U.S. healthcare are a leading cause of inequitable access to quality care, a disparity exacerbated by the transition to telehealth post-Covid. One in five people in the United States speaks a language other than English, resulting in hundreds of thousands of conversations happening every day between caregivers and their patients where language discordance risks poor treatment outcomes and legal consequences. Limited English-speaking and deaf patients disproportionately suffer adverse events during care, as well as higher rates of hospitalization and morbidity due to misdiagnosis and mistreatment that result from language barriers. Healthcare providers face ever-increasing risks of malpractice, with 55% of cases resulting from miscommunication.
Experienced Medical Interpreters At Your Fingertips
Jeenie is an on-demand, user-friendly, and scalable platform that serves the needs of healthcare organizations of any size, from small clinics to large health systems. Caregivers open the app on their mobile device or computer, select the patient's language, and tap a button to start a video or audio call with an interpreter. 
Caregivers can:
– Get help 24/7 in 300+ languages, on-demand or scheduled, including American Sign Language, rare, and indigenous languages
– Connect to a medically-qualified, HIPAA-trained interpreter in under 30 seconds on video or audio, without call centers, operators, or login hurdles
– Use the app on any device and operating system, in any situation, from the ER, to a patient room, to a home visit
– Rate interpreters after each session, ensuring constant and immediate quality control
– Integrate interpreting into telehealth platforms, call center operations, and videoconferencing services
Availability
Jeenie is available for download on any mobile device or tablet in the App Store or Google Play Store, and on desktop through the Jeenie client portal.