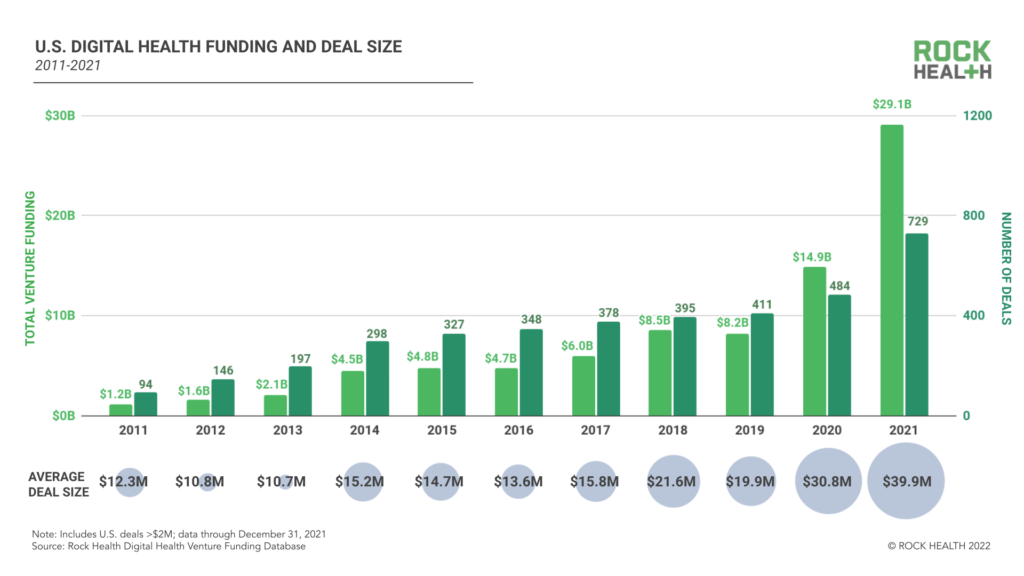 What You Should Know:
– Digital health funding in the U.S. reached $29.1 billion across 729 deals, according to latest research from Rock Health, a full-service venture fund dedicated to digital health. The total nearly doubles 2020's $14.9B record with an average deal size of $39.9M.
– The findings signal both the cause and effect of trends in the healthcare landscape as the digital health sector deals with major changes to its infrastructure, business models, and talent pool that will make downstream effects in 2022 inevitable.
---
Key Forces Shaping Digital Health Sector
In the report, Rock Health finds three key market forces reshaping the digital health sector from the group up:
1. Infrastructure buildout
In 2021, digital health infrastructure and interoperability startups secured $2.2B across 40 deals in 2021, nearly 3x 2020's dollars invested in the category ($736M). Today's infrastructure landscape includes companies like Innovaccer ($105M), Redox ($45M), and Ribbon Health ($43.5M) that integrate data streams into unified API ecosystems, while TripleBlind ($8.2M and $24M) and Truveta ($95M and $100M) enable cross-company data analysis. ScienceIO ($8M) and Centaur Labs ($15.9M) streamline data structure and labeling, while Commure, Truepill ($142M), Wheel ($50M), and Zus Health ($34M) offer "LEGO kits" or building blocks for others to get digital health solutions up-and-running.
2. Nimble business models
As the most severe portions of the pandemic subsided in 2021, healthcare sales cycles returned to pre-pandemic timelines and point solutions faced more trouble proving out differentiated value to overwhelmed buyers. 2021 also saw healthcare startups expand across product categories and step into complex care delivery. A leading cohort of digital health companies forgoing fee-for-service models and moving toward value-based care. Value-based care models encourage providers to utilize any range of physical and digital approaches to deliver quality care at reduced cost.
3. Talent Wars
The Great Resignation has impacted healthcare tremendously leading to an all-out talent war for strong software engineering and product teams, as well as strategic guidance from healthcare leaders who have been around the block. Not to mention, digital health players delivering care need to compete with the broader healthcare industry for clinical talent and caregiver staff—a cohort of employees that are just plain burned out.
Career stress, exacerbated by the COVID-19 pandemic, pushed a greater number of clinicians to consider leaving medicine at the same time that non-traditional healthcare employers began hiring physicians and ramping up clinical roles. For digital health companies in service delivery (calling all virtual clinics), clinical talent may be a rate-limiting factor for growth.
---
Digital Health Adoption Stabilizing at "New Normal"
Digital health adoption appears to be stabilizing at a 'new normal' following the onset of the COVID-19 pandemic. Rock Health finds that the investor community is settling into a long-term funding stride for digital health as there remains a healthy mix between new (45%) and repeat (55%) investors in the sector, balancing new cash with the consistent behavior of industry experts. Rounding out the diverse mix, big tech players are investing and acquiring in the space, joined by a growing number of middle children—smaller but still-sizeable retail and tech companies like Best Buy that are increasing their forays into digital health.
Another key signal in the digital health market maturation is the growing rate of digital health exits (M&A activity). Over the past decade, roughly one in four (23%) digital health dollars invested has gone to companies that ultimately exited; 13% of those funds went to companies that merged or were acquired, while 10% went to companies that exited onto the public markets. Compared that to 2019, only 15% of digital health's investment dollars had exited.
Rock Health experts expect digital health's exit pace to stay active. 2021's substantial Series D+ raises (1.8x growth in the average Series D+ check size between 2020 and 2021) provide a rough estimate of companies that might be gearing up for IPO roadshows and SPAC pipe fundraising in the near future. For new entrants, this "senior class" of digital health companies offers a real-time playbook for go-to-market strategy and building market share.
---
Other key findings from the Rock Health report include:
Competitive VC Landscape
– 2021's VC landscape heated up with the participation of new funds and growth firms—including Tiger Global, which participated in 25 digital health deals in 2021 (second only to General Catalyst's 37).
– Digital health startups saw an opportunity in these market conditions and raised multiple rounds close together, with 60 companies raising twice in 2021 and two companies raising three rounds within the calendar year.
– From 2020 to 2021, the average Series A round grew 38% to $18M, while the average Series B grew 23% to $43M—just $3M less than 2019's average Series C. The year also saw a record number of mega ($100M) early-stage deals, including ten mega ($100M+) Series B raises and one mega Series A round (EasyHealth).
Top Funded Categories
– Digital health companies catalyzing R&D in biopharma and medtech topped the chart with $5.8B in funding, stimulated by the COVID-accelerated adoption of real-world evidence and decentralized trials.
– Investments in digital products supporting disease treatment grew 2.6x between 2020 and 2021 as coverage pathways for prescription digital therapeutics widened. Healthcare marketplaces also experienced a 3.2x year-over-year funding growth, driven by upticks in D2C marketplaces (Mindbody), caregiver marketplaces (Honor $370M)2, and clinical job boards (Trusted Health $149M across two rounds).
Mental healthcare raised $5.1B, $3.3B more than any other clinical indication in 2021, and nearly double 2020's funding total ($2.7B). Trends driving investment in this category include the integration of mental health services into broader virtual care platforms (think K Health acquiring Trusst) and the rise of virtual options for intensive mental and behavioral health needs, led by companies like Lyra Health ($200M), NOCD ($33M), and Equip Health ($13M).
– Diabetes care and musculoskeletal (MSK) care startups, conditions that can increasingly be managed virtually also increased in 2021. MSK funding grew six-fold between 2020 ($236M) and 2021 ($1.4B), as virtual MSK clinics Hinge Health ($300M and $400M) and Sword Health ($25M, $85M and $163M) each completed multiple raises across the year.
IPO and M&A Activity
– 2021 saw an average of nearly 23 digital health exits via merger or acquisition each month, almost double 2020's monthly average of 12.
– 23 digital health companies went public via SPAC or IPO in 2021, almost triple the previous peak of eight in 2020.
---