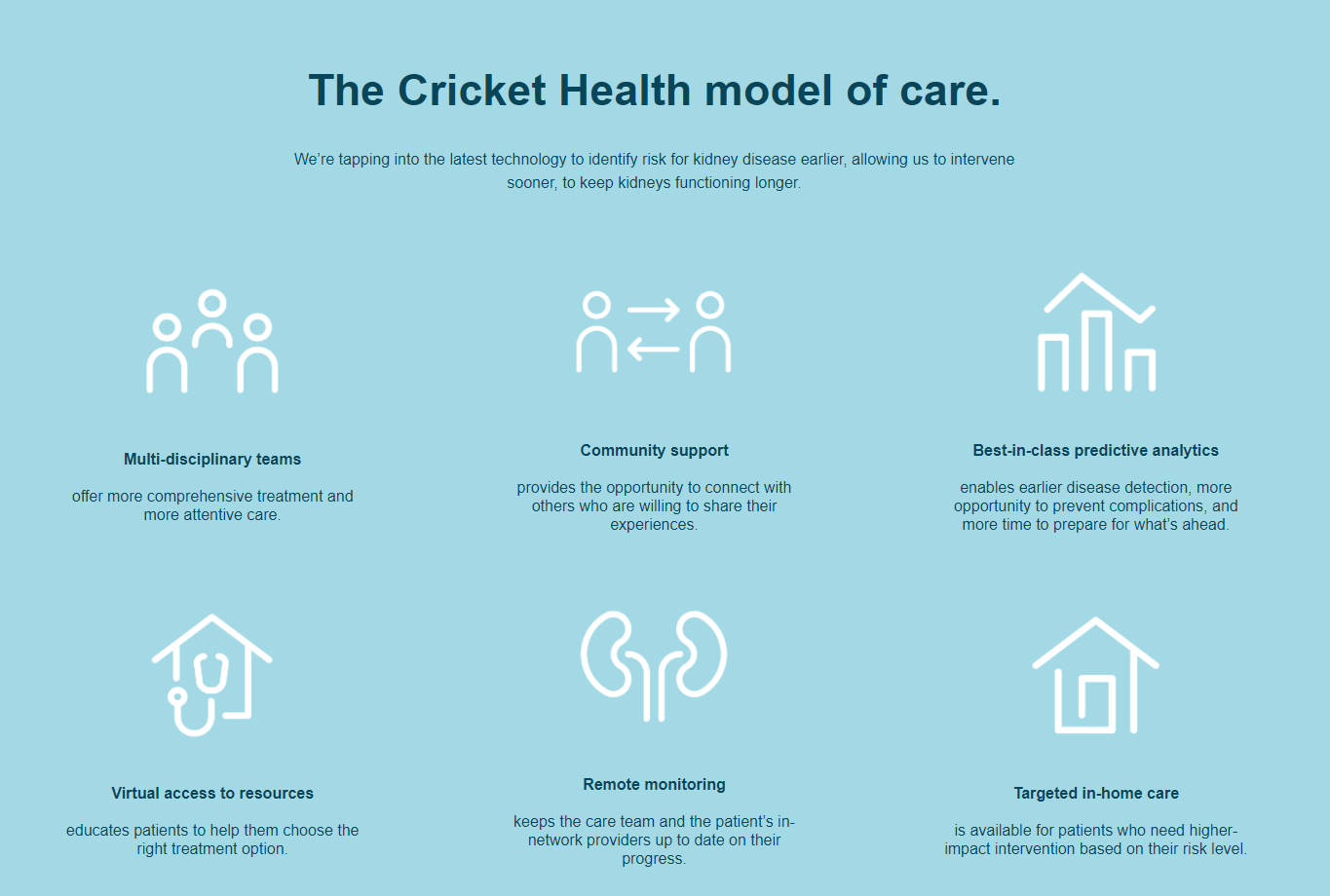 What You Should Know:
– Cricket Health, a San Francisco, CA-based provider of value-based kidney care with a clinically-proven approach to managing chronic kidney disease (CKD) and end-stage kidney disease (ESKD), today announced it has raised $83.5 million in Series B funding round led by Valtruis with a strategic investment from Blue Shield of California. The round also includes existing investors Oak HC/FT and Cigna Ventures, as well as K2 HealthVentures.
– This new funding will help Cricket Health bring its proven care model to more people with kidney disease through new partnerships with health plans and nephrology practices across the United States. With the new funding, Cricket Health has raised a total of more than $120 million in equity and debt financing to date.
Cricket Health Background
Cricket Health partners with health plans (commercial and MA) and nephrology practices to manage their patient populations with kidney disease (detecting them earlier, providing wrap around comprehensive support).
Cricket Health has developed a track record of improving clinical outcomes for people with kidney disease, which in turn results in lower costs for health plan partners. In both Texas and California, across Commercial and Medicare Advantage health plan partnerships, Cricket Health has shown marked improvements in key clinical measures for its populations living with kidney disease, including:
– More than 50 percent fewer hospital admissions than the status quo
– 77 percent of those starting dialysis do so in an outpatient setting (compared to the status quo of 40 percent)
– 45 percent who need dialysis are initiating at home (compared to the status quo of 11 percent); and
– 60 percent of those starting dialysis do so with a permanent access placed (compared to the status quo of 45 percent)
Cricket Health's customers (which are currently in Texas and California) have seen outstanding clinical outcomes across the key measures of kidney care: 50% fewer hospital admissions, nearly doubling the number of outpatient dialysis starts, and tripling the number of those who start dialysis at home.