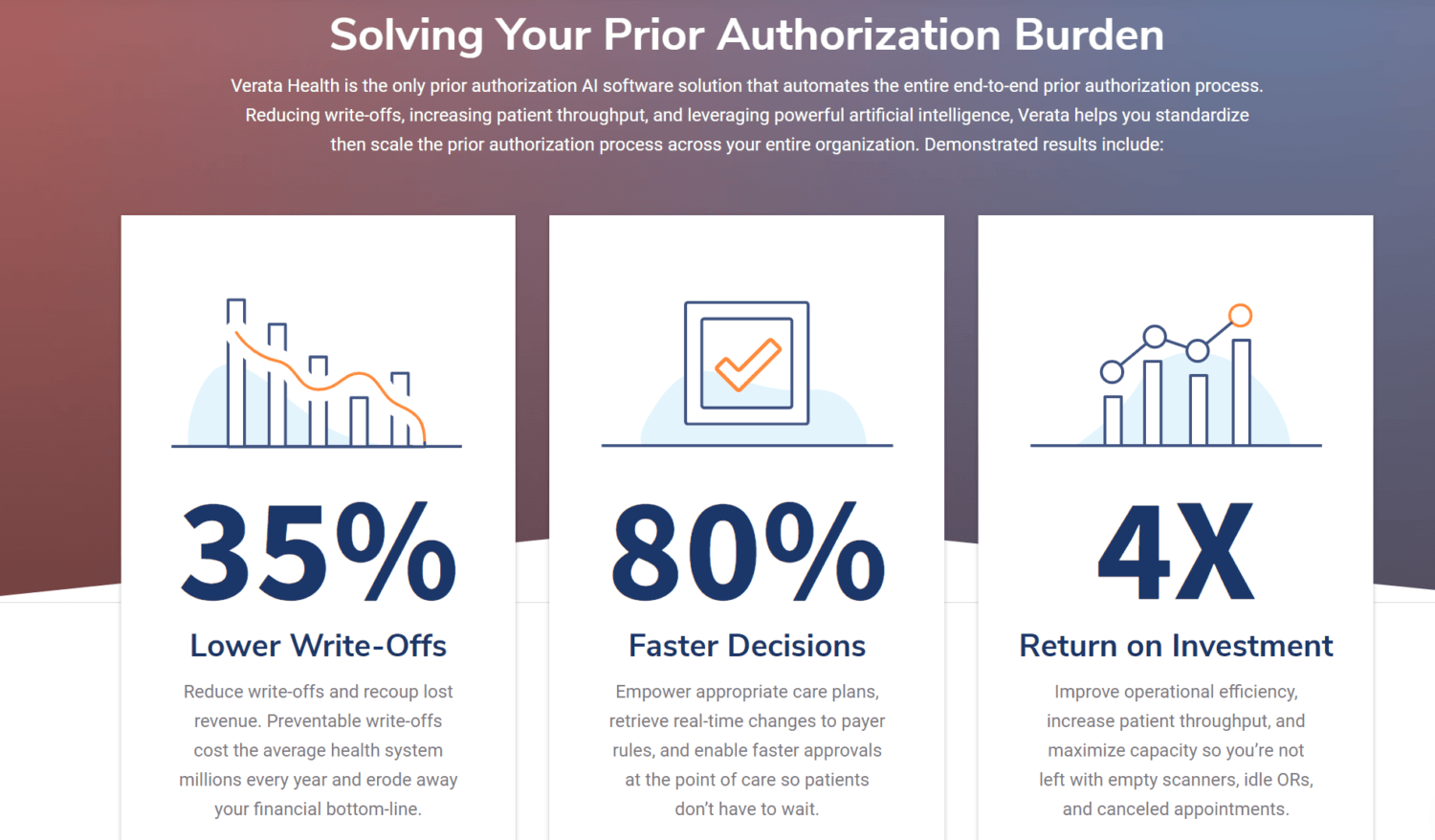 What You Should Know:
– On the heels of $225.5 million dollars in funding and a $1.5B valuation this week, Olive today announced its acquisition of Verata Health to create a combined AI prior authorization solution for providers and payers under the Olive name.
– Prior authorization is a $31 billion dollar issue in healthcare, and one of the top reasons patient care is delayed. Olive is now able to reduce write-offs by over 40% and cut turnaround times for prior authorizations by up to 80%, ultimately offering hospitals $3.5 million in savings.
---
Olive today, announced the acquisition of Verata Health to solve prior authorizations for providers and payers via artificial intelligence as a combined solution under the Olive name. The acquisition follows Olive's recent $225.5 million financing round to bolster the company's R&D war chest and drive the growth of Olive's AI workforce for providers and payers. With Olive's recent momentum, Verata's suite of AI tools will deepen Olive's impact as it automates the $31 billion problem of prior authorizations in healthcare.
Leverage Powerful Prior Authorization AI
Verata is a leading healthcare AI company, enabling Frictionless Prior Authorization® for providers and payers. Seamlessly connected to the nation's top electronic health record (EHR) systems, Verata's AI technology automatically initiates prior authorizations, retrieves payer rules, and helps identify and submit clinical documentation from the EHR. When payers leverage its AI platform, Verata enables point-of-care authorizations for providers and patients, dramatically accelerating access to care.
Solving the $31B Prior Authorization Burden
Prior authorizations were the most costly and time-consuming transactions for providers in 2019 and are among the top reasons patient care is delayed. As cash-strapped hospitals and health systems strive to meet patient, payer, and provider needs, the demand for AI technologies to increase efficiency and improve the patient experience has become critical. To help improve patient access to care and remedy the $31 billion prior authorization challenge, Olive and Verata's combined prior authorization solution streamlines the process for providers, patients, and payers by reducing write-offs by over 40% and cutting turnaround time for prior authorizations by up to 80%.
Acquisition Will Provide End-to-End Prior Authorization
By integrating Verata's solution, Olive is able to provide customers with a true end-to-end prior authorization solution. The solution starts with determining if an authorization is required, includes touchless submission of the prior authorization request, ends with automating denied claim appeals, and grants hospitals a 360-degree view of their authorization performance. This means patients not only get the care they need faster but also eliminates confusing bills patients receive post-service stating their claim has been denied by their insurance.
As part of the acquisition, more than 60 Verata employees will join the Olive team following the acquisition, bringing Olive's total employee count to approximately 500. Olive's senior executive team will continue to grow as well:
– Lori Jones, Chief Revenue Officer, will retain her title and will also take on the role of President, Provider Market
– Dr. Jeremy Friese, Chief Executive Officer at Verata, will join Olive as President, Payer Market
– Dr. YiDing Yu, Chief Medical Officer at Verata, will become Olive's Chief Medical Officer
"A broken healthcare system is one of the biggest challenges humanity faces today and prior authorization issues, in particular, are costing our nation billions of dollars. After partnering with Verata earlier this year, we saw incredible potential for Verata's technology to reduce the amount of time and money spent on prior authorizations, and to eliminate delays in patient care," said Sean Lane, CEO of Olive. "This acquisition allows Olive to accelerate innovation in areas where we can drive the biggest impact, and further expands our solutions to providers and payers seeking to transform healthcare."
Financial details of the acquisition were not disclosed.