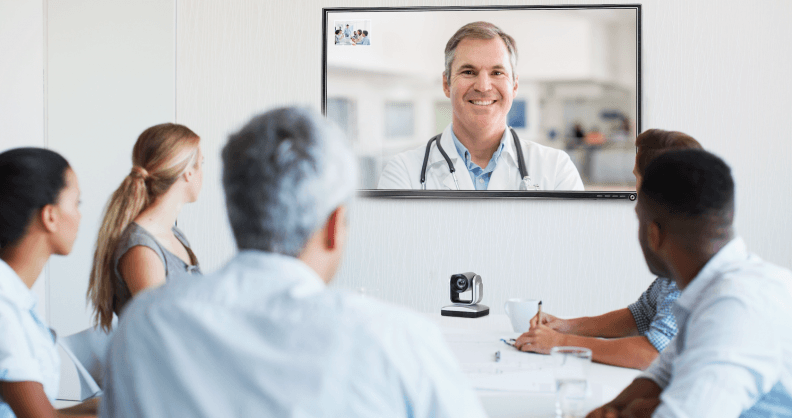 KLAS recently issued a Spotlight on Zoom for healthcare. KLAS Spotlights are first looks at new and emerging technology. Everyone knows Zoom, but how well does the solution perform for healthcare organizations looking to handle the immediate demands created by COVID-19 as well as develop long-term strategic initiatives? In this Spotlight, KLAS examines the early outcomes and satisfaction of some of Zoom's healthcare customers.
Zoom Key Strengths & Challenges for Healthcare Customers
Strengths
– Works as promoted
–  Clients see value in the solution
– Quick implementations, easy initial setup
Challenges
– Phone/web support less responsive due to extreme growth
– Lacks some bells and whistles other telemedicine products may have
– Security is a concern for some  
KLAS outlines four key points to ponder for healthcare organizations considering Zoom:
1. The Solution's Long-Term Viability in Healthcare
In order to remain competitive in healthcare, Zoom will need to improve the solution's integration with EHRs and medical devices and also make it easier for patients to connect to a telehealth session.
2. Impacts and Tradeoffs of the Underlying Technology
Zoom recently adopted Oracle Cloud and also maintains the use of AWS and Azure cloud services. The mobile apps are developed in Java (Android) and Swift (iOS). The Zoom environment accommodates both failover and load-balancing services to support effective and reliable service response times
3. Governance
Governance is a key factor in driving success with both telehealth and teleconference capabilities. Guidance for how these capabilities will be used internally and externally will need to be established.
4. Telehealth vs. Teleconference
Healthcare organizations require both telehealth and teleconference capabilities to effectively communicate with their staff and patients. Zoom must improve its enterprise application integration and medical device connectivity to compete in the exploding telehealth market.
For more information about the report visit https://klasresearch.com/report/zoom-health/1810