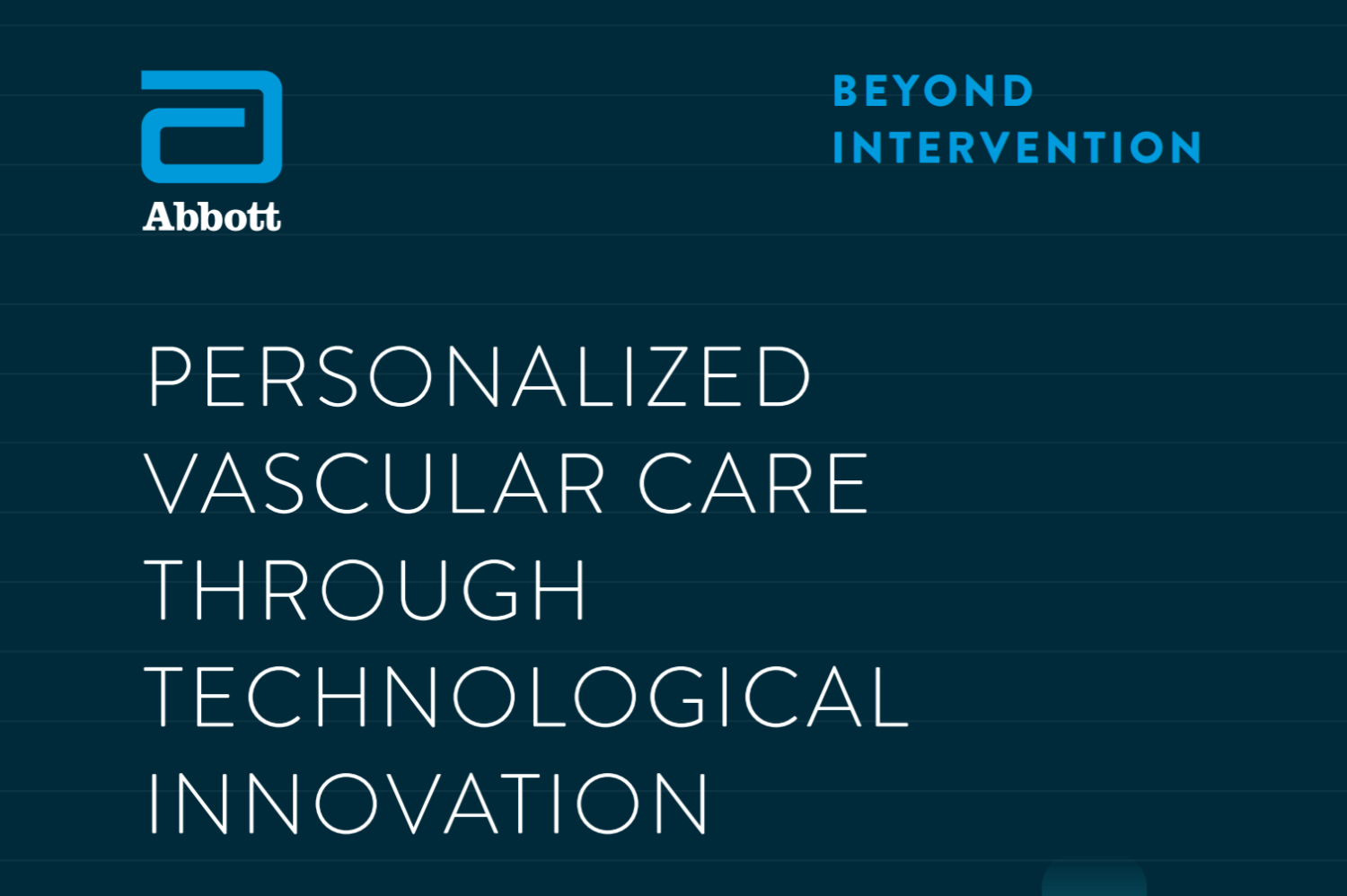 Abbott recently released global research on vascular patient care, designed to shine a light on the vascular patient journey. The report called "Beyond Intervention" uncovers the universal challenges faced by physicians who deliver vascular care, their patients, and the hospital administrators who support them. It also explores how the right use of technology and data could potentially enable more precise diagnoses and better treatment strategies to ensure the best possible patient outcomes. 
To establish what the state of vascular care looks like around the world today, Abbott surveyed over 1,400 patients, physicians, and health system administrators from nine countries. 
The research revealed how important personalized care is for patients. This was a sentiment that came through loud and clear from all the patients surveyed, regardless of geography. Patients desire more of a "tailored for me" approach from their physicians. This includes more face-to-face interaction and time with their doctor, with the ability to have all of their questions addressed.
Likewise, doctors sighted a scarcity of time spent with their patients as well as their limited visibility into patient adherence to treatment and lifestyle changes and challenges with other key factors that influence the quality of care they can provide.
What exactly does more personalized care look like? Here are some of the ideas that resonated with the vascular patients who responded to the survey:
– A consultative, two-way patient-doctor relationship, with the patient playing an active role in informed decision-making
– An individualized treatment plan based on the doctor's ability to review relevant data pertaining to successes achieved with similar patients ("How did patients like me get better?")
– Effective and seamless information-sharing among the primary care provider, hospital specialists, and healthcare systems, as well as with individual patients themselves via computer or smart applications.
– The ability for the doctor to monitor the patient's progress remotely and provide information to verify that the personalized treatment is working, and to pick up early warning signs of relapse or deterioration
If more personalized care is what patients desire, then how can the use of technology and data enable this? We already see signs of this in the form of telemedicine and personalized care plans used to treat patients with chronic disease. We have also seen remote patient monitoring become a necessity and, in the age of COVID-19, a new standard of care, keeping patients "connected" with their physicians. This suggests that health care is moving in the right direction. Rather than simply treating the patient at a point in time for an illness, technology has the potential to harness the power of data to optimize care across the entire patient journey – before, during, and after the intervention. By focusing on the whole patient, and by placing him or her at the center of the healthcare world, providers can see beyond the intervention alone. 
The survey also revealed that hospital administrators' top priority focused on patient satisfaction; successful outcomes that boost the number of satisfied and healthy patients while reducing hospital readmissions and costs. The results showed that administrators place a greater priority on plugging data gaps pertaining to outcomes than the total cost of care.
If the intention is to build data-driven technological solutions that see the whole patient, that could shift the focus from illness and intervention to wellness and prevention, potentially lightening the burden on providers, and delivering a higher quality of life for patients, also at a lower cost.
The existing model of care is clearly not working to its full potential, to the detriment of everyone who must navigate it. But overhauling a healthcare system that is so entrenched in structure and institutional practices is not something that can happen overnight. Change will happen incrementally with the input of all stakeholders. It is up to us in the world of medical devices and technology to take our cues from the medical community, patient advocates, and healthcare systems big and small.
The research motivates us to continuously improve upon what we have already delivered and ask ourselves how we can make our products even better. Without knowledge of their pain points or insights into the challenges they face daily, we would not be able to effectively meet patients' needs. This research also reinforces what Abbott is consistently striving to achieve: building life-changing technologies to improve the patient's quality of life and help them live their best lives.