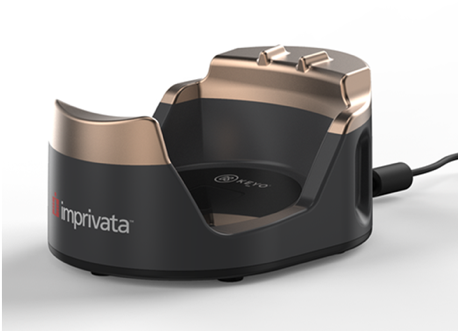 What You Should Know:
– Imprivata launches a new palm vein scanner solution: Imprivata PatientSecure to power touchless biometric patient identification for healthcare.
– The next generation palm scanner, developed in collaboration with Keyo, will help healthcare organizations solve the challenge of patient ID amidst the COVID-19 pandemic by eliminating the need to touch any surfaces. (It's also a core component of the Imprivata digital identity framework for healthcare, which provides a unified, security strategy for managing identities across devices and locations.)
---
Imprivata, the digital identity company for healthcare, has unveiled its next-generation touchless biometric patient identification solution, delivered through a combination of a next-generation palm scanner with an antimicrobial copper coating, sensor, and software. The touchless solution is the result of a collaboration between Imprivata and Keyo, whose joint expertise in biometric identification, rapid innovation, and user-centric design produced this latest advancement in digital identity management for patients. The solution enables healthcare organizations to ensure clinicians have access to patients' correct medical records while giving patients confidence in the safety of their medical care and the security of their medical information.
PatientSecure Palm Vein Scanner for Touchless Biometric Patient identification
Imprivata PatientSecure helps solve the challenges of patient identity for the nation's largest and most complex healthcare organizations by combining the best of modern patient matching technologies – namely biometric and referential matching – to securely and accurately match patients to their medical records using a process of in-person identity proofing, advanced record resolution, and authentication. Imprivata PatientSecure is a core component of the Imprivata digital identity framework for healthcare, a unified, security- and efficiency-focused strategy for managing identities across the complex healthcare ecosystem. 
Why Palm Vein Biometrics?
Palm vein biometrics are less intrusive than other biometric technologies and among the most accurate. With touchless authentication, patient risk of infection is also reduced. Palm vein scanning can be used in any workflow but is the only biometric that can be used for non-responsive patient identification. The solution can also be taken mobile on WOWs and tablets for bedside registration and other points of care. 
In addition to being touchless, the scanner features an antimicrobial copper coating, which kills 99.9% of bacteria*. So, aside from routine hygiene practices, such as hand washing and disinfecting, copper adds another layer of hygiene to surfaces by continuously killing harmful bacteria and microbes. In addition, the scanners are easy to clean, fast, and intuitive to use.
Why It Matters
With the outbreak of COVID-19, both patients and provider organizations experienced heightened awareness and concern about the risk of transmission from frequently touched surfaces. Working together, Imprivata and Keyo addressed this challenge head-on, to bring the next generation of advanced biometric identity technology to healthcare institutions. By elevating Imprivata PatientSecure to a touchless solution, Imprivata ensures positive patient identification while limiting risks of transmission.       
– With its touchless patient identification solution, Imprivata PatientSecure helps healthcare organizations achieve the following goals:
– Improve patient safety and reduce medical errors;
– Enhance patient experience and streamline workflows with touchless authentication;
– Protect against fraud and eliminate duplicate and overlaid medical records; and 
– Reduce medical claim denials and improve financial outcomes.
"Patients are expecting a safe and streamlined experience as they return to physical locations for medical care amidst the COVID-19 pandemic," said Dr. Sean Kelly, Chief Medical Officer at Imprivata. "We're pleased to help our customers meet those expectations with the touchless biometric identification, improved patient matching, and workflow optimization offered with the latest version of Imprivata PatientSecure."