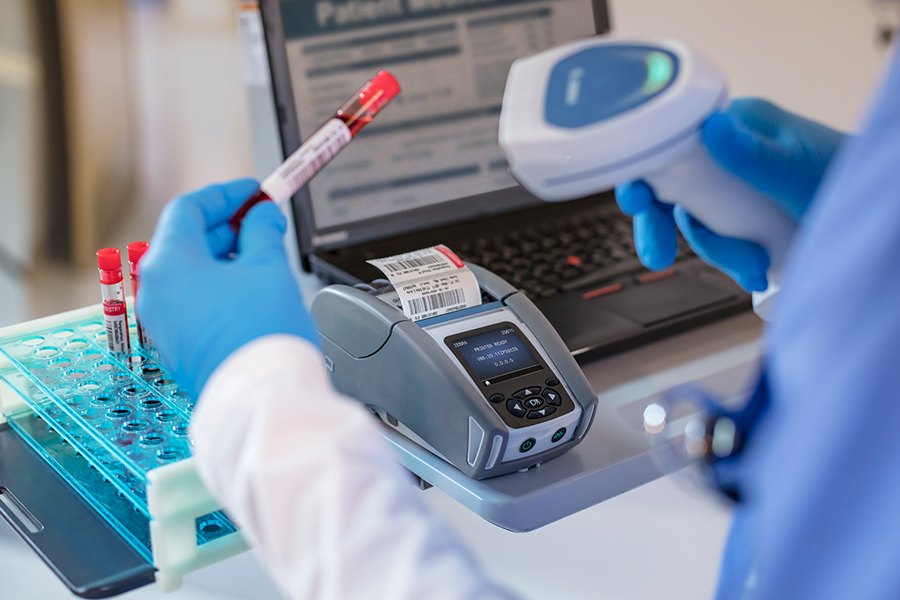 What You Should Know:
– HP launches patient-first print technologies to help healthcare workers stay safe and spend more time caring for patients.
– Innovations co-developed with healthcare professionals include industry's first sterilizable printers, exclusive EMR-compliant workflow solutions, and services to improve patient safety and privacy.
---
Today, HP Inc. officially launched new print solutions for the healthcare industry. Based on deep customer insights and co-developed with healthcare providers, associations and partners, HP Healthcare Print Solutions address the most pressing issues facing the healthcare industry today including patient wellness and safety, care coordination, mobility, privacy and security. 
Reducing the Risk of Virus Transmission and Healthcare-Associated Infections 
HP's new Healthcare Edition MFP keyboards and touch-enabled control panels are designed to be disinfected regularly, withstanding up to 10,000X industry-standard germicidal wipes, helping to reduce the risk of health-care associated infections (HAIs) and viral pathogen transmission.  HP has further enhanced the disinfection capabilities of high-touch areas of the printer with removable covers/drapes that can be sterilized daily in an autoclave up to 134 ºC. HP is also collaborating with Clorox Healthcare to offer a guide detailing infection prevention best practices and other educational tools.
In order to enhance support of infection prevention policies, HP has also broadened disinfection capabilities of HP Personal System devices to include HP Engage Go3 and HP Elite products such as HP EliteDesks, HP EliteOne (display panel only), ZBook Mobile Workstations and Z Series Desktop Workstations, HP Elite and Z Displays (Z, S, E and P series, Display Panel Only) and HP Education Notebooks (keyboards only) .
The U.S. Centers for Disease Control (CDC) estimates that healthcare-associated infections (HAIs) are responsible for 1.7 million infections and 99,000 associated deaths each year. Infections and viruses add further strains to healthcare organizations' ability to provide safe, quality care to patients. Influenza alone accounts for an US$11B economic annual burden. Studies show commonly used technologies, like printers and mobile devices, are often highly contaminated with pathogenic bacteria and viral pathogens. Most IT and IoT devices were not designed to be regularly cleaned by hospital-grade disinfectant wipes. Repeated use has shown to damage the integrity of the plastic and, ultimately, the device itself.  
Minimizing Contact with Common Points of Transmission
HP's unique global Managed Print Services (MPS) program with Zebra Technologies provides the HP Advance mobile app on Zebra's TC52-HC handheld touch computer to enable care providers to minimize contact with common points of infection transmission at the point of care. Providers can walk up to any HP Healthcare Edition MFP, authenticate with the TC52-HC mobile computer and release critical patient documents without having to touch the device.    
Reducing the Risk of Electromagnetic Interference (EMI)
Patient and clinical worker mobile and IoT devices add to a very congested radio spectrum that can interfere via electromagnetic interference (EMI) with life-saving medical devices. The new HP Health Solutions portfolio of IoT hand-held devices and IoT print devices are EN/IEC 60601-1-2 certified for EMI safety. The EN/IEC 60601-1-2 certification ensures these devices can be used within the patient sphere and shared patient areas without risk of EMI to sensitive patients and surrounding medical equipment. 
Helping Ensure Positive Patient ID 
Patient identification errors are common and can lead to serious reportable events that harm not only the patient's health, but also the clinical standing of the healthcare facility where such an error occurred. Together, HP and Zebra solutions empower clinicians to better manage positive patient identification through integrated color patient ID wristbands, trackable specimen labels printed on-demand with Radio Frequency Identification (RFID) location services and point of care identification solutions for patients.
Digitizing Processes for Faster, More Efficient Care Coordination 
HP Healthcare Edition MFPs include the HP Workpath Biscom for Healthcare app fully integrated with EPIC and Cerner. This enables the entire clinical team to digitally transmit and receive patient information and high-resolution color imaging like MRIs or directly input data into the electronic medical record (EMR) system right from an app on the printer.  As a result, care providers can make timely critical decisions to improve the experience of patients and the entire care team and give back face time with their patients. 
68% of physician respondents reported feeling burned out at the moment, largely because of paperwork, regulatory demands and electronic health record (EHR) documentation. Important pieces of healthcare data can fall through the cracks, frustrating patients who don't understand why a specialist can't see last week's diagnostic test result or why they were not offered a diabetic-friendly hospital menu while staying as an inpatient, for example. 
Protecting Patient Privacy and Security
As the implementation of technology advances, so too are the security threats against healthcare systems.  To help healthcare organizations defend against emerging threats, HP provides the world's most secure PCs16 and printing solutions to protect patient privacy and sensitive information. The new Healthcare portfolio also offers Basic Print Cloud Services delivered through a service, HP Print Security Advisory Services and HP Security Manager that provides patient data protection to all HP devices, with the added protection of PrintSecure on Zebra wristband printers.
Availability
HP Healthcare Print Solutions are now available for direct MPS customers in North America with plans to roll out across Europe and Asia in 2021.