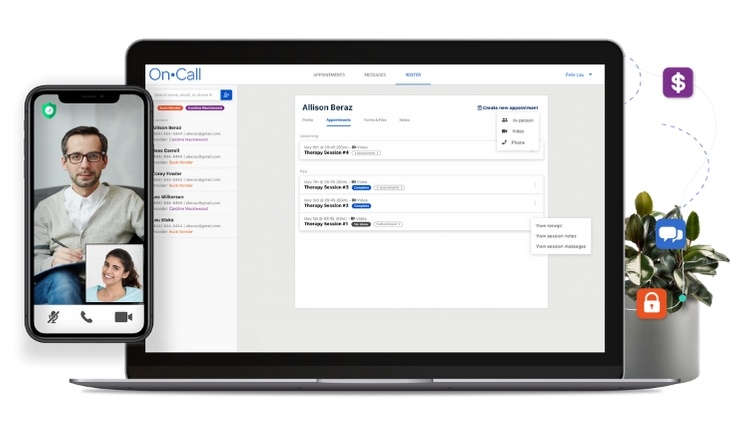 What You Should Know:
– OnCall Health Raises $6M Series A to Enable Virtual Care Programs for Healthcare Brands
– Funding will be used by OnCall Health to expand its reach and build out its software that enables healthcare brands, systems, and startups to launch and scale their telehealth operations.
– OnCall enables healthcare enterprises to rapidly launch their own virtual care platform that is highly configurable to their brand and workflow.
---
OnCall Health, a Toronto, CA-based platform that provides simple, secure virtual care technology and services for healthcare providers, today announced it has raised $6M led by Base10 Partners led the round with participation from OnCall Health's existing investors, including Ripple Ventures, Panache Ventures, and Stout Street Capital.
Simple, Secure Virtual Care
Healthcare organizations are increasingly driven to offer virtual appointment options to their patients, but face challenges in successfully deploying technology that adapts to complex internal scheduling and billing processes, while also meeting security and technical support requirements. Founded in 2016, OnCall's secure virtual care (telemedicine) technology facilitates video or text-based consultations for healthcare practices and streamlines procedures required to maintain patient privacy. Through OnCall's encryption and dedicated technical support, healthcare practitioners like doctors, nurses, or counselors can effectively expand and improve access to their services.
Designed to complement its customers' existing technology systems, OnCall Health integrates with popular Electronic Medical Record (EMR) systems and customer relationship management (CRM) solutions and offers a public API for custom integrations. The system also includes a real-time analytics dashboard that provides unique insights on virtual care utilization, point-of-care decision making, and outcomes.
Recent Traction/Milestones
Since launching in 2016, OnCall Health's team has grown to more than 30 full-time employees and now supports over 600 healthcare organizations and more than 7,000 primary care, mental health, and paramedical service providers throughout North America. The company has experienced 5x year-over-year growth and now hosts one million virtual healthcare appointments between patients and their providers per year. Going beyond primary care practitioners, OnCall Health's customer base includes mental health, disability management, and addiction, as well as pharmaceutical and insurance companies.
"COVID-19 has massively accelerated the pace of virtual care adoption, and reinforced the need for every healthcare clinic, system, and brand to have a virtual care strategy," said Nicholas Chepesiuk, founder and CEO of OnCall Health. "OnCall provides everything that healthcare brands like pharmaceutical companies, insurers, and direct to consumer digital health startups need to get into the space and launch their own virtual care programs, often for the first time. Meanwhile, we are well positioned to help conventional healthcare clinics and systems adopt virtual care technology in the context of their operational processes. In the past year we have been able to roll out our technology with two global insurance companies, several leading pharmaceutical brands, and many rapidly growing digital health startups. Our vision is to provide a Shopify-like experience to enable any organization to streamline and successfully deliver virtual care."