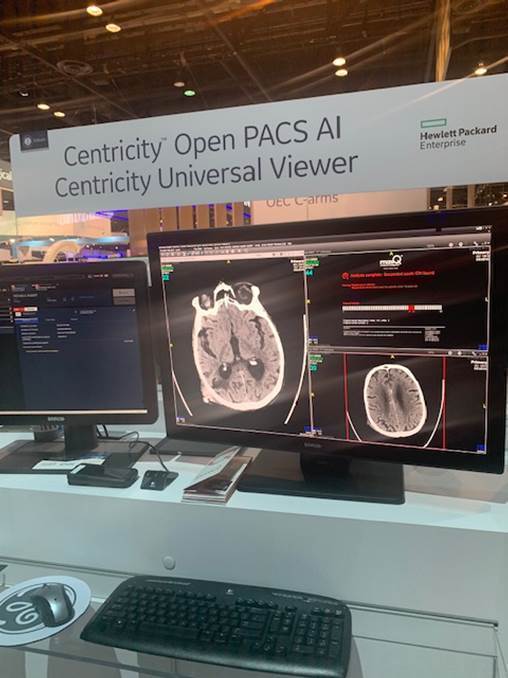 – MaxQ AI and GE Healthcare announces the expansion of their partnership that will bring the power of AI-enabled solutions into hospitals and emergency rooms worldwide.
– MaxQ AI's ACCIPIO ICH and Stroke platform will be integrated into the next generation of GE Healthcare's PACS and Universal Viewing platforms
– This addition makes GE Healthcare the first to offer a comprehensive CT and PACS MaxQ AI offering.
 MaxQ AI, the industry-leading medical diagnostic AI company, today announced that the company's Accipio intracranial hemorrhage (ICH), stroke, and head trauma platform will be integrated into GE Healthcare's Edison™ Open AI Orchestrator, which is designed to simplify the deployment of AI for imaging workflows. This addition makes GE Healthcare the first company to offer a comprehensive CT and PACS MaxQ AI offering. 
Integration Benefits
A key player in GE Healthcare's Edison ecosystem, the integration of MaxQ AI's Accipio-powered solutions through both the latest GE Healthcare PACS and CT offerings will increase access to AI augmented tools for radiologists and care providers around the world to enhance the identification and prioritization of patients suffering from stroke, traumatic brain injury, head trauma, and other life-threatening conditions – both at the CT console and through the distributed review of these images in PACS.
MaxQ AI's revolutionary ACCIPIO® ICH and Stroke Platform integrates into a comprehensive, seamless, and secure workflow to augment acute care teams with deep clinical insight and actionable data in minutes. These AI-powered insights enable physicians across the world to make faster assessments of stroke, traumatic brain injury, and head trauma in any location, at any time. Accipio Ix™ provides automatic identification and prioritization of non-contrast head CT images with suspected ICH. Accipio Ax™ delivers automatic slice-level annotation of suspected ICH. Both Accipio Ix and Accipio Ax are FDA Cleared and CE Approved. The Accipio platform is comprised of Class II and Class III medical devices with significant clinical evidence.
"The ability to integrate our Accipio intracranial hemorrhage (ICH) detection software and slice-level annotation through GE Healthcare's PACS further solidifies and deepens our successful partnership with GE Healthcare," said Gene Saragnese, CEO of MaxQ AI. "This will also enable hospitals and acute care providers, who are looking to bring the power of our AI-enabled solutions into their emergency rooms, to seamlessly add these new capabilities into the workflow in the Edison Open AI Orchestrator, a platform for quickly and easily integrating AI-based clinical applications in imaging workflows. An exciting new era of AI-powered innovation, combined with the skills of the care provider, make augmented intelligence available to GE Healthcare customers worldwide."
GE Healthcare's PACS offers a proven, scalable imaging IT platform designed to optimize radiologist productivity and accuracy. With Version 7, GE Healthcare's PACS is now "AI ready," enabling the easy and seamless integration of AI results throughout the radiologist reading workflow by adding the Edison Open AI Orchestrator. This advanced PACS solution meets the diverse challenges and needs of today's healthcare institutions with such innovations as single DB Rad/Card, RIS/PACS, native mammography workflow, advanced visualization, web-based clients, EMR integration, DR/BC and high availability, and most recently, mobile access on an Apple or Android enabled device.
"Investment in healthcare startups is exploding – but implementing new AI innovations effectively into the clinical workflow can be cumbersome and complex, thus slowing adoption. Bringing AI-powered applications and devices – such as those provided by MaxQ AI's Accipio ICH platform – natively into the radiologists' PACS system via GE Healthcare's Edison Open AI Orchestrator can help clinicians improve their workflow and target key pain points in their healthcare network," said Michelle Edler, Senior Vice President, Enterprise Imaging & Care Area Solutions for GE Healthcare. "To deliver on the promise of AI, we are integrating with best-in-breed partners such as MaxQ AI to help streamline the radiologist's experience. Bringing together the world-class AI capabilities from industry-leading partners, and creating a single, connected ecosystem will help improve the quality of care, lower healthcare costs, and deliver better outcomes for patients."