– New Rock Health report finds digital health funding reaches $1.3B in Q3 2019 for a total of $5.5B year to date.
– Large digital health funding round are driving the overall funding trend in digital health with the average deal size at $20.9M, in line with 2018's $21.7M average deal size.
– Rock Health projects the number of digital health deals in 2019 will be 5-10% lower than in 2018.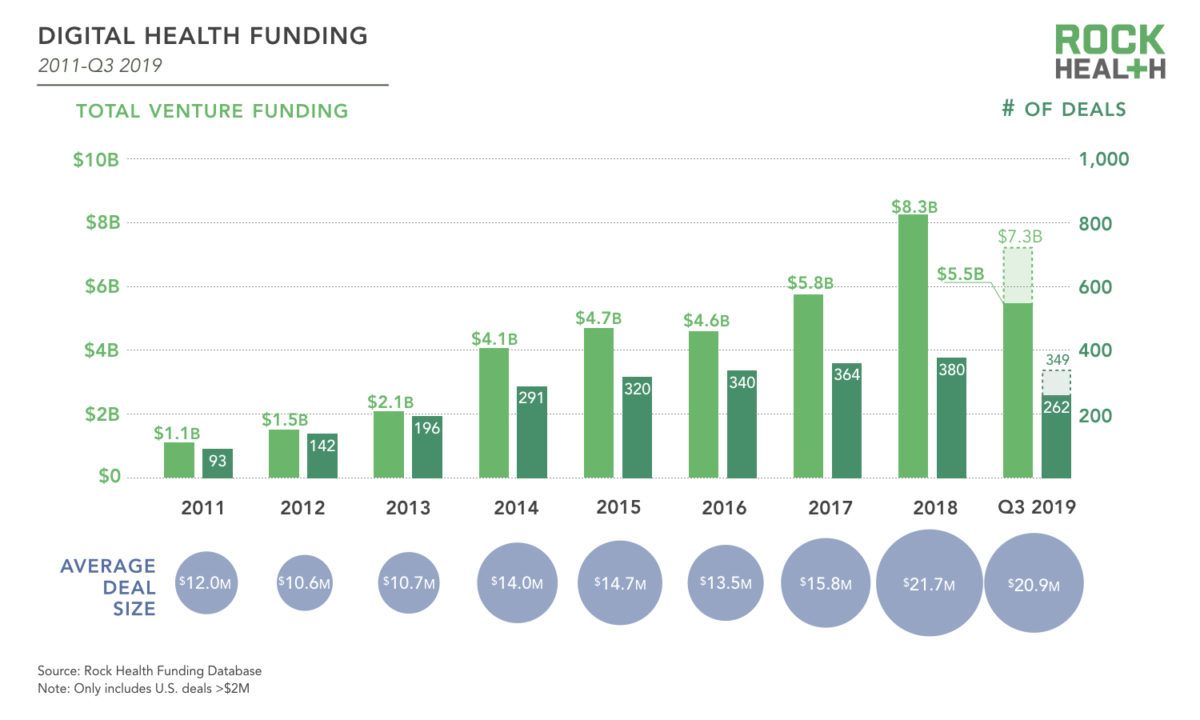 Digital health funding reached a total of $1.3B in Q3 2019 for a total of $5.5B year to date, leveling off from the $2B per quarter pace in the first half of the year, according to Rock Health, a full-service venture fund dedicated to digital health. Although the funding has tapered off, digital health funding is still on track for the second largest funding year ever. Digital health startups in the sector are on track to raise an estimated $7.3B by the end of the year, representing 1.3X more than 2017, though short of the record $8.3B invested in 2018.
The Q3 2019 Rock Health report reveals larger funding round continue to drive the overall digital health funding trend, mixed results from recent digital health IPOs, and behavioral health and women's health as two of the hottest areas of investment. Rock Health projects the number of digital health deals in 2019 will be 5-10% lower than in 2018
The report produced by Sean Day with help from Megan Zweig, Bill Evans, Danielle McGuinness, Kunal Patel sources data from Capital IQ, SEC company websites, Crunchbase, NVCA, press releases, and the Rock Health funding database.
Other key findings from the report include:
$100M+ Mega Deal Drives Overall Funding
To date, there has been a total of nine $100+ mega-deals with two of those in Q3 2019:
– Capsule, the online pharmacy offering same-day delivery in New York City raised $200M in September to expand its service across the US.
– Beta Bionics, the developer of an automated bionic pancreas, closed two $63M rounds this year—a Series B in January and Series B2 in July—to bring the total Series B funding to $126M.
Mixed Digital Health IPO Performance
To date, five companies have gone public so far in 2019: Livongo, Health Catalyst, Phreesia, Change Healthcare, and Peleton. So far, early public market performance for these digital health IPOs have been mixed.
As of October 1, Health Catalyst is trading about 20% below its closing price on the first day of trading after increasing more than 20% in the weeks following its public offering.
– Livongo's share price fell following its first earnings report as losses were greater than analysts expected, despite 156% revenue growth that beat Wall Street estimates.
– Phreesia and Change Healthcare has largely traded within +/- 10% of their offering price.
– Peloton's stock price dipped after the company went public on September 26, which some took as a sign that 2019's hot IPO market is cooling off for the moment.
Behavioral Health Emerging as Maturing Investment Sector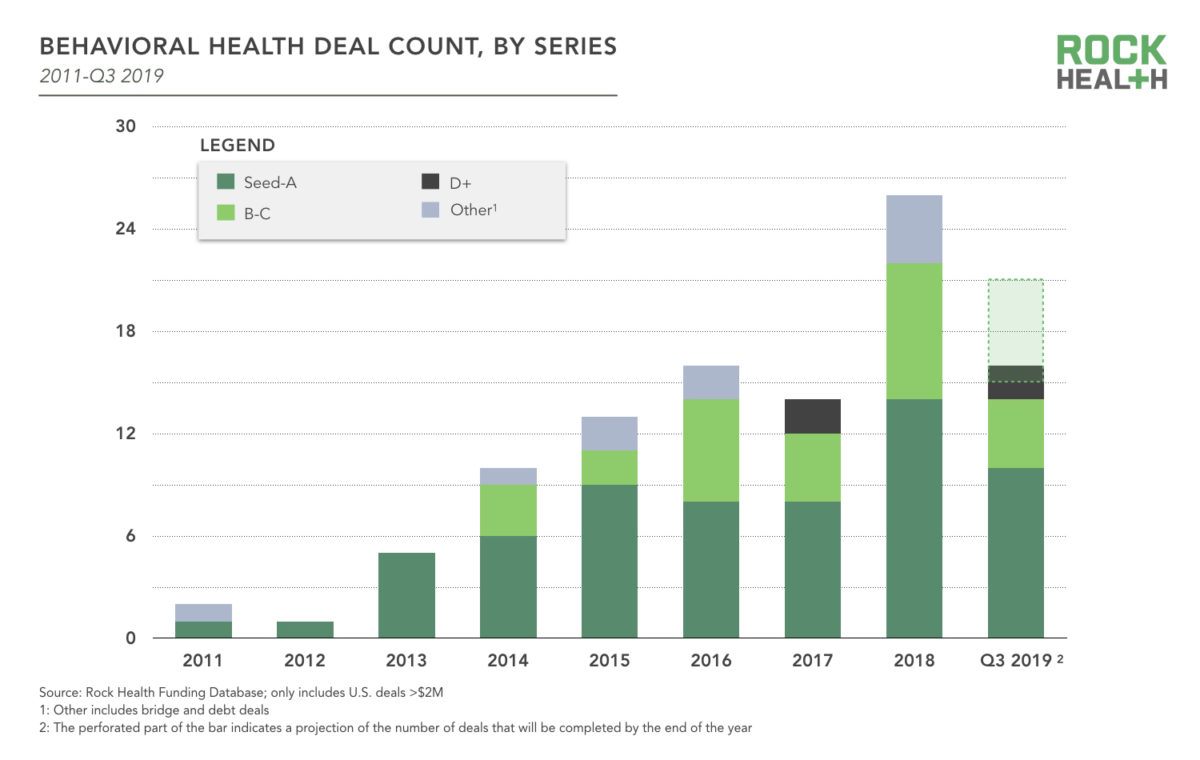 Rock Health reports behavioral health is showing signs of a maturing investment sector with more funding and larger deals, a greater number of later-stage companies, and a consistently strong pipeline of early-stage innovation.
Through Q3 2019, sixteen digital behavioral health companies raised a total of $416M—8% of overall digital health funding in that time period. The number of behavioral health deals has grown steadily from just one in 2012 to sixteen in 2016—and has remained near or above that level ever since. The average behavioral health deal size thus far in 2019 is $26M—up 73% from 2018. Overall digital health deal size is down 4% across the same period.
Women's Health Funding On The Rise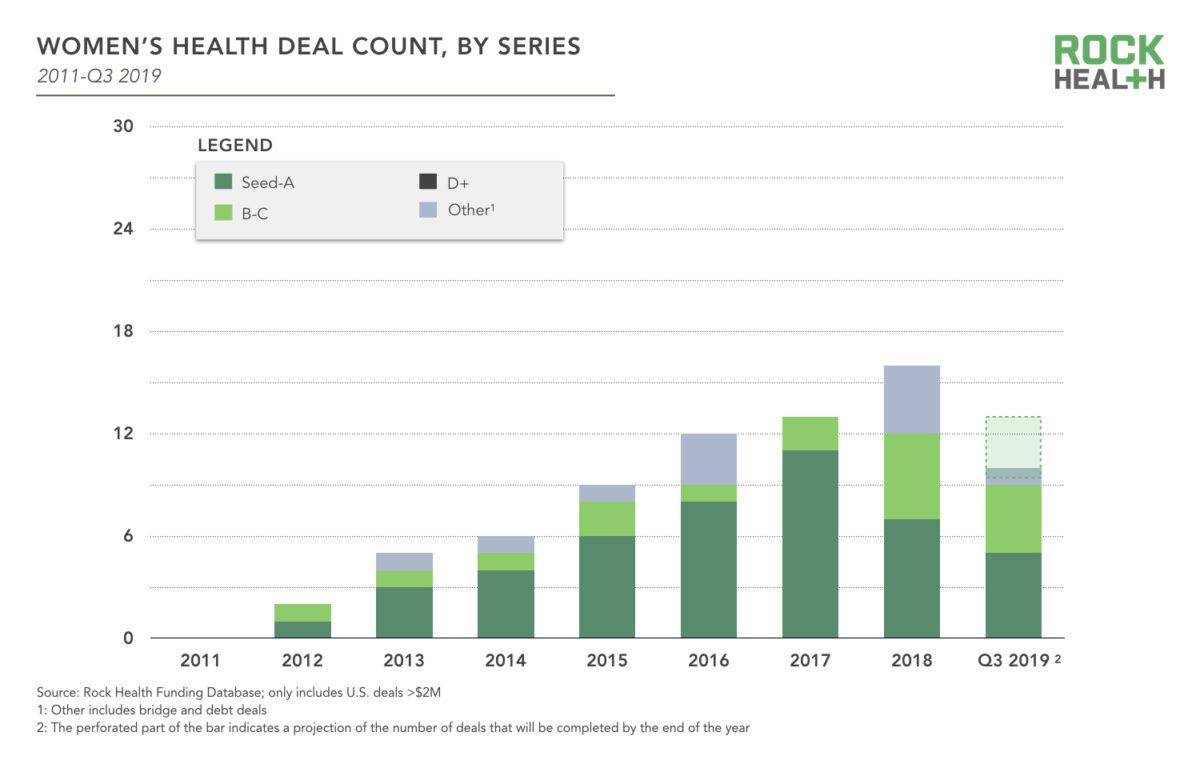 – Increased funding: Funding for digital women's health companies increased 812% across 2014-2018, with sixteen rounds of funding closed in 2018—two years after behavioral health companies raised the same number in 2016. Through Q3 2019, 10 women's health companies raised a total of $177M.
– Later-stage deals: 2018 was the first year for which 30% of the women's health deals were Series B or later stage, and that has continued in 2019.