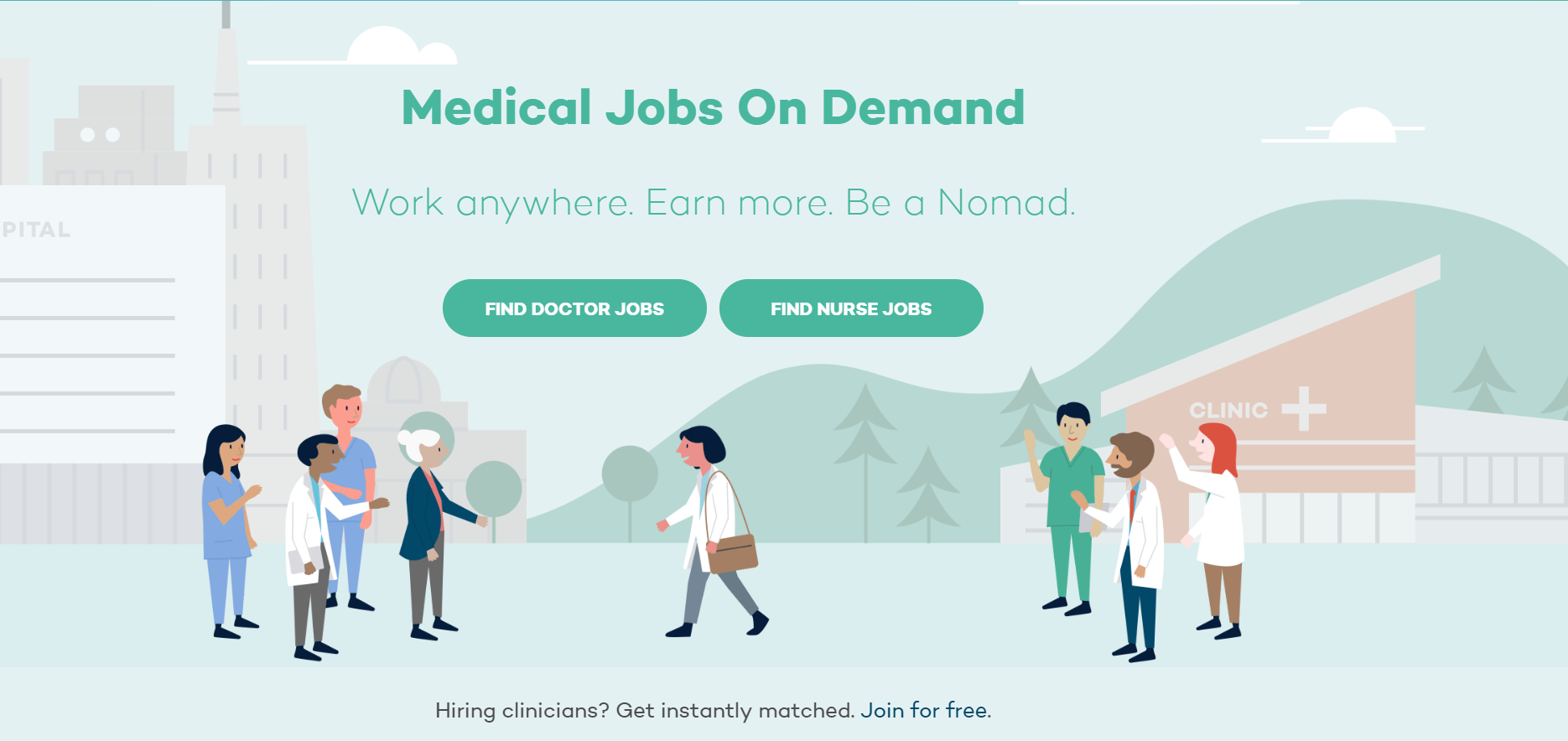 Nomad Health, an NYC-based on-demand medical jobs marketplace platform has raised $34M in new equity and debt financing led by Icon Ventures. The financing also includes additional investment from prior investors Polaris Partners, RRE Ventures, .406 Ventures, and Silicon Valley Bank. Nomad's mission is to revolutionize healthcare staffing by creating the first online marketplace for healthcare jobs and by bringing the gig economy to healthcare – it is disrupting a multibillion-dollar industry in the process.
Simplifying The $20B Healthcare Staffing Industry
Hiring in healthcare is remarkably complex, especially given growing clinician shortages. Nomad's powerful marketplace is addressing this challenge by making it simple, fast, and efficient for clinicians and medical employers to find jobs and get hired. By digitizing the entire hiring process for doctors and nurses – including job matching, applications, insurance, and payments – both sides of the marketplace save substantial time.
Nomad Health is a Joint Commission Certified technology company that is simplifying the $20 billion healthcare staffing industry. Founded in 2015 by a team of entrepreneurial doctors and Kevin Ryan (the founder of Business Insider and Gilt Group), Nomad is a marketplace for short-term clinical work where medical facilities post shifts they need filled.  Nomad hopes to replace an inefficient system of brokers with a streamlined, cloud-based platform that is simple to use and substantially less expensive.
Recent Traction & Milestones
The three years since the marketplace launched have seen sensational growth. Nomad now hosts jobs from over 4,000 healthcare facilities across the United States, including positions at many of the top-rated hospitals in the country. 30% of jobs on Nomad are located in non-metro areas where clinician shortages are gravest. The nearly 100,000 clinicians on Nomad, 45% of whom are actively looking for work at this moment, have answered the call to serve and taken jobs in 46 states across the country. As a result, the company's revenues have grown nearly 500% in the last 12 months.
Expansion Plans
To handle the rapidly increasing demand for its services and to meet the needs of its multiplying customer base, the company plans to use the new funding to double the size of its staff, expand its footprint and continue to enhance its technology platform. New York City-based Nomad, which plans to grow from 50 to 90 employees by the end of 2019, also announced today that it has opened an office in Charlotte, North Carolina.
Why It Matters
"Nomad Health is the modern-day leader in the healthcare staffing space," commented Icon Ventures' Tom Mawhinney. "We are enthusiastic about Nomad's smart business plan, and we support the company's focus on addressing two critical issues our country faces in healthcare – provider burnout and staffing shortages. The success of Nomad has far reaching implications for patients and providers, and I am excited to work alongside the company as it continues to revolutionize the healthcare workforce and move closer to its vision of becoming the go-to human resources platform for healthcare professionals and health systems."