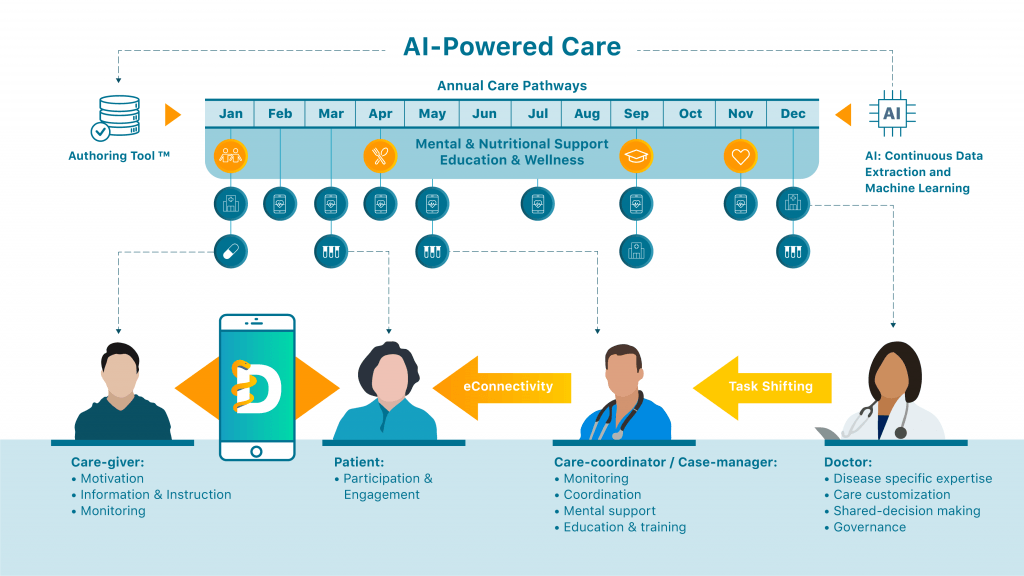 DEARhealth, a health IT spin-out from the University of California, Los Angeles (UCLA) has raised $6.8 million in Series A funding to expand its AI-powered pathway platform for chronic care. Participants in the Series A funding round include Philips Health Technology Ventures, Vesalius Biocapital III and Health Innovations.
DEARhealth was founded in 2011 by Daniel Hommes as a research project when a team of UCLA specialists designed a value-based care program for the management of chronic diseases and successfully tested it in Inflammatory Bowel Diseases (IBD), a set of prototypic chronic and highly complex diseases typically associated with poor health outcomes and high costs. . The goal was to test if data-driven care planning for people with chronic diseases could have better outcomes, improved experiences with lower cost (Triple Aim objective). Hommes, now Chief Executive Officer at DEARhealth: "In the first prototypes for Inflammatory Bowel Disease (IBD), we demonstrated that the disease relapse rate as well as ED visits and hospitalizations were significantly decreased. This also had a huge impact on projected costs."
Optimizing Daily Care Delivery
DEARhealth offers Artificial Intelligence (AI)-powered health pathways for chronic care, including pain management, liver diseases, ovarian cancer, chronic kidney diseases, low back pain and epilepsy. Based on the model, the software optimizes daily care delivery by continuously presenting recommendations derived from advanced expert algorithms and deep learning outcomes. Providers will be able to accept or decline those recommendations so that over time, through machine-learning, providers' choices will become optimally aligned with Triple Aim outcomes.
Patient-Reported Data & Outcomes
Both patient-reported outcomes and data derived from medical devices will help augment the learnings. Via mobile apps, patients and their caregivers are engaged to actively participate in their care pathway and its additional supervised modules for adherence, mental support, nutritional support, wellness and education.
Seamless EHR Integration
The DEARhealth platform seamlessly integrates its intelligent healthcare pathways to existing Electronic Medical Record systems (EMR). Providers are engaged through an EMR integrated application layer in which they are invited to manage their patients and efficiently shift tasks between specialist, primary care physician, care coordinator or case-manager.
Plans for Funding
DEARhealth will use the latest round of funding to scale the testing of its health technology offering to more hospitals, thus significantly enhancing Value-Based Health Care Management. In addition, DEARhealth will expand operations to Europe, opening their European headquarters in Amsterdam, The Netherlands.