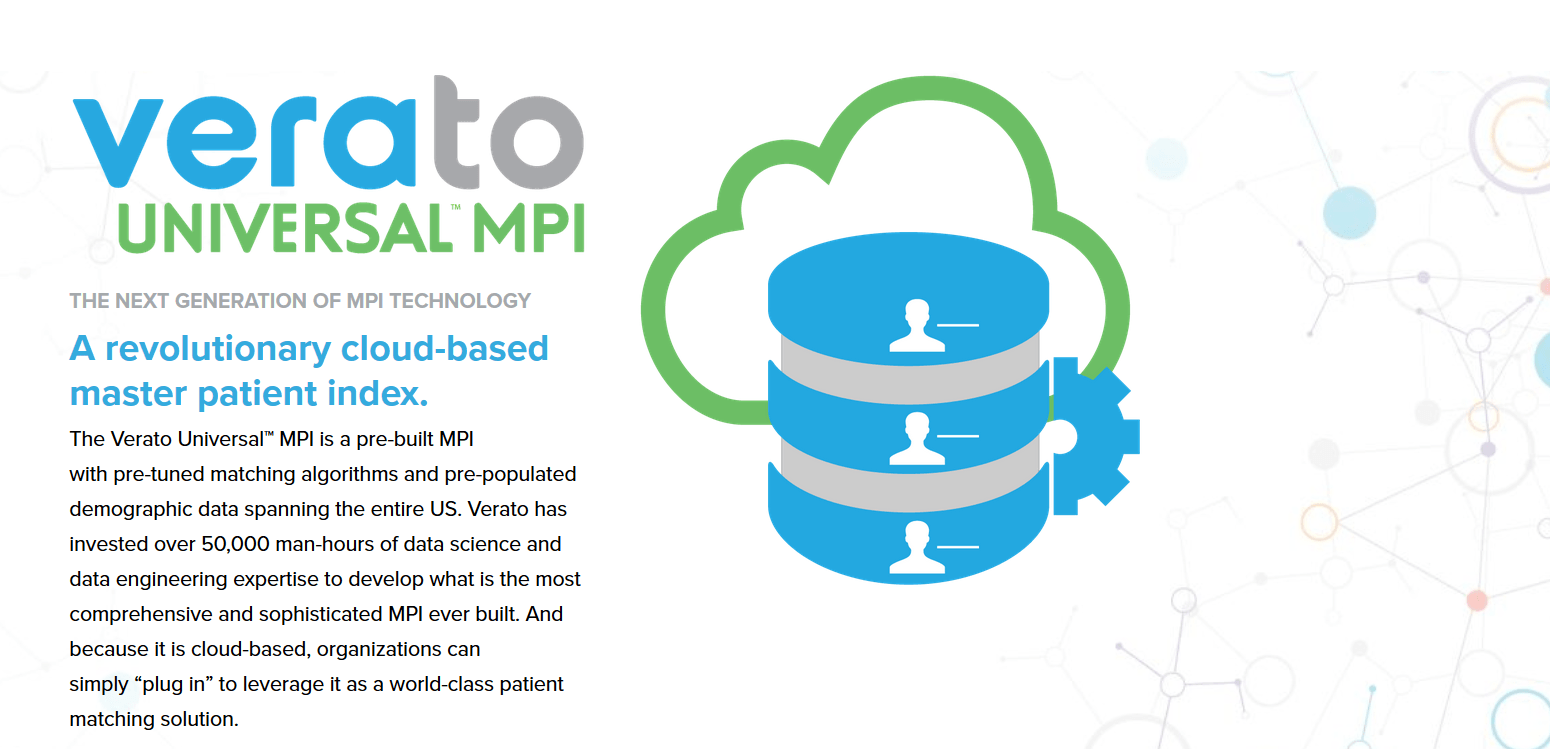 Verato, a provider of cloud-based patient matching, today announced that digital advance care planning company, ADVault, Inc., is the first partner in its new Powered by Verato(PBV) program. The program offers healthcare technology firms a next-generation patient matching solution that is highly accurate, secure, cost-effective, and easy to implement—all as a utility—using the Verato Universal MPI for patient matching.
Powered by Verato Program Background
Patient matching is at the core of patient-centric healthcare technology solutions and has become exponentially more challenging with the push for industry-wide interoperability. The patient matching as a subscription service provides partners access to patient matching that is accurate, secure, cost-effective, and easy to implement.  Designed for healthcare and built to address its unique challenges, the Verato Universal MPI supports the largest health systems, health plans, HIEs, and tech vendors in the country.
"Given the growing importance of digital advance care plans and the sophisticated technical requirements involved, we initiated a careful review of patient matching options," said Scott Brown, President of ADVault. "Verato's next-generation referential matching architecture operates at the scale and accuracy we need.  We already share a number of overlapping clients.  We are proud to join Verato's PBV as its first partner."
MyDirectives Platform Overview
ADVault is the creator of the MyDirectives platform, the first global, free-to-consumer cloud service allowing people to digitize their healthcare goals by creating a digital advance care plan or uploading an advance care plan, advance directive or portable medical order. ADVault's enterprise services team works with health plans, health providers and medical record partners to help doctors access those documents when necessary so people can have their voice heard in their care. ADVault's partnership with Verato helps expand secure identity matching so care teams have seamless access in the medical record.
 "Successfully disrupting healthcare by empowering consumers all over the world takes strategic partnerships with industry innovators that can handle our scale and need for security," said ADVault's CEO Jeff Zucker. "Most importantly we wanted a partner who is also committed to helping people live with confidence that they have a voice in their care—even if they are in a health emergency and can't speak. After reviewing a variety of options, we feel that Mark and theVerato team are best able to respond to our growth and unique client demands.