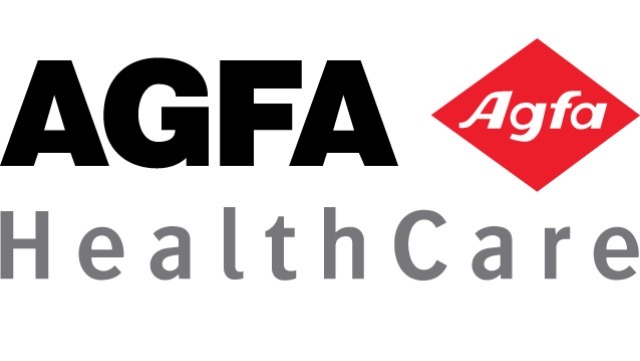 Last week Agfa announced its Board of Directors would investigate the sale of part of Agfa HealthCare, specifically, the business tied to its EMR and integrated care offerings. The facts are:
·   In March 2019, Agfa initially stated that it would further extend the independence of Agfa HealthCare.
·   It has now expanded on what this could potentially look like, stating it will explore selling is Hospital IT and Integrated Care solutions.
·   In terms of its reportable business this is largely the Healthcare Information and Integrated Care Solutions (HCIS) business.
·  This comprises its EMR and Population Health Management/Integrated Care portfolio.
·  Some imaging business may be sold with the HCIS business in cases where the customer relationship is tightly integrated with the HCIS business. Although most of its imaging business won't be sold.
·  Its HCIS business was worth approximately €191M in 2018, or 19% of Agfa HealthCare's 2018 revenues.
Agfa's HCIS business, driven by its ORBIS EMR solution, would be an attractive acquisition given its recent performance in terms of revenue growth. The business has performed better than much of the rest of Agfa HealthCare over the last 12 months, with high single-digit growth in 2018 and 2017. Whereas Agfa HealthCare as a whole saw revenues decline by 3.5% and 4.6% in 2017 and 2018 respectively, with all other sub-business lines – Classic Radiology, Imaging IT, CR/DR, and Hardcopy film – all showing declines/flat performance over the last two years.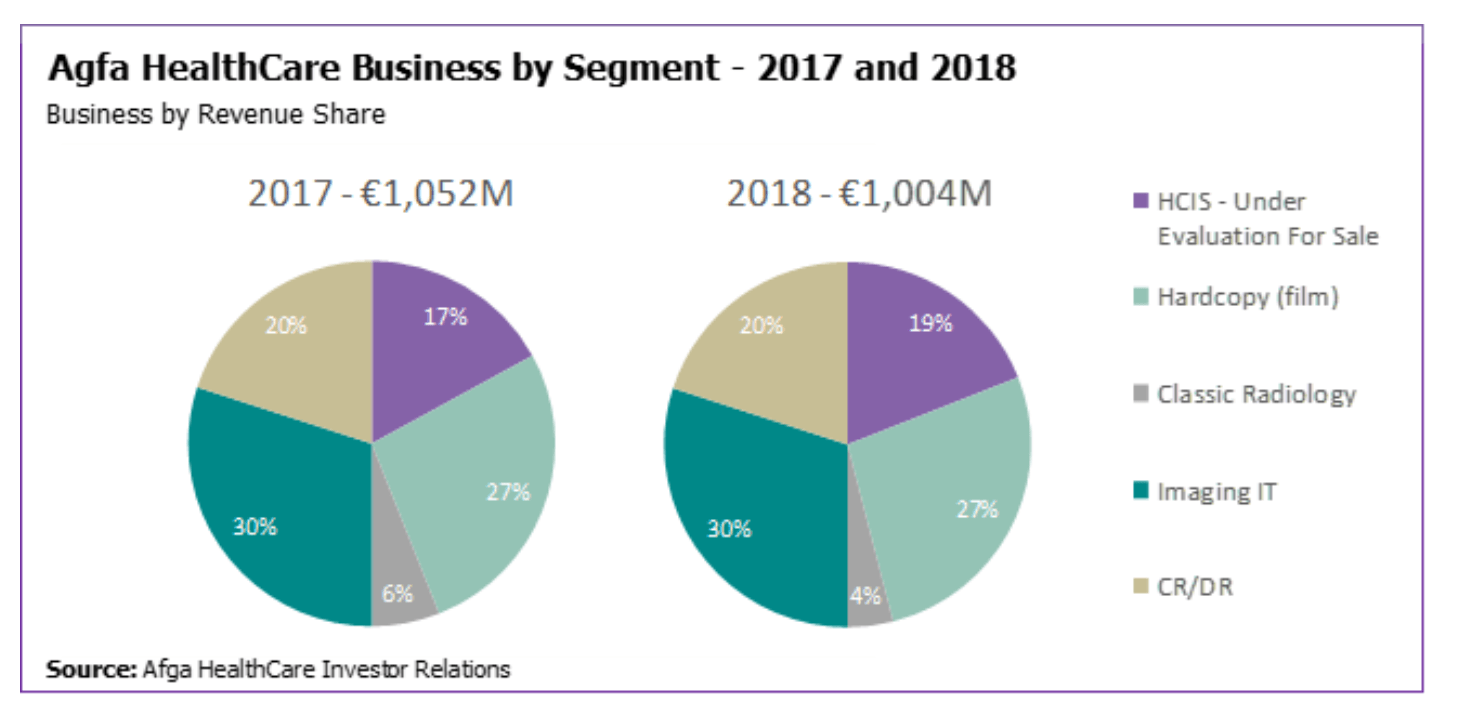 That said, its HCIS customer footprint is focused on just a few geographies and is less geographically diverse than its other business lines. ORBIS is used in more than 1,300 healthcare facilities in DACH (Austria, Germany, Switzerland), France, Brazil, and Belgium, with the lion's share of customers in DACH and France. In these two markets, Agfa holds a commanding position in terms of market share holding the number one position in terms of revenue share in the DACH acute market in 2018 and number two in France, second only to Maincare Solutions. In Belgium and Brazil, it is also a key player, although further down the rankings in both.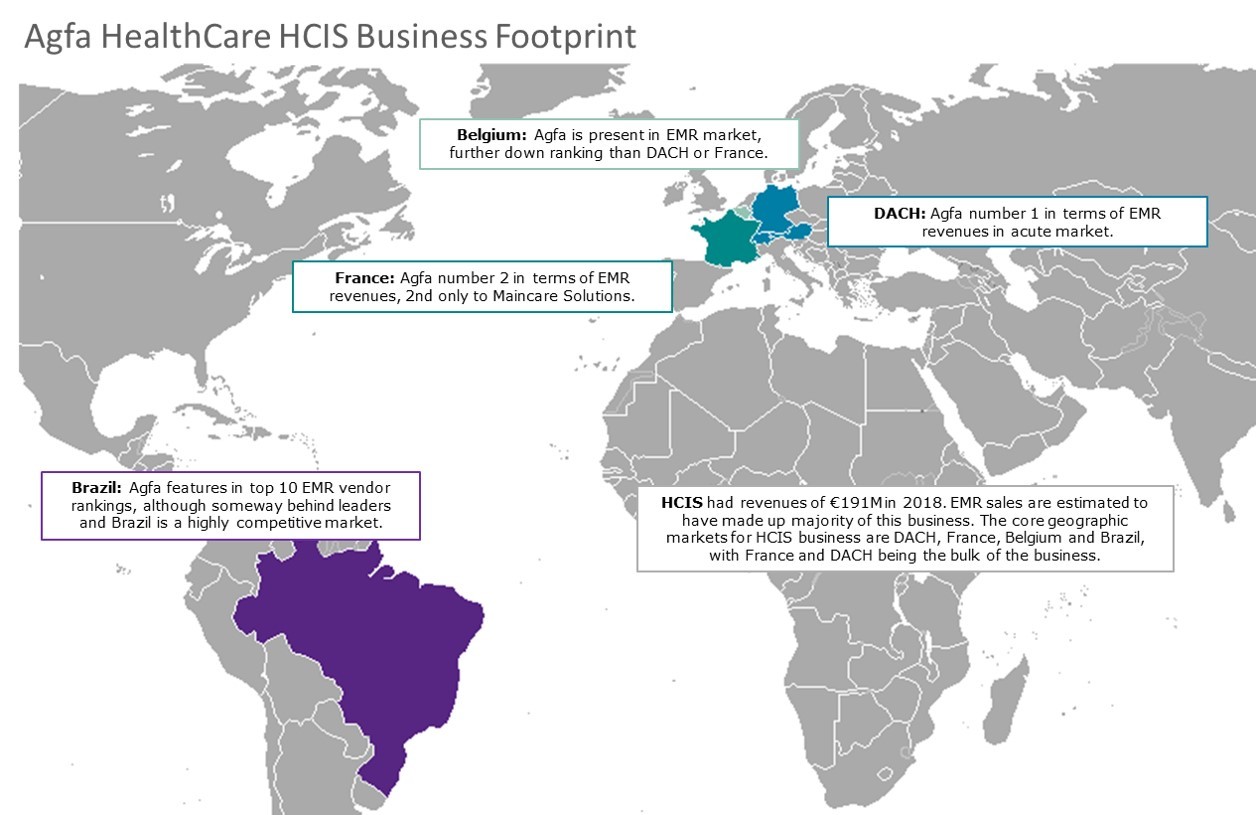 The market outlook for each of these geographies varies over the next five years, but for the most part is relatively positive:
·   In Germany, Gematiks Telematics Infrastructure demands are redefining EHR solution requirements, driving additional EMR investment over the next two-to-three years. Agfa is positioned well to take advantage of this, as illustrated in its Q1 2019 results where it announced several new related contracts.
·   In France the development Territorial Hospital Groups (GHTs) that consolidate hospital IT purchasing is projected to drive revenues for the leading vendors such as Agfa, potentially to the detriment of the smaller vendors as scale becomes increasingly important.
·  Opportunities for growth in Belgium will be more limited. A potentially large-scale national integrated care initiative kicked off in 2018 in Belgium; with its integrated care portfolio Agfa is well positioned to take advantage of this. However, the initiative is largely at trial stage and momentum has been slow.
·  The EMR market in Brazil is forecast to be the fastest growing of the four geographies over the next five years, driven by national projects and investment in IT from private hospitals. However, with nearly 20 vendors vying for business, it's a highly competitive market.
Demand for Integrated Care Technology
A key trend across many European EMR markets over the coming years will be the increasing importance of supporting integrated care technology. There are several initiatives underway across EMEA (and beyond) that will increase the demand for IT that allows different organizations across the healthcare continuum in a region/country to work together in order to provide holistic care for patients. Examples include:
·        Sote-regions in Finland
·        STPs/ICSs in the UK
·        GEZ funding in the Netherlands
·        The "Integrated Care for a Better Health Plan" in Belgium
·        TSN pilots in France, and to some extent the development of GHTs
·        Rollout of Fascicolo Sanitario Elettronico (FSE) in Italy
·        The "Coordination Reform" in Norway
Agfa HealthCare moved to take advantage of this trend with its acquisition of French integrated care vendor Inovelan in April 2018, allowing it to supplement its integrated care Engage Suite of solutions. These solutions sit in the HCIS business that will be potentially sold off, they complement ORBIS and add to the potential appeal of the portfolio.
Who might be interested in buying the business?
One potential group for a buyer to emerge from is the EMR vendors that are already strong in Agfa HealthCare's key ORBIS markets, thereby consolidating their position. There are no other vendors that have an exact like-for-like geographic footprint to Agfa in the EMR market. Those closest are Cerner and CompuGroup Medical; both have substantial business in DACH and Benelux like Agfa. Both are also active in France, but neither has a strong presence in terms of market share nor a major presence in Brazil. Further, Cerner already supports several EMR platforms, specifically Millennium and several from its 2015 Siemens EMR business acquisition; adding another platform to this list may, therefore, have limited appeal. CompuGroup Medical may be more of a solid bet. In 2016 it gave Agfa an official indication of interest in relation to a possible takeover. Ultimately, this came to nothing, but CompuGroup Medical has a history of acquisitions to bolster its portfolio, market share and geographic footprint and this historic interest may now be reignited.
Philips is another potentially interested vendor. Like Agfa, it has a strong position in the Brazilian EMR market. Both vendors gained that position through acquisitions several years ago. Philips is now exploring how it can expand its EMR business beyond Brazil, with Germany one of the countries where it has made initial steps with a contract in KrankenHaus Duren Hospital announced in April 2017. Taking on Agfa's EMR business in DACH, Belgium and France would certainly give it further a leg up with its geographic expansion strategy, particularly when you add in the imaging business, another market where Philips is a major competitor.
It would be quite a departure from Philips' historic strategy of organically pushing its TASY EMR solution into new geographies, but Philips has good form in terms of integrating hospital IT platforms from different acquisitions as we've seen with its integrated care acquisitions (Wellcentive & Vital Health) over the last two years. Moreover, the recent acquisition of the Carestream Health IT business announced earlier this year shows that Philips is not afraid of acquiring competitors in its markets to drive revenue growth.
As mentioned in our insight from earlier this week on the EMEA EMR competitive environment, there is a long list of vendors that are strong in other EMEA geographies that may view this as an opportunity to expand their coverage into new countries. InterSystems, DXC Technology, Allscripts, MEDITECH and Tieto, are all examples of EMR vendors that are in strong positions in terms of market share elsewhere in Europe, but that have limited business in DACH, France or Belgium and may view this as an opportunity to address this. DXC Technology and Allscripts both have a history of geographic expansion via acquisitions; InterSystems, MEDITECH, and Tieto less so. Of course, it won't necessarily be another EMR vendor that Agfa sells to, the business may be spun off as a standalone entity or pushed towards private equity ownership.
Implications for the remainder of Agfa HealthCare
Perhaps most surprising in terms of the recent announcement is the potential for sale of the regional imaging IT business associated with HCIS/integrated care in DACH, France, Benelux, and Brazil. This makes up approximately a quarter of Agfa's global share of imaging IT software revenue, in markets it has long been a market leader and has been a stronghold in terms of recurring revenue for the business. While Agfa also holds a significant market position in the large North American market and has also been making progress in emerging markets, a sale of its imaging businesses in DACH, France, Benelux and Brazil can only suggest it sees limited future potential profit and growth in continuing to operate in these markets as is, or simply it views offering an integrated EMR, integrated care and imaging IT portfolio in these countries will strengthen its hand in any sale.
Whether this points to Agfa in the past being too aggressive in low pricing for imaging IT as part of HCIS/integrated care deals in these regions it's hard to say, but the intention to sell would suggest the core imaging IT platform business (whether legacy PACS/RIS or its enterprise imaging portfolio) is not offering enough growth and profit to sustain future operations. Admittedly, competition for imaging IT in these markets is fierce, with significant price pressure and a long list of local and international competitors. Perhaps then the decision to maximize the return on its strong position and large installed base is a shrewd move, providing a significant war chest to focus on winning a share in high margin geographies and investment in growing its core imaging business, not to mention further investment in the development of its artificial intelligence offering in imaging.
Key Takeaways
The sale of Agfa's HCIS business will largely strip away the non-imaging part of Agfa HealthCare's business leaving it as a pureplay imaging solution vendor with products that span film, X-ray hardware,  imaging IT  software and artificial intelligence for imaging,  a strategy that suggest it will be focused purely on addressing the imaging requirements of its customers.  However, none of its remaining business lines have grown in terms of revenue over the last two years, and questions remain as to whether the renewed focus will allow the company to reverse this trend.
Questions also remain over the central strategy of decoupling imaging from EMR/integrated care IT. As EMR functionality grows pulling in data aggregation, wellness, care coordination, and some clinical functions into what defines an EMR solution, having a solid imaging IT and EMR offering could offer a small advantage in winning tenders. This is an advantage Agfa has now over most other EMR vendors and one that it has benefited from to some extent over recent years. However, it's an advantage it will lose should it execute on the sale. That said, the advantage is limited.
Few providers buy imaging IT because of integration with HIS, LIS or ECM. DACH and Latin America being two examples of the small number of geographies where there is some crossover. The company has obviously already weighed up this advantage versus the promise of a focused pure-play imaging strategy and, assuming it pushes ahead with the sale, it has decided the value of the sale from a position of strength in the market outweighs the cons. Time will tell if this was the correct plan.
Alex Green is the Director and Principal Analyst at Signify Research, a UK-based market research firm focusing on health IT, digital health, and medical imaging. Alex is responsible for leading Signify Research's Digital Health market intelligence portfolio, initially developing its coverage of the patient engagement platforms and portals market.