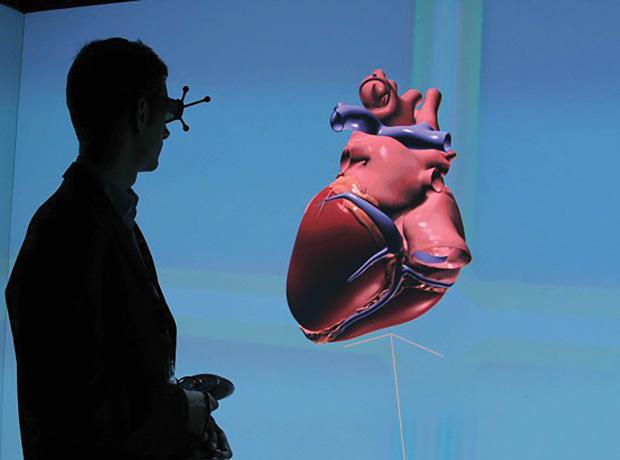 While healthcare is known for not jumping to conclusions very fast when investing in new technology, the industry starts to pick up the pace. Such "newcomers" as blockchain, IoT, VR, and AR get a well-deserved appraisal and become an integral part of next-gen custom healthcare software aimed at supporting personalized treatment and predictable patient outcomes across a wide range of conditions.
We anticipate that the digital twin technology has good chances to become the next addition to the care delivery cycle and medical research.
Digital Twins Who?
Digital twins are leveled-up virtual models of processes, services, or products rooted in artificial intelligence and IoT. They get intensive adoption across many industries including energy, aerospace, retail, and manufacturing.
In fact, Gartner predicts that about half of large companies will harness digital twins by 2021, improving their internal efficiency by 10%. SAP's Thomas Kaiser, Senior VP of IoT, claims that businesses unable to incorporate digital twins into their processes will be "left behind." According to a recent report, the global digital twin market is supposed to hit $15.6 billion by 2023.
But why should healthcare jump on the bandwagon? Within the industry, digital twins of particular patient organs allow doctors to test different care delivery approaches and prevent conditions that are years apart and enable patient-specific surgery training to prepare for complex invasive procedures.
First digital twin projects are already running, and we reviewed them to find out whether the technology can live up to the promise of turning care delivery around in the near future.
The Living Heart Project
The Living Heart Project is a collaborative platform employing the digital twin technology to model the cardiovascular system for research, treatment, clinical trials, and other scientific and commercial uses. Software vendors, researchers, clinicians, pharma companies, and other stakeholders within the cardiac community are supporting this initiative. To name a few, Intel, Bayer, Hewlett-Packard Enterprise, and Pfizer are on board building realistic heart models.
The default model can be turned into a digital twin of a particular patient's heart with the help of their medical data, including MRI, CT, and ECG results. With this data, the heart model obtains the unique characteristics of cardiac electricity, structure, and blood flow of a specific patient. The multi-scale heart twin also reconstructs the patient's cardiovascular system's behavior according to their current health status or condition, simulating various cardiac defects and cardiovascular diseases.
Such precision allows clinicians to test multiple treatment hypotheses across a range of therapies, devices, and interventions by comparing possible outcomes without taking any real risks. The digital heart twin helps them find the best-fitting solution for an individual patient in a timely manner, replacing the guesswork with computing.
In particular, the project was already applied to predict potentially lethal drug-induced cardiac arrhythmia. Arrhythmia reduces blood circulation across the patient body, and some types of it can cause death if not treated with a defibrillator in a few minutes. Prior to the new drug's market launch, its safety had been tested for years.
The researchers unlock the faster and cost-effective opportunity to evaluate the new compound with the help of the digital heart twin. For this study, the researchers evaluated Quinidine and its potential to cause arrhythmia in various cases. They ran 42 simulations with the models of healthy and pathological hearts, consisting of 7.5 million nodes and 250 million internal variables. The researchers report high accuracy in predictions and hope that the model will be widely used to accelerate drug discovery and time-to-market.
The Living Heart Project platform is also a prospective technology to serve as an educational and training resource for medical professionals, improve medical device design, and support regulatory science.
Sim&Cure's Arterial Tree Twin
France-based Sim&Cure enabled a commercial digital twin to personalize intracranial aneurysm treatment.
As some aneurysms can cause clots and strokes, sometimes leading to immediate death, it is critically important to ensure timely treatment. The best outcome is to avoid high-risk brain surgery and use catheter-guided implants to restore the blood flow, such as the flow diverters that lead the blood flow away from the aneurysm sac. This approach is less invasive and induces the artery self-healing process.
However, the procedure is complex enough and still bears the risks to cause brain bleeding or reduce the brain blood flow. Its success relies upon the patient's unique health status, aneurysm type and size. Sometimes, the standard-sized implant may not fit the aneurysm volume and form, which can cause additional harm to the artery.
Sim&Cure strives to avoid preventable medical errors and help neural health professionals select the custom implant size to perfectly fit an aneurysm. They allow clinicians to model the aneurysm and arterial tree digital twin of a particular patient according to their rotational angiography scan results.
Then, the specialist can simulate the implant deployment process and get the precise visualization of the interaction between the aneurysm and the implant. The professional can try different approaches and devices to optimize the forthcoming procedure. This custom-fitting of an implant also reduces the risk of additional follow-up interventions occurring in 10% of invasive endovascular procedures.
No Digital Body Twin, Yet
The digital twin technology is already proving itself useful on a smaller scale, taking over separate human body areas. But the potential it shows is massive. Let's just think about how we can accelerate the drug discovery process, saving years of clinical trials and giving more patients access to much-needed treatment sooner.
We will be able to diagnose pathologies earlier as well as predict and prevent health deterioration in chronic cases. Regardless of the condition, patients will receive personalized treatment plans with calculated health outcomes, avoided risks, and reduced invasive procedures.
About the Author
Inga Shugalo is a Healthcare Industry Analyst at Itransition, a custom software development company headquartered in Denver, Colorado. She focuses on Healthcare IT, highlighting the industry challenges and technology solutions that tackle them. Inga's articles explore diagnostic potential of healthcare IoT, opportunities of precision medicine, robotics and VR in healthcare and more.