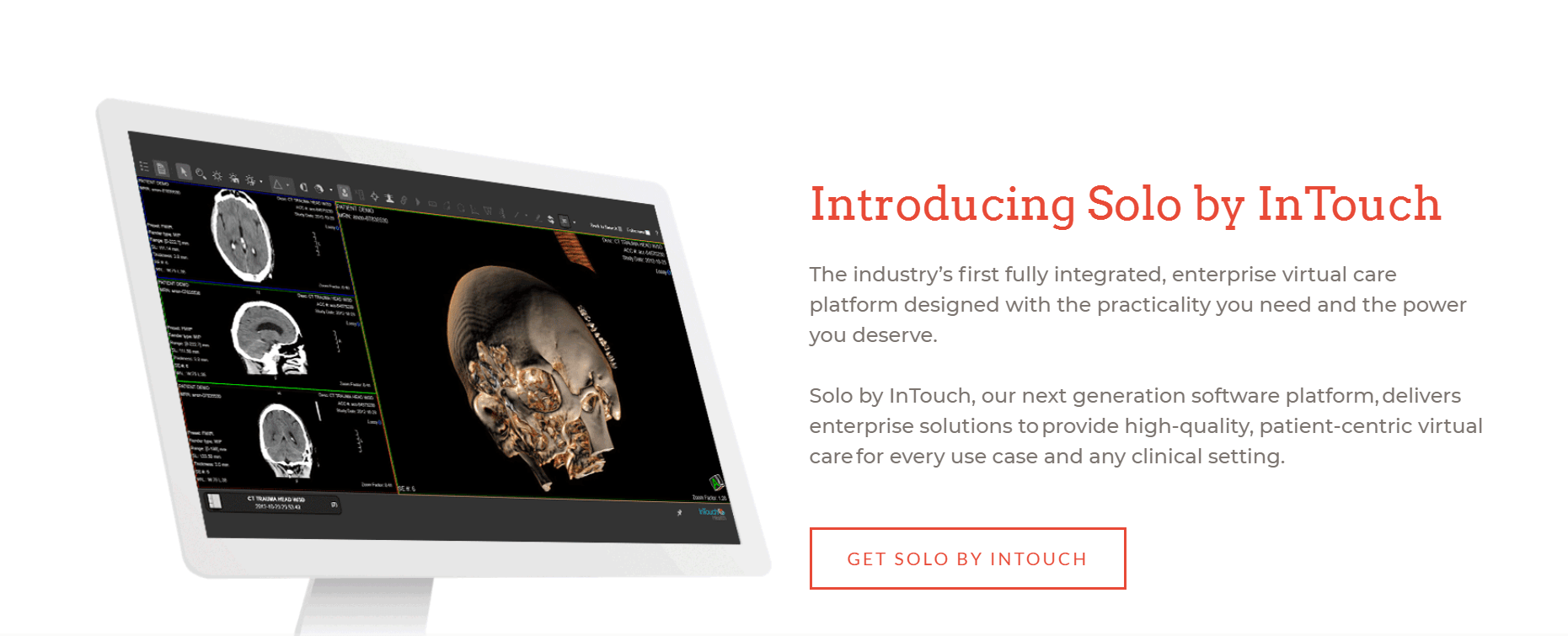 Virtual care platform InTouch Health today announced the launch of its fully integrated, end-to-end virtual care platform, Solo by InTouch. The next generation software platform delivers enterprise solutions to provide high-quality, patient-centric virtual care for every use case and any clinical setting.
According to reports, more than 50 percent of healthcare can be delivered virtually. With Solo by InTouch, healthcare providers can leverage for every type of user and use case, including direct-to-consumer, direct-to-patient, provider-to-provider, clinics, worksites, EDs, and more.
Solo by InTouch Key Features & Pricing Model
The new software platform runs through the proactively monitored InTouch Network and will provide the same clinical reliability our customers know and trust. It will include an updated user interface for seamless virtual visits, IT integration capabilities designed for interoperability, and end-to-end care coordination, with newly-scaled pricing.
Additional capabilities will also allow for the basic audio/video connections clinicians need to facilitate telehealth for low-acuity interactions, such as post-op follow-up with a patient and getting a second opinion from a colleague during a virtual visit. These new capabilities are designed to deliver the flexibility for all healthcare providers – from small practices to large health systems – to scale their telehealth services across basic, low-acuity interactions to life-saving, emergent consultations.
Impact of Virtualizing Practices
"We've spent a lot of time listening to our customers and we heard their need for a truly integrated solution that allows a physician to have a virtual, everyday interaction with patients whether they are in the home, clinic, emergency room, inpatient in a hospital – anywhere on the care continuum locally or anywhere in the world with one platform," said Joseph M. DeVivo, InTouch Health CEO. "Coming off the heels of winning Best in KLAS for Virtual Care Platforms, we want to continue solving our customer's problems by delivering the most comprehensive capability on the market. The latest KLAS analysis further proved that there was an industry-wide need for EHR and third-party software integrations across platforms. In order to fill that gap, we created the next generation of our software platform to provide clinicians with an intuitive, web-based interaction that allows access to all of the tools they need through a single interface."

"At the end of the day, this isn't about technology. This is about improving healthcare; helping clinicians deliver the highest quality care efficiently – anywhere a physician or patient may be located," DeVivo said. "With physicians and patients in mind, ease of use and access were top priorities for this fully integrated platform. And the new pricing model breaks down the barriers small practices often face when implementing telehealth solutions. From large hospitals and health systems to individual physicians, InTouch Health wants to ensure all providers have the opportunity to utilize this groundbreaking solution."
Commercial Availability
Solo by InTouch will be commercially available for implementation Summer 2019.