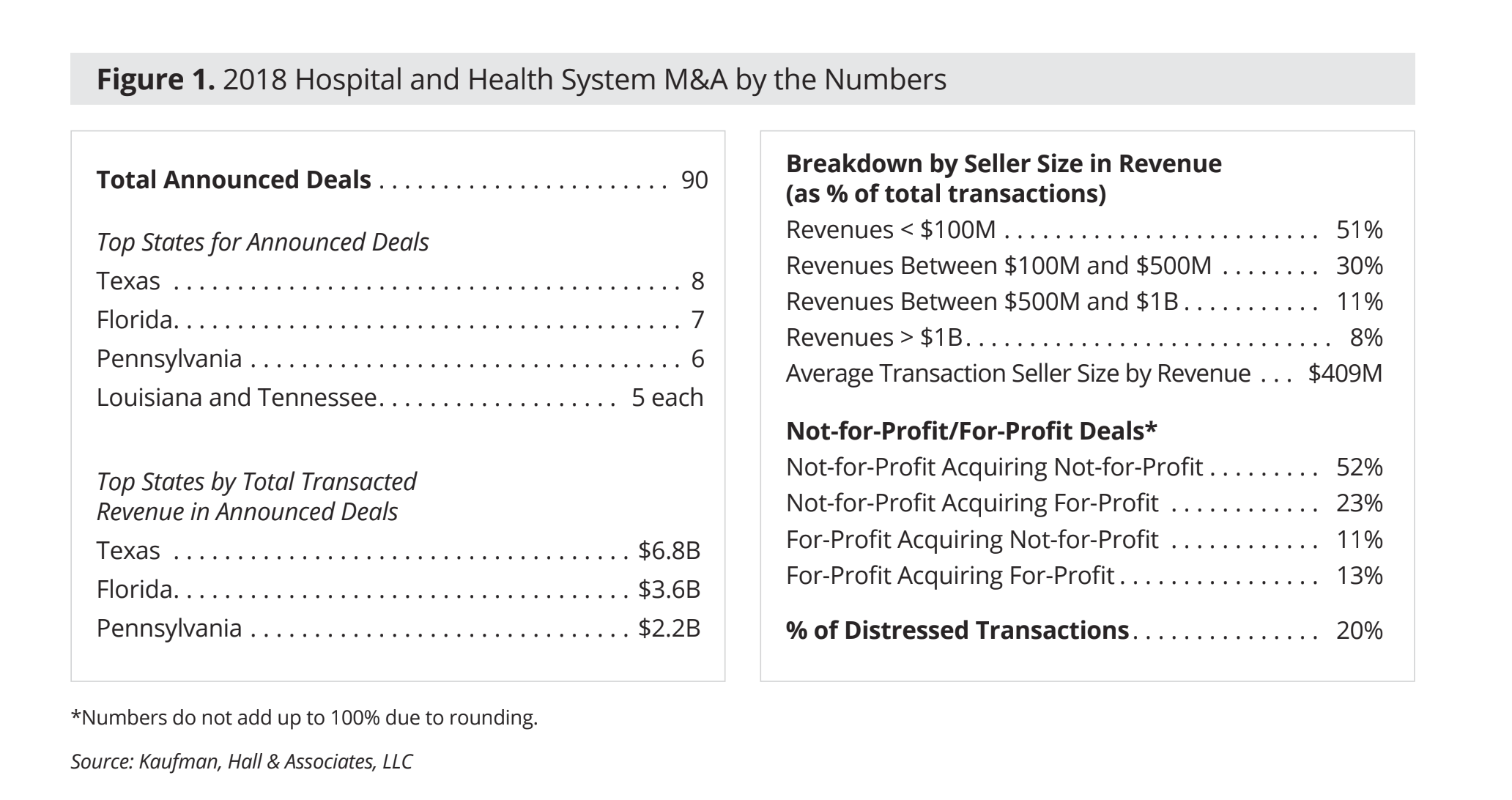 The trend of mergers between large healthcare provider organizations continued in 2018, as the average size in revenue of sellers (defined as the smaller of two organizations in a transaction) reached $409 million, according to Kaufman Hall's new report, 2018 M&A in Review: A New Healthcare Landscape Takes Shape. 
This is the highest figure seen since Kaufman Hall began tracking this metric in 2008. It also represents a compound annual growth rate (CAGR) of almost 14 percent in the average size of sellers by revenue since 2008.
Other key findings in the report include:
– The percentage of transactions involving financially distressed sellers continued to decline, down to 20 percent in 2018 from 21 percent in 2017
– Not-for-profit systems were the acquirers in 76 percent of transactions in 2018, tracking closely with the numbers from 2015 and 2016 (75 percent) and 2017 (76 percent)
– Texas led the way in the number of transactions, with eight deals in 2018, while Florida followed closely behind with seven deals. Conversely, 16 states saw no announced transactions in 2018, including some, such as Kentucky and Massachusetts, that have seen relatively high merger and acquisition (M&A) activity in recent years 
– Sixteen states saw no announced transactions in 2018. These include states that in recent years have seen relatively high volumes of transactions (for example, Kentucky, with five transactions in 2017) or large deals (for example, Massachusetts, with one deal representing $5 billion in combined revenue announced in 2017).
Strategic over Opportunistic Growth
These key findings reflect a growing focus on strategic over opportunistic growth as health system leaders are seeking to acquire organizations that bring embedded expertise and resources to the deal, making these transactions more of a strategic partnership than an asset acquisition. In addition, the convergence acrosfs healthcare verticals and new market entrants are creating competitors that dwarf the scale of even the largest health systems.
4 Healthcare M&A Trends Reshaping the Healthcare Landscape
The report reveals four key trends reshaping the healthcare M&A landscape impacting not-for-profit and for-profit health systems alike, and are causing not-for-profit and for-profit strategies to converge.:
1. The growth of "mega-mergers"
Movement across state lines and multiple geographies to form or expand a regional system is a characteristic of most of the mega-mergers announced in 2018. These mergers include Bon Secours/Mercy, LifePoint/RCCH HealthCare Partners, Atrium Health/Navicent Health; and Western Connecticut Health Network/Health Quest Systems. many of 2018's mega-mergers involve the combination of systems from different—though often contiguous—geographies signals the desire of health system leaders to expand their organizations into new markets or to bring in a partner from an outside market. 
2. Variations in M&A activity across the states 
Wide variations in hospital and health system M&A activity across the states suggests that the healthcare landscape is changing at a different pace in different markets. To some extent, this is a reflection of the vastly different populations and geographies of the states. Health systems may also find that their home market has matured and they have maximized their growth within the market. In this case, a move into new markets, including those across state borders, may be the best option.
3. New healthcare combinations and competition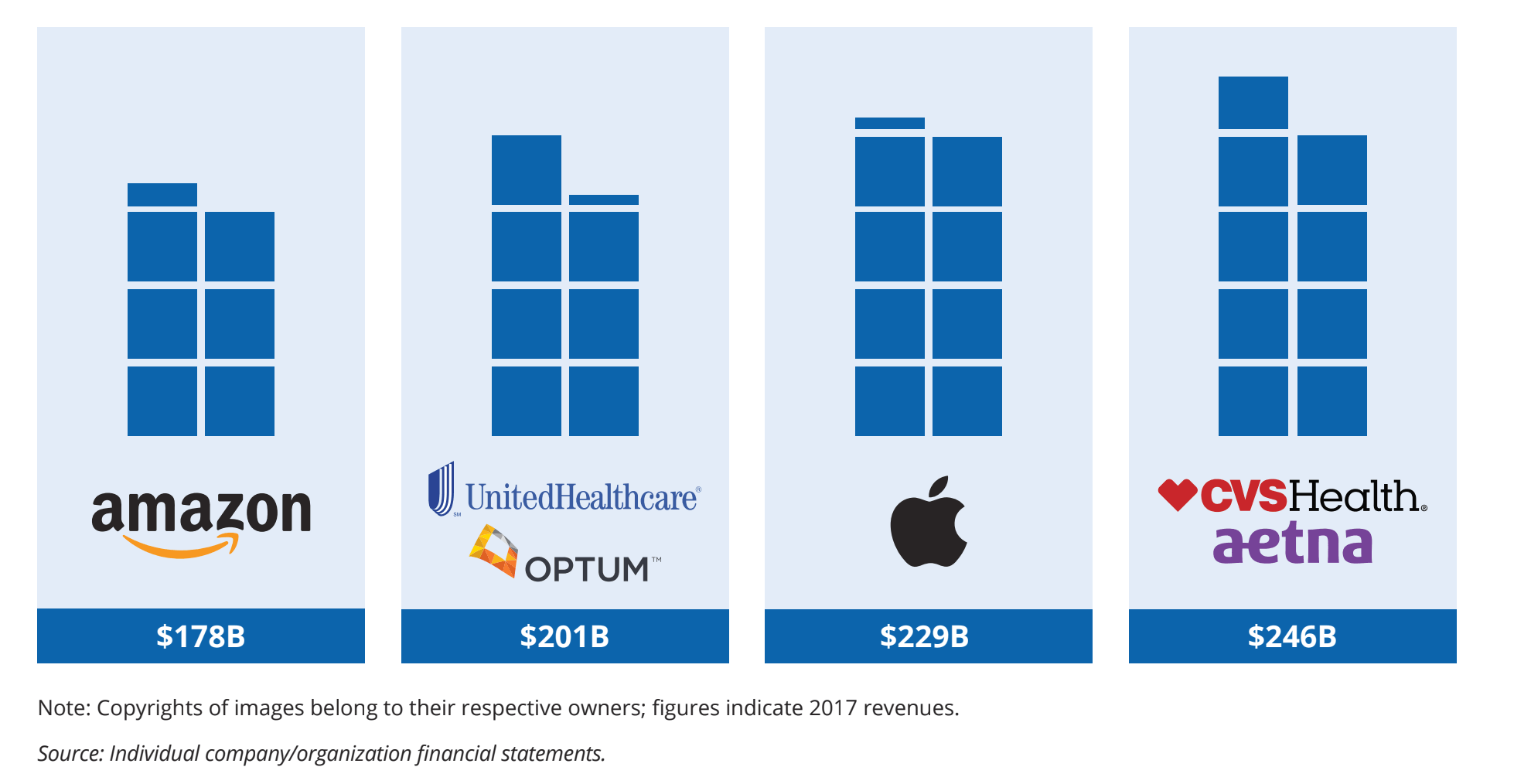 New in 2018 were clear signs that the tech giants plan to make significant moves into healthcare. New competitors are bringing massive scale and capital resources to the healthcare market, with annual revenues up to almost 10 times those of the largest not-for-profit health systems. A trend that rose to prominence in 2017—when CVS Health announced its plan to acquire Aetna, Humana acquired home health long-term care provider Kindred Healthcare, and Optum acquired DaVita Medical Group—has continued in 2018.
4. The converging strategies of for-profit and not-for-profit systems
Activity within the for-profit health system market looks increasingly like activity on the not-for-profit side. Some systems are retreating from a growth strategy that produced widespread geographic coverage, but insufficient depth in individual markets. Some systems are merging to achieve greater scale. And some systems are pursuing a targeted growth strategy.
 "What we're seeing is a move toward strategic growth, driven in part by the need to acquire expertise and resources to manage the industry-wide changes facing hospitals and health systems. These include changes in payment and care delivery models and the push for greater value, but also the emergence of new competitors that bring significant capital resources and strong capabilities in both digital technology and consumer experience to healthcare," said Anu Singh, managing director at Kaufman Hall. "Leaders in legacy healthcare organizations are taking a longer-term view, preparing their organizations for the challenging days ahead by filling gaps in their own capabilities. We anticipate this trend toward strategic growth will continue to gain momentum as healthcare organizations increase their focus on improving patient outcomes, reducing costs, and elevating the patient experience."