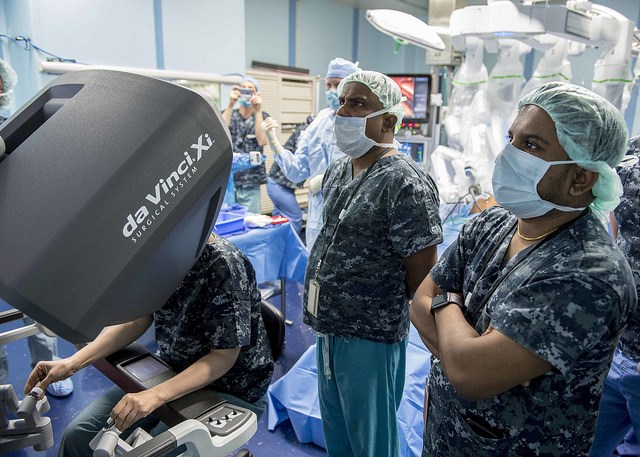 During a traditional medical operation or surgery, the senior physician is at the helm with supporting doctors and nurses huddled nearby. Often, this process entails surrounding a patient who is positioned on a surgery table.
Instruments will be stored in the same room, with nurses and assistants passing the necessary components to the doctor. Everyone listens, everyone works together, and it's a close-knit, collaborative process.
But that's not how modern surgeries work anymore, at least not when robots are involved. A robotic surgery can be classified as any operation that includes an automated piece of equipment or tech. Sometimes, however, the robots are controlled remotely by a doctor or professional.
In such operations, no one is near the patient save for the robot. The surgeon or physician is likely across the room, controlling the tech via a console.
Any assisting medical staff would also be standing off to the side, out of the way. As a result, surgical robots tend to have a negative impact on a medical crew's teamwork.
Surgical Robots Change the Game
During a study conducted by several doctors, it was discovered that surgical robots — much like the Da Vinci system — reconfigure the spatial setup and distance with which a team operates. Anyone working with the console no longer wears sterile gowns and gloves, instead opting for scrubs.
In fact, they don't even get near the patient. Instead, they remain attached to the console in a corner. For communication, the lead doctor talks through a microphone and two-way audio system, with barely any face-to-face interactions.
While surgical robot teams tend to be in relatively close proximity, they're working less collaboratively, and there seems to be a lot more downtime for those involved, besides the doctor operating the equipment.
This change removes the human component from the equation almost entirely. A surgical team spends a lot of time huddled close together, which naturally encourages friendly conversation and teamwork.
Surgeons tend to become familiar with their nurses and co-workers, spending quality time that builds both culture and strong relationships. After a traditional operation is over, for example, the surgeon might stick around for a while to chat or interact with co-workers.
But with surgical teams, the doctors tend to leave soon after the operation if not right away, having had no interactions with others in the room outside of the console. It generates a hands-off, no-contact ritual that is perhaps more sterile than the tools themselves.
The researchers refer to this gap as "cognitive distance" and "effective distance." Cognitive, of course, being a disconnect between the surgeon and nurses because they cannot see one another or have physical interactions. Affective relates to a disconnect in collaborative work, as many tend to be out of touch during a robotic or automated surgery.
Incorporating New Technologies and Trends in a Positive Way
It may seem from this information as though there are no benefits offered by robotic equipment, but that's definitely not the case. The Da Vinci system has been praised for providing better precision, enhancing surgical vision and reducing a physician's cognitive and physical fatigue. It offers a multitude of benefits, but at the same time has a detrimental effect on teamwork.
So what's the solution? In reality, robotic surgical tools are no different than any of the other trends taking hold of the medical industry. Technology like AI, the blockchain, remote and telemedicine, cloud faxing, wearable technology and automation all have the potential to introduce more hands-off, disconnected forms of healthcare.
The trick — at least in instances where teams are kept separate from one another even in the same room — is to adopt a collocated and remote process for collaboration. The setup would be no different than teams that are operating from separate places geographically, phoning in via the internet or conference tools. Instead of two-way audio for communication, teams might use video conferencing.
Another great idea is to adopt a training-like space where nurses and surgical techs can stand close to the console with a physician to see what's happening. This strategy could easily be employed by swapping out smaller displays and workstations for large, wall-encompassing monitors. Larger displays allow more people to see what's happening, even if those people are spread out.
One could argue that this plan speaks to the idea that medical and surgical technologies should be designed with collaboration and teamwork in mind. Just swapping a small monitor for a large one, for instance, can have a different effect on surgical teams. It's clearly something IT and tech crews should consider when implementing new systems.
Time will help iron out some of the kinks of these new trends and technologies, specifically in how they influence teamwork.
Hopefully, surgical teams will learn to operate in collocation settings as opposed to going the opposite direction and drifting further apart.
Kayla Matthews is a health IT and MedTech writer whose work has appeared on VentureBeat, The Week, Contagion Live and BioMed Central.