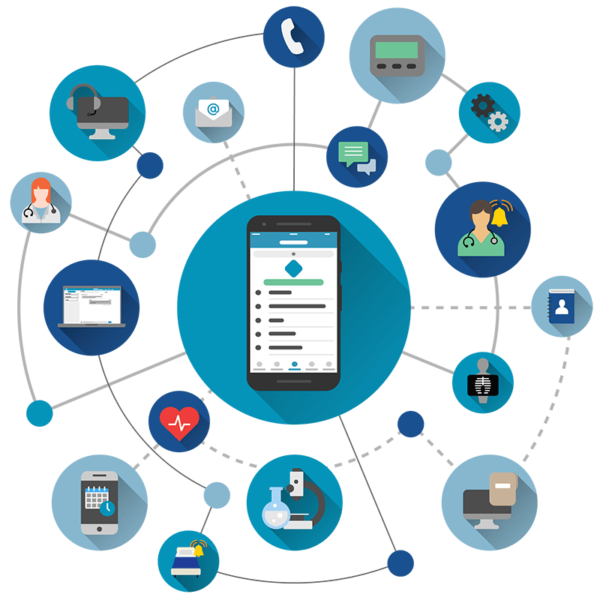 According to a newly released report from Spyglass Consulting Group, 90% of hospitals surveyed are making significant enterprise-wide investments in Smartphones and secure mobile communications platforms to drive clinical transformation and address the mission- and patient-critical communications requirements of clinical and non-clinical mobile workers within the hospital and across the care continuum. 
Report Background/Overview
Conducted over a three-month period starting in September 2017, the Trends in Clinical Communications & Collaboration 2018 report spoke with over more than 100 healthcare professionals working in hospital-based environments who are technically competent and representative of a broad range of medical specialties, organization types, and organization sizes. 73 percent of hospitals surveyed have developed or were developing mobile strategies to address the communications, collaboration, and computing requirements of clinical professionals and other mobile workers across medical departments, standalone hospitals, and ambulatory environments. 
Common Clinical Communication Challenges
Hospitals surveyed have identified common clinical communications challenges experienced by mobile clinical workers that include:
1. Communications overload
Clinicians are overwhelmed by the overhead paging system, incoming voice and text communications, and a continuous stream of device alarms which is creating alarm fatigue and leaving them little time for direct patient care.
2. Lack of standardized processes
Clinicians are resistant to utilizing standardized communications processes and tools especially during transitions which can introduce medical errors into care process.
3. Dissatisfaction with existing communications tools
Clinicians are dissatisfied with the antiquated communication options provided by hospital IT including overhead paging, landline phones, pagers, and proprietary VoIP handsets. EHR-based messaging tools are poorly designed and not well integrated with their workflow. 
Related:  5 Best Practices for Establishing a Unified Mobile Clinical Communications Strategy
Must-Have Features for a Next-Generation Clinical Communications Platform
The report reveals five must-have features for a hospital clinical communications platform to help providers achieve the Triple AIM framework by reducing healthcare costs, improving care quality and outcomes, and increasing patient and staff satisfaction. 
1. Cross platform support: enabling clinicians to use a different mobile devices and/or webbased interfaces to support anytime, anywhere communications
2. Unified Communication: enabling clinicians to use different communication modalities including Voice over IP, secure text messaging, and video conferencing
3. Enterprise-wide directories: integrated with the on-call scheduling system and care assignments database enabling clinicians to connect with team members
4. Event-driven communications: enabling clinicians to receive critical notifications from hospital legacy systems providing actionable content to close the communications loop
5. Analytics and reporting tools: enabling hospital IT to measure communications tools usage and effectiveness to drive clinical workflow improvements.