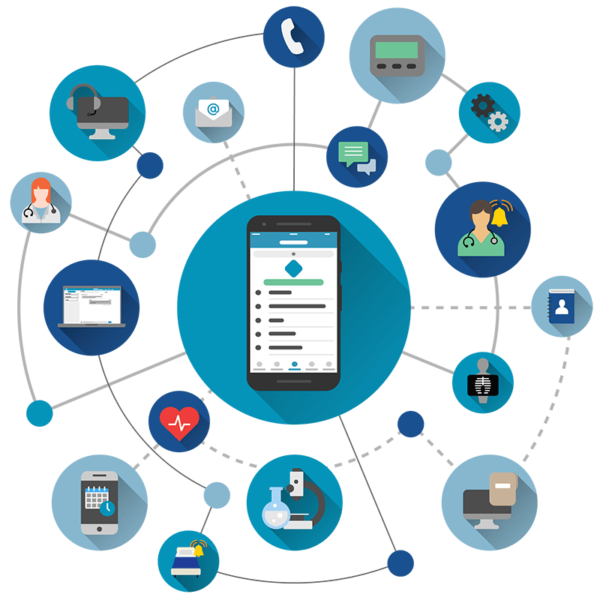 Doc Halo's CIO Jon Jansen explains why it's time health organizations establish clear lines of communication.
Thanks to the myriad of emerging devices and apps, it has never been easier for clinicians to communicate, so why is there still so much disconnect in healthcare delivery? Maybe it's because not all tech is created equal—and while variety is the spice of life—it turns out that using too many communication tools is a recipe for disaster when it comes to productivity.
According to a Ponemon Institute study conducted in 2013, providers waste more than 45 minutes every day because of inefficient communication systems. That loss in productivity costs the average U.S Hospital nearly $1 million annually and represents a burden to the U.S. healthcare system of more than $8.3 billion every year. The study may be a few years old, but Doc Halo's Jon Jansen said the problems are still prevalent.
"The time to implement a unified communication strategy is now," said Jansen, CIO of the Cincinnati, OH-based clinical communications provider. "EHRs are in place, but communication workflows still use antiquated tools and communication systems. Without a seamless communication platform, there are still going to be issues with patient care."
Indeed, issues with patient care exist due to poor communication and have for some time, leading to decreases in efficiency and care quality and increases in miscommunications and medical errors. Establishing clearer lines of communication could help providers save both time and money. For example, 65 percent of caregivers reported that secure text messaging can cut discharge time by 50 minutes, which Ponemon Institute estimates could generate more than $3.1 billion in revenue per year across the healthcare industry; however, health systems lack this capability.
"Having a well-defined unified mobile clinical communications approach rather than multiple communications apps and systems can increase overall operations and workflows for care teams, sparking real change in care team collaboration and efficiency, user adoption, clinician satisfaction, and patient outcomes," said Jansen.
Despite the need to make changes, most healthcare organizations have not established an effective unified mobile clinical communications strategy. Most have embraced clinical communication by allowing clinicians to install an array of related apps and systems. Caregivers use up to six screens in an average day, including desktop computers, pagers, laptops, smartphones, and tablets. One cause for the communication confusion stems from the abundance of mergers and acquisitions in healthcare.
"As health systems added hospitals and physician practices to their networks, they historically allowed the new members to retain their old technology tools. Thus, departments communicated in silos; some departments used pagers, some physicians preferred to be called at their offices, and some, of course, were not texting securely," said Jansen.
Now that health organizations have dealt with the challenges of merging and establishing EHR technology, CIOs can focus on IT governance and system-wide interoperability. Still, the question remains: what does a unified communications strategy look like and how does an organization establish one?
One Platform/ 5 Best Practices
If you're thinking an organization can unify strategy through governance practices and firmer bring your own device (BYOD) policies, think again. There is no unifying strategy without establishing a unified source. That means investing in a single, multi-functional communications platform. "It is not enough to simply issue a policy that tells physicians and nurses not to text. You must offer a replacement solution. With HHS fines putting pressure on organizations, this should certainly be at the top of every CIO's list," said Jansen.
Of course, purchasing the right tech will only get you so far. To ensure you're on the right track, Jansen recommends following Doc Halo's five best practices for establishing a mobile unified communication strategy:
1. Make it Mandatory
By definition, you cannot have system-wide, unified communication if you allow people to opt in or out on a voluntary basis. The platform quickly loses its effectiveness if clinicians cannot reach all their colleagues. Without full systemwide adoption, the communication silos will return as clinicians revert back to their old communication methods.
2. Start Simple with Secure Texting
HIPAA compliance is an immediate need—no one in healthcare should be texting using standard SMS. Implement this line of communication first to get everyone signed in and used to the workflow and texting each other regarding patient care.
3. Integrate a Schedule Management Module
Secure messaging will still be inefficient if clinicians don't know who to call to coordinate care. Access to a systemwide schedule allows clinicians to find on-call physicians, nurses and specialists in every department and service line. A schedule management module should include these two key functionalities: the ability to build schedules directly inside the platform, and the ability to allow health systems to import schedules from any existing legacy scheduling tool that's part of a department's workflow. The two functionalities allow health systems to aggregate all schedules onto one platform.
4. Integrate the After-Hours Call Centers
Connecting the after-hours call centers onto the secure platform allows physicians to receive messages that include the full patient details. It's a huge value-add to physicians to be able to view detailed messages right on their phones.
5. Identify Next-Level Clinical Integrations
With the other components in place, the next step is to integrate the clinical communication platform with all the hospital systems needed for real-time care. STAT lab results, for example, can be automatically sent to the ordering physician—he or she will receive a text message with the high-level result along with a PDF attachment of the full result set. Then you can integrate high-priority physiological alarms, set up ENS notifications to alert primary care physicians that their recently discharged patients have arrived at the ER, send notes back to the EMR, and much more. Once you start connecting all these essential systems to the clinical communication platform, you'll soon realize that all your communication is coming and going from one central system.
With HIPAA violations happening all the time, now is the time to get things under control. While it's easy to establish secure text messaging with many products on the market, it seems not all communication providers are the same. "There's a difference between offering a simple texting solution and enabling a unified strategy. Unless secure messaging is part of a complete clinical communication platform, and unless clinical communication is the vendor's primary focus, they will fall far short of the goal," Jansen concluded.