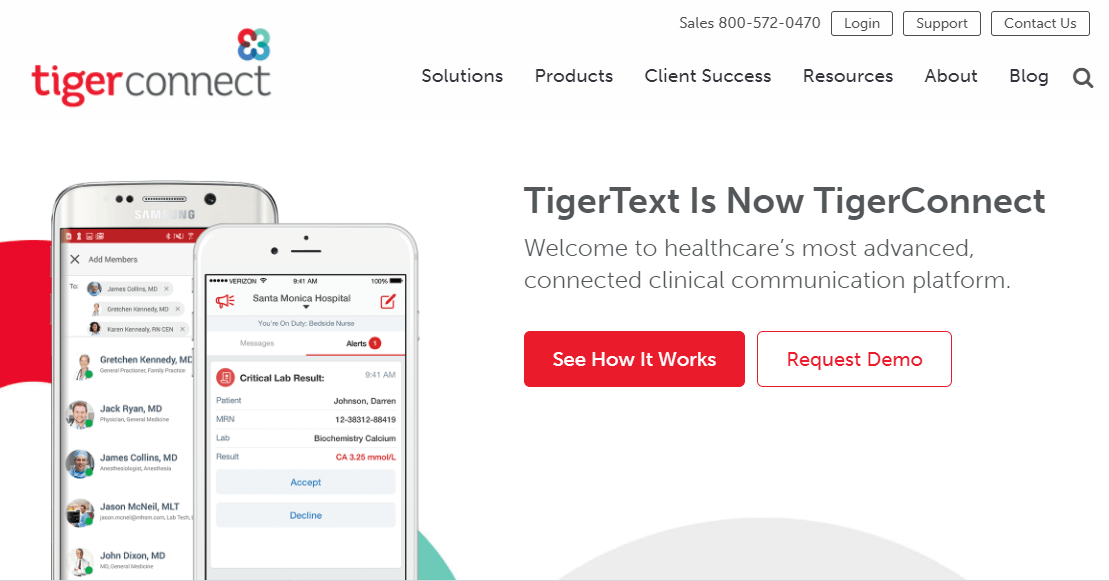 TigerText, provider of healthcare clinical communication and collaboration (CC&C) solution, today announced that it has officially rebranded as TigerConnect. The new name more accurately reflects the solution being provided by the company to the evolving healthcare landscape that must be always-connected, fully integrated, outcomes-oriented.
Effective today, the TigerConnect name and brand elements will begin formal implementation across the company's product and services using a phased approach throughout 2018 for the newly designed brand identity.
"Our new name – TigerConnect – allows us to clearly articulate the true value our solutions deliver." said Brad Brooks, Co-Founder and CEO. "We connect care teams, existing data systems, and ultimately healthcare communities across a centralized and highly scalable clinical messaging platform. It is this real-time connection to data and people that dramatically improves the way healthcare organizations communicate to drive better results.  We wanted that value to be reflected in our name and brand icon which are 4 interlocking C's that represent Connected Clinical Communication and Collaboration."
TigerConnect's technology relieves overburdened clinical staff from the pain and wasted effort associated with disparate, disconnected information and arcane communication tools. It enables care teams to work better together – better communication, better collaboration, better engagement, and ultimately better outcomes.
To help catalyze the market's transition from secure texting to the more complex clinical communication framework, TigerConnect is unveiling a host of new technical components and capabilities that leverage artificial intelligence and machine learning to streamline the speed and quality of care delivery within the hospital.
Clinical Connection Hub – Intelligently merge all of your systems – EHRs, nurse call, imaging, labs, and scheduling – on a single, centralized, mobile communication platform for instant access to relevant, timely, and contextual conversations and information.
Patient Smart Cards – View patient alerts and alarms via cleanly designed 'cards' with action buttons such that populate in the message feed for fast responses or escalations.
Automated Persona Management – This component merges the scheduling system with role assignments, making any on-call staff member instantly reachable by role (e.g. On-Call Cardiologist) using text or VoIP-enabled calling.
Intelligent Shift-Based Routing – Real-time messages reach the correct role owner throughout a shift while shielding off-duty staff members from errant calls or messages.
Shift-to-Shift Activity Handoffs – Preserve continuity of care with conversations that persist from one shift to the next, organized by role, including context around the patient's condition, treatment recommendations, results, images and more.
Escalation Rules – Instantly reroute messages that go unread based on a pre-programmed hierarchy of alternate on-call clinicians; fully configurable by IT.
Task List Continuity – Tasks related to a particular patient link directly to a patient's care team or specific roles that persist across shifts and departments. New shift owners can pick up where the prior owner left off, ensuring no tasks are forgotten or miscommunicated.
VoIP and Video – When care teams require a greater immediacy to communication, users can instantly initiate voice and video interaction with other TigerConnect users. TigerConnect also integrates to a health system's PBX system for connected real-time communication.