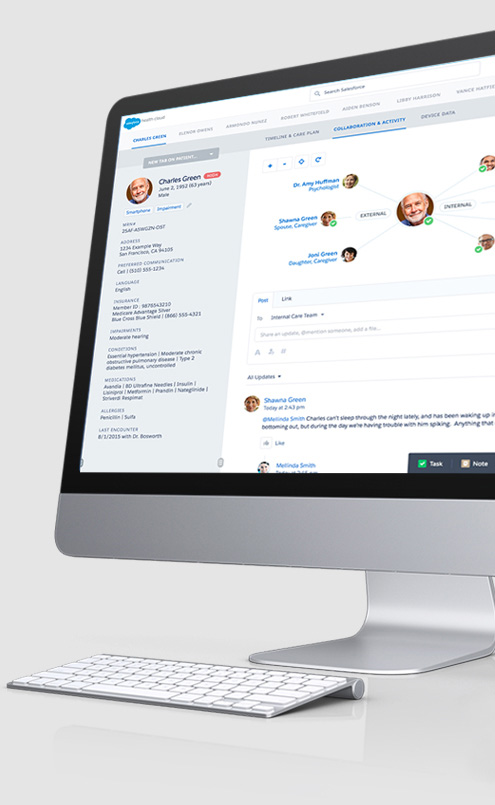 On the heels of the most recent Health Cloud announcement — connecting patients with healthcare providers via two-way video chat — Salesforce continues its push for innovation in the healthcare sector with  the roll out of new care plan templates. Released earlier this year, Health Cloud is a patient relationship management solution that provides a comprehensive view of the patient, smarter patient management and connected patient engagement. Health Cloud puts all patient information in one place, including a Timeline view, demographic and family information and a functional diagram of the extended care team 
Care Plan Templates Overview
This newest feature of the Salesforce Health Cloud will simplify care plans, a time-consuming process that providers depend on as a roadmap for patient treatment. With the introduction of care plan templates to Health Cloud, critical time spent designing the plans and manually inputting information will be negated. The templates can be customized and applied to patients directly within the platform, and shared with patients through a mobile device. With this feature, organizations can apply standards of care for populations of patients, such as those with diabetes or those recovering from hip replacements to ensure patients get the best care possible.
How It Works
With care plan templates, healthcare organizations can search pre-built templates for a specific diagnosis which is similar to an orderset a clinician typically uses for ordering a specific set of orders for a patient. The care plan is customized  and assigns care coordinators to different aspects of the care plan, which is then communicated to the patient. For example, after a checkup of a patient with diabetes, a care coordinator can direct follow-up actions via the care plan template, such as scheduling a visit with a nutritionist, exercising 150 minutes a week and taking medications at the right time. The list of tasks are shown in the patient's care plan within Health Cloud including the mobile app to ensure that both the patient care and care providers have a complete view into the overall care journey. 
"To bring the new care plan templates to life, we are tapping into our vast ecosystem of partners to add content and other functionality. A good example of this is Healthwise, which infuses health education resources — such as nutritional coaching for patients with high blood pressure or suggested exercises for people recovering from surgeries — directly into care plan workflows. With Healthwise, patients receive tailored and meaningful information through videos, tips and other content to help them understand how to better manage their health. Customized care plan templates in Health Cloud help care coordinators save time and provide high-quality care, while enabling personalization for each patient. This ensures they are engaged throughout their care journeys, and it's one more way we are helping foster stronger patient relationships," said Dr. Joshua Newman, M.D., Chief Medical Officer, GM, Salesforce Healthcare and Life Sciences in the post announcement.