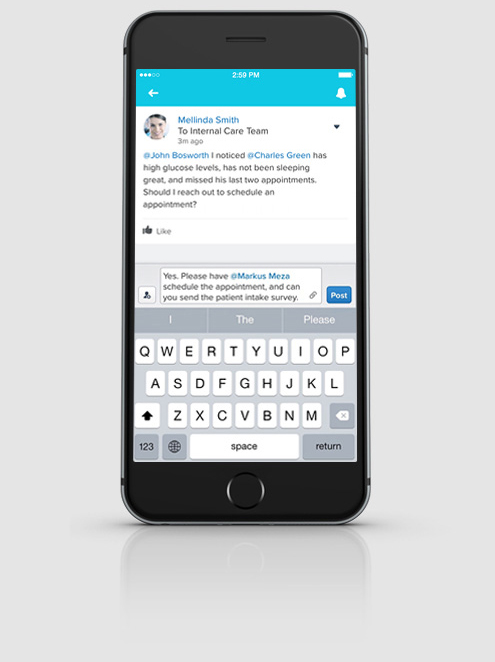 On Thursday, Salesforce has announced the addition of new telehealth features to Health Cloud, enabling two-way video chat that gives patients the ability to connect face-to-face with their care teams from any mobile device. As the global telehealth market expands over the next five years at an annual growth rate of 24 percent, these new features will assist healthcare providers looking to keep up with these new industry standards and patient expectations.
Salesforce Health Cloud Two-Way Video Chats
Released earlier this year, Health Cloud is a patient relationship management solution that provides a comprehensive view of the patient, smarter patient management and connected patient engagement.
Salesforce's telehealth solution extends these capabilities by enabling providers to connect directly to patients through two-way video chats and share their screens on iOS or Android mobile devices.
How It Works
With two-way video for Health Cloud, care team members and patients can immediately see and talk to each other about general health matters — such as checking-in on a chronic condition or discussing preventive tips for staying healthy — using the camera on a patient's smartphone.
Patients just need to press a button within their providers' Health Cloud mobile app to engage the smartphone's camera and connect with their caregivers in real-time, from any location. Care teams can assess problems directly, provide additional educational resources or schedule an office follow-up.
Most importantly, when care teams connect with patients through two-way video chat, Health Cloud automatically pulls up the patient's medical profile, including cases, records and family data, so that providers can provide highly personalized and contextualized support.
Telehealth solutions like two-way video chat for Health Cloud can be used for scenarios ranging from health coaching and education, to post-discharge care, to replacing existing nurse call lines. This ultimately increases quality-of-care, saves time, lowers costs associated with expensive doctor or emergency room visits, and reduces readmission penalties for providers.
"Consumers today expect to connect with their healthcare providers in the same way they FaceTime with family members. Providers who can provide the best platform for engagement — on the devices patients use day-to-day — will find the most success in this highly connected world," said Joshua Newman, M.D., GM, Salesforce Healthcare and Life Sciences in a statement. "By bringing two-way video to Health Cloud, we can both help patients get the engagement they're craving and enable providers to improve outcomes at lower costs."