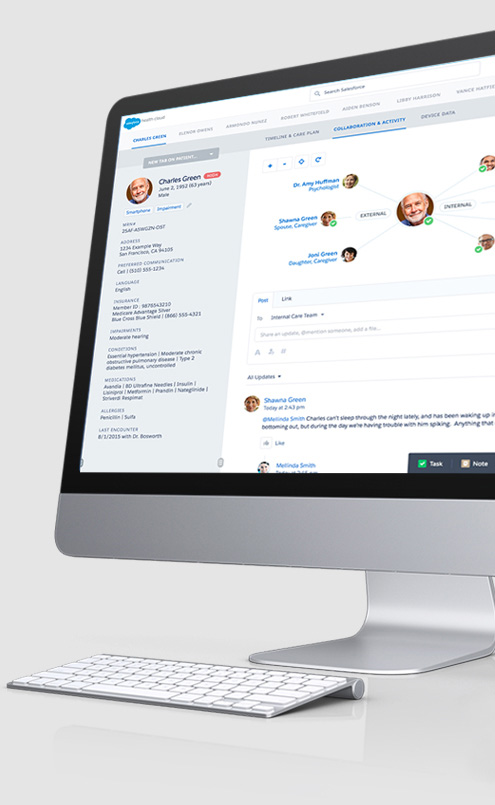 Today at HIMSS16, CRM platform Salesforce announced the general availability of Salesforce Health Cloud, a patient relationship management solution enabling providers to deliver more personalized care starting at $150 per user, per month. Health Cloud puts all patient information in one place, including a Timeline view, demographic and family information and a functional diagram of the extended care team.
Health Cloud also integrates with EHRs to make real-time patient data easily visible and actionable from any device, giving caregivers the information they need to manage patients anytime and from anywhere. Other features include a single console for managing patients to create a more efficient workflow and connected patient engagement that allows caregivers and patients to send and receive messages, get reminders and complete surveys from any device, encouraging them to stay on top of their health goals.
Rapidly Expanding Ecosystem Extends Salesforce Health Cloud
Salesforce is leveraging a comprehensive ecosystem of partners, systems integrators (SIs) and independent software vendors (ISVs) to extend and implement Health Cloud:
– Platform integration: The Philips HealthSuite digital platform provides personal and medical device connectivity, rich clinical data storage and exchange and advanced data analysis tools to spur collaborative care models for patients and providers.
– EHR integration: Apigee, Catalyze, Jitterbit, MuleSoft and Redox offer services to integrate Health Cloud with leading EHRs, ensuring patient information can be managed and viewed within the Health Cloud console.
– Health education: Healthwise provides health education and resources so the care team can deliver tailored health information to help people understand, manage and improve their health.
– Implementation services: Accenture, Deloitte Digital, PwC, Persistent Systems and Silverline deliver professional services for implementation and customization of Health Cloud.
– Patient feedback: GetFeedback provides integrated, mobile-ready surveys and forms that empower healthcare organizations to quickly and effectively collect patient feedback.
Secure messaging: TigerText adds secure text messaging capabilities to Health Cloud, allowing care teams to communicate together in a HIPAA-compliant way.
The Genen Group, a multi-specialty mental health practice located inCalifornia, is currently using Health Cloud to develop a mobile app that allows patients to verify their insurance benefits in real time, view out-of-pocket pricing estimates and immediately schedule an appointment, all from their mobile devices. It also allows Genen Group clinicians to check-in with patients through push notifications, giving instant feedback to patients and enabling them to make smarter care decisions.