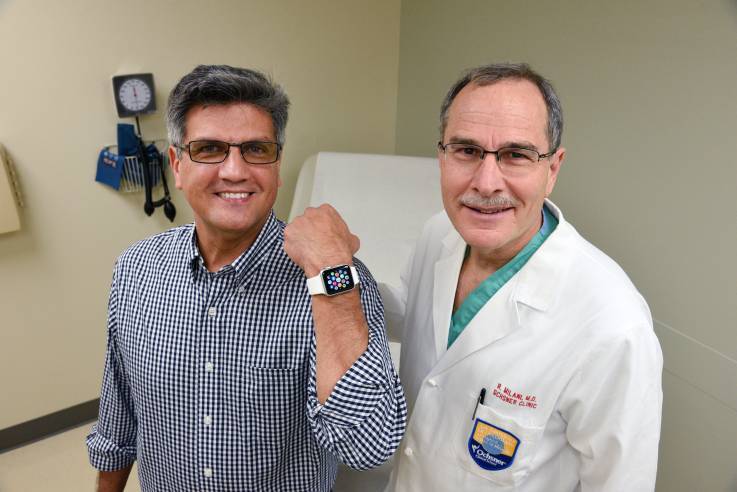 After being the first Epic client to integrate with the Apple HealthKit, Ochsner Health System has announced it is now the first hospital in the nation to use the Apple Watch for managing patients suffering from chronic diseases. As part of the Ochsner Hypertension Digital Medicine Program pilot program, the New Orleans-based provider will utilize the Apple Watch to track several hundred patients who are struggling to control their blood pressure.
How It Works
Through wireless blood pressure cuffs integrated with AppleHealthKit and Epic's EMR, patients will regularly measure their blood pressure and heart rate ratings at home. The data collected will be sent directly to clinic for monitoring allowing specialized pharmacists to review the data in real-time to quickly make medication adjustments and lifestyle recommendations as needed for the patients to ensure good blood pressure control. Those results are integrated with MyOschner, the provider's patient portal, so that patients have immediate access to their EMR and can receive regular progress reports on their status.
Patients using the Apple Watch can receive medication reminders which include:
– actual pictures of the pill
– feedback from clinicians about potential side effects once a new medication is prescribed;
– renewal notification for prescriptions, and activity tracking and exercise reminders.
Pilot Program Criteria
Patients selected to participate in the pilot program have met the following criteria:
Consistently had uncontrolled hypertension with at least three consecutive blood pressure readings over 140/90

Use an iPhone 5 or above

Registered to MyOchsner and have completed the onboarding questionnaires

Purchased the recommended wireless blood pressure monitor
"Typically, hypertension patients see their physician a few times a year. Now, we are offering a new way to deliver care in patients with chronic diseases in which we can communicate with the patient in a more intimate way, more frequently," explains Richard Milani, MD, Chief Clinical Transformation Officer, Ochsner Health System. "We recognize that to be impactful with this method, we need to fundamentally change behavior. We can do this by providing continuous feedback with reminders and words of encouragement to promote lifestyle modification. What better way than to utilize the capabilities of the Apple Watch to make this an easier transition."
Patient Feedback
 "Before enrolling in the program, I had this unwavering anxiety questioning whether I was doing enough to maintain my blood pressure, and if I was at risk for future cardiac procedures, heart attack or stroke, even though I was on medication," said Andres Rubiano, a 54-year-old suffering from chronic hypertension and Ochsner's first patient to use the Apple Watch.
Diagnosed with chronic hypertension at 33-years-old, Andres has battled with hypertension even though he is not overweight, a non-smoker, cognizant of his sodium intake and lives an active lifestyle. Despite these facts, his hypertension has worsened over time, making it even harder to manage as he aged.
"For the first time in my life, I feel a sense of peace and comfort knowing that I'm under constant supervision and receiving high-quality care with little effort throughout my daily routine. This is the way healthcare should be, said Andres"
 "I'm really excited to be the first Ochsner patient to use a different interface to monitor my progress," adds Andres. "I think the Apple Watch will serve as a "buddy", nudging and encouraging me to make changes in my lifestyle that will help me better control my blood pressure. I think this could be a game changer for me."
Chronic disease accounts for 7 of every 10 deaths in the U.S. and more than 80 percent of total healthcare costs.