What You Should Know:
– Chiefy, a NYC-based cloud platform that helps surgical teams seamlessly embed quality and communication best practices, today announced it has raised $4.2M in seed funding led by LionBird, with participation from Nina Capital and Emerge Ventures.
– The company plans to use the seed funding to accelerate and expand product development and customer acquisition.
Get Surgical Teams Aligned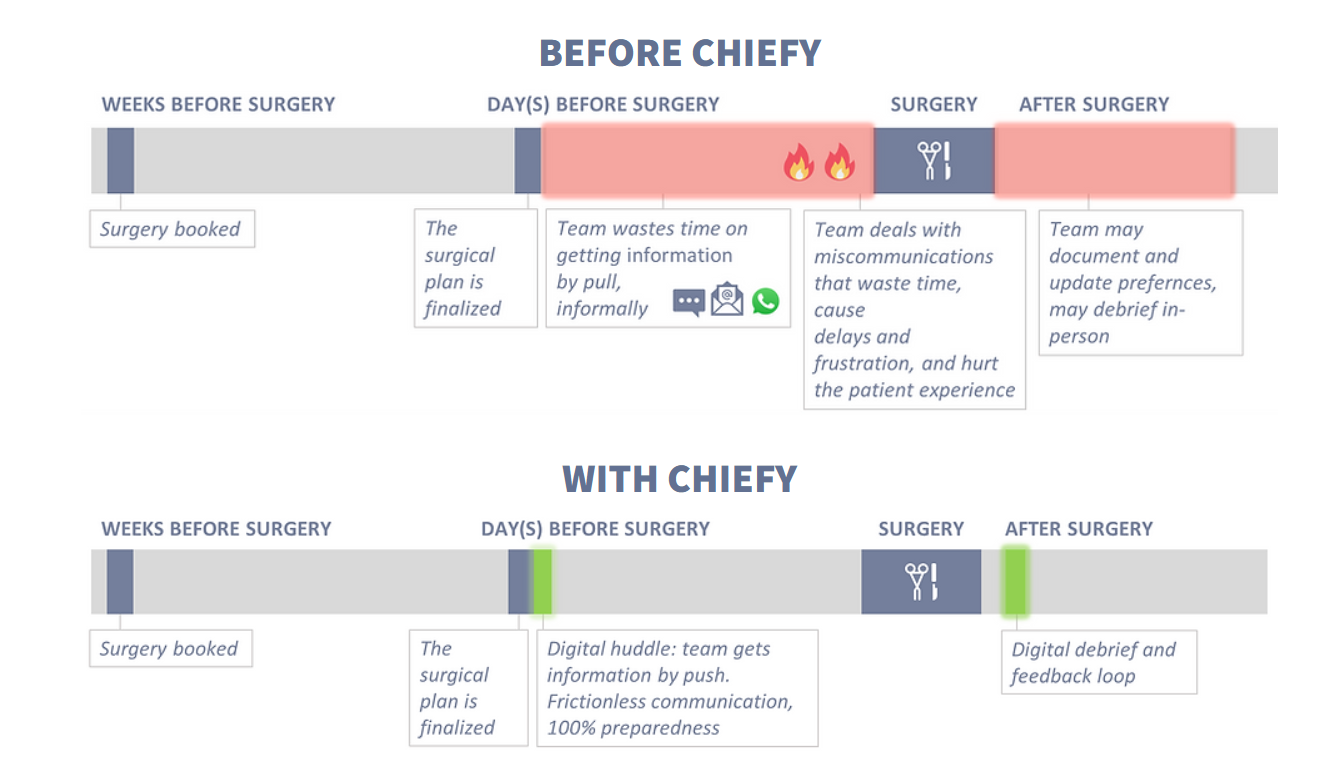 Globally, over 300 million surgeries are performed each year, and more than $50 billion is wasted due to related errors––80 percent of which stem from miscommunication. According to the Joint Commission 2022 report, communication breakdowns continue to be the leading factor contributing to serious medical errors. Multi-disciplinary surgical teams are hard-pressed to convene safety huddles (or team briefs)–short meetings that proactively enable them to focus on patient safety, team alignment, and communication. Instead, many teams rely on emails, text messages, and phones calls about each surgery. Often, by the time the entire team is in the operating room it is too late to address communication errors without causing delays, waste, and frustration.
Getting all stakeholders in a room at the same time before each procedure is increasingly challenging––and often impossible. With Chiefy, surgical teams can easily perform digital huddles on a cloud-based collaboration platform––built by clinicians for clinicians––that seamlessly complements the clinical workflow. Chiefy represents a low-cost, low-risk opportunity for hospitals and health systems to quickly implement and scale a secure, compliant collaboration platform to engage clinicians and improve care quality.
The platform is HIPAA compliant and does not require EMR integration to demonstrate results and return on investment. Unlike local quality improvement projects that take years to implement and are hard to scale, Chiefy can be implemented in as little as two weeks, with no significant upfront investment, and deliver tangible benefits immediately.
"When everyone is forced to do more with less, we must find new ways to employ technologies to help clinicians focus on what's important," said Chiefy Co-Founder and CEO Maya Ber Lerner. "Chiefy is built to challenge the idea that if hospitals want high quality, they need to be slower, or clinicians need to suffer. We believe that quality, efficiency, and clinician experience can be a win-win-win. This requires building a culture of trust, and our technology serves as an enabler for building this culture."