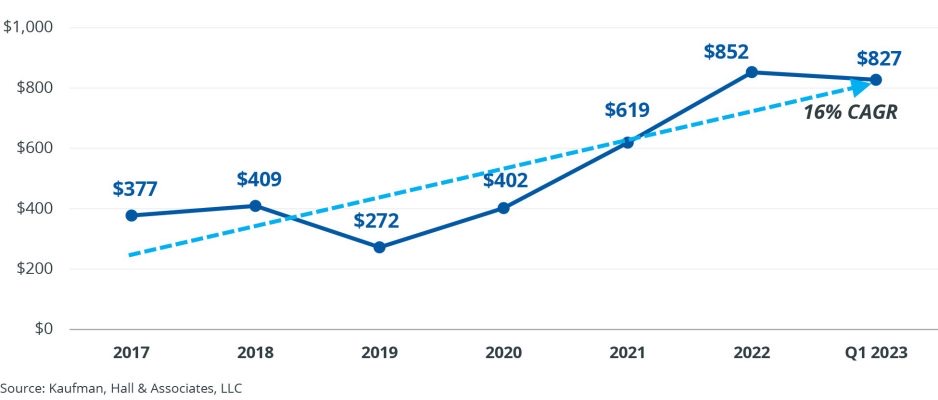 What You Should Know:
Operational and financial pressures drove mergers and acquisitions in the healthcare sector in Q1 2023, according to a new report from Kaufman Hall. In total, there were 15 announced transactions in Q1 resulting in $12.4 billion in total transacted revenue.
The trend of fewer but larger transactions that characterized 2022 was maintained—the average size of the seller or smaller party in Q1 was $827 million, just below last year's historic year-end average of $852 million.
Insights on a New Wave of Mergers
Prior to the COVID-19 pandemic, smaller independent hospitals and health systems were pursuing partnership opportunities to ensure their continued strategic and financial viability in an environment where high fixed costs, downward pressure on payments, and increasing competition for outpatient services were creating an increasingly difficult operating environment, one which has intensified over the past three years.
The pressure on the frontline staff at the height of the pandemic resulted in early retirements, which alongside moves to non-clinical positions, drove up the labour demand and costs. Currently, however, volumes in key service areas—including emergency department admissions and inpatient surgical procedures—remain below pre-pandemic levels. Investment losses in a volatile market have limited opportunities to mitigate negative operating margins, which more than half of the hospitals providing data for Kaufman Hall's National Hospital Flash Report are experiencing.
Currently, in the aftermath of the pandemic, mid-sized regional health systems seek partners while remaining in positions of financial strength, whereas some seek to balance their desire to influence local healthcare delivery with utilising the resources of much larger health systems. Similarly, the new realities of the operating environment also appear in announcements of new transactions. The CEO and president of Flagler Health, which announced a merger with UF Health in Florida, noted that the system was "facing new and evolving industry headwinds" and needed "access to additional resources" to support key community-focused service lines, including behavioral health and women's health.
2. Trends in Cross Regional Partnerships
Health systems are increasingly moving beyond the traditional constraints of geography to find partners. This quarter, New Mexico-based Presbyterian Healthcare Services and Iowa-based UnityPoint Health announced their intention to merge. According to the report, this type of activity is expected to not only continue, but to intensify.
Transactions of this nature typically involve large, regional health systems. While the traditional rationale of pursuing opportunities for savings as the partners centralize and combine administrative functions may apply, the main drivers are broader in nature. Even more apparent in the largest system transactions is the intent to combine, expand, and optimize complementary capabilities. Presbyterian Health Services, for example, has longstanding experience with a provider-based health plan, and UnityPoint's CEO noted in an interview with Modern Healthcare that this experience could help it bolster its Medicare Shared Savings Program and accountable care organization offerings. The report also notes that need to think beyond traditional boundaries to seize opportunities for greater efficiencies and enhanced capabilities will remain compelling in the months and years ahead.
3. For-Profit Portfolio Realignment
A trend since 2017—the realignment of for-profit health system portfolios—showed continued strength in Q1 2023, particularly for hospitals that are, and have historically been, high financial and operational performers. Pertinent examples are as follows:
Community Health System announced the sale of two North Carolina hospitals to Novant Health,and the sale of Plateau Regional Medical Center in West Virginia to Vandalia Health.
Steward Health Care announced the sale of its Utah care sites, including five hospitals and more than 35 medical group clinics, to CommonSpirit Health/Centura Health.
Tenet Health announced that John Muir Health would become the sole owner of San Ramon Regional Medical Center, buying out Tenet's 51% ownership stake (John Muir acquired a 49% ownership stake in 2013).
These sales represent for-profit health systems' ongoing efforts to focus their resources on core markets with good growth potential. For-profit systems are facing the same operational and financial headwinds as not-for-profit systems, and these headwinds are affecting decisions on which assets should remain in the portfolio.