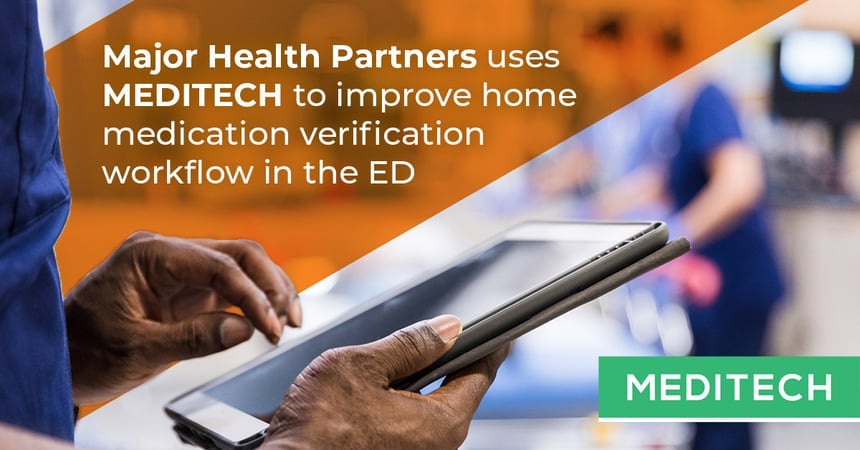 What You Should Know:
Major Health Partners (Shelbyville, IN) announced that technicians saved on average three minutes of time per patient and realized a 30% improvement in the average time for overall home medication verification leveraging MEDITECH's Expanse Patient Care solution.
The solution was rolled out facility-wide, including in the ED, where medication reconciliation technicians saw immediate results. MHP has been able to build on this success by adopting the Expanse Patient Care solution. With an average ED volume of 70 patients per day, and each patient averaging between 5-10 home medications, their time savings have been substantial, freeing technicians up to see more patients.
Outcomes/Results
To measure their progress using quantitative and qualitative data, MHP collaborated with MEDITECH on an advanced usability study. They measured clinical processes pre-implementation and 120 days post to ensure an intuitive workflow and to evaluate the solution's effectiveness, user satisfaction, and efficiency.
In addition to the overall 30% time savings, the results showed a 28.6% improvement in the average time to reconcile each medication, as well as a significant reduction in clicks and mouse movements. The time savings also translated to improved ED throughput, smoother workflows, and an increase in the number of ED patients whose home medications are verified.
Medication reconciliation technicians also gave Expanse Patient Care an overall usability score of 89, or an "A" – the highest possible ranking for usability and satisfaction.
Outcomes/Results
Five years prior, the organization created the medication reconciliation technician role to achieve their goal of collecting an accurate home medication list for every patient who enters the ED.