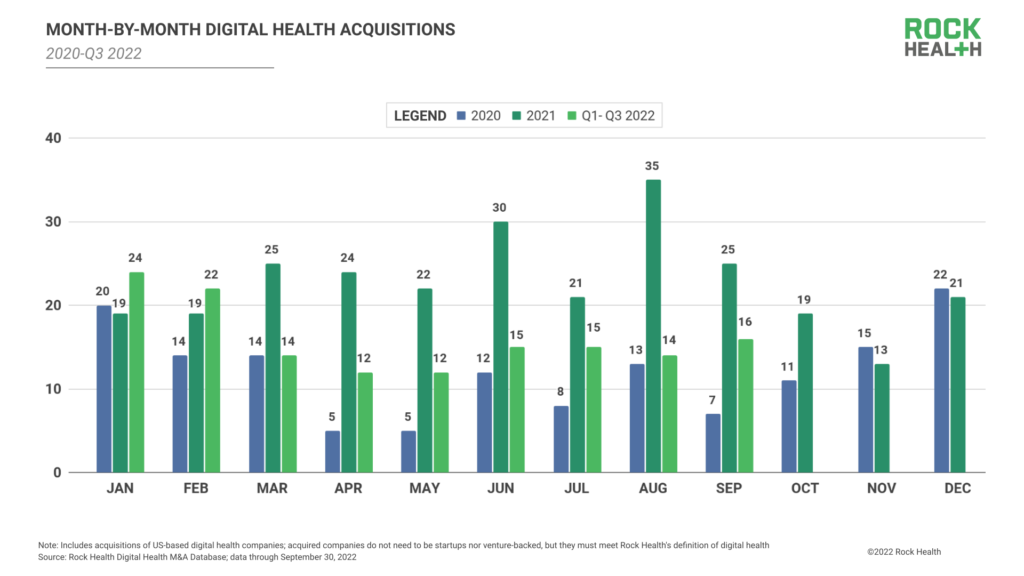 What You Should Know:
– The choppy waters of this year's market have forced a significant slowdown in digital health investment, but buyers and builders alike are seizing the moment to consider mergers and acquisitions (M&A) as strategic opportunities.
– In their latest report, Rock Health explores the sell-side and buy-side dynamics that are making conditions ripe for M&A activity and dig into four M&A approaches being pursued by acquirers in this market moment.
Key Insights into 2022's state of M&A Dynamics
Similar to the overall state of funding, digital health M&A took off in 2021, averaging nearly 23 deals per month for an annual total of 273 deals—a trend that continued into the early months of 2022, with January and February also averaging 23 deals monthly. But as inflationary concerns, economic contraction, and global factors stifled venture funding in Q2 2022, the whiplash also hit M&A, with Q2's average monthly deal count dropping to thirteen.
But unlike digital health venture funding—which hit its lowest quarter since 2019 in Q3 2022—M&A activity caught a small upswing in Q3 with an average of 15 deals per month, bringing total digital health M&A deals in Q1-Q3 2022 to 144. As Q4 closes and 2023 begins, Rock Health expects this climb to continue, in part due to sell-side dynamics. In today's slower funding markets, digital health startups being squeezed by unfriendly fundraising conditions may be more likely to welcome M&A proposals that allow them to combine forces with other companies to bolster product offerings and teams, keep shared service costs down, and offer liquidity to impatient investors. And, context matters—these M&A options will look more appealing depending on the alternatives: down rounds or IPO uncertainties.
"Companies that foresee a capital shortfall before they reach profitability will have to be willing to look at a range of alternatives to bridge that funding gap. And while I would not say that a deal is going to get done purely because a company needs cash, it is one factor that could tip the scales in favor of a transaction in today's environment." – Danika Fry, Executive Director, Healthcare Investment Banking at Morgan Stanley
Rock Health's latest report identifies four archetypes of digital health buyers capitalizing on sell-side interests to meet the following operational needs: 1. Consolidation for inorganic growth, 2. Acquisitions to enhance core operations and internal efficiencies, 3. "Buy and build" deals for category expansion, and 4. M&A for disruptive innovation.
Key insights are listed and explained as follows:
1. Consolidation for Inorganic Growth: As some digital health startups contemplate exiting the private market to avoid an austere funding climate, others are looking to weather the market by acquiring their competitors—leading to waves of sector consolidation. From the buyer's perspective, consolidation is a useful approach to grow one's customer base and build confidence from investors looking for growth indicators. Particularly at a time when digital health players are balancing tightening purse strings with rising customer acquisition costs, organic growth can be difficult—but acquiring competitors with additive customer bases grows their audience and secures market sh. are, better positioning the acquirer for when the market rebounds. Consolidation has been an ongoing dynamic in digital health, especially in crowded areas such as digital mental health, with abundant point solutions that are often difficult for customers to navigate. Q1-Q3 2022 already logged 69 M&A deals with digital health companies acquiring other digital health companies, and Rock Health expects this number to grow as targets consider adjusting their valuations (i.e., buying prices) to entice more potential suitors. Even growth-stage digital health startups watching their bottom lines could get in on the acquiring action. While acquisitions can incur large upfront costs, they set acquirers up for more fundraising potential in the future. Both founders and investors may see this form of consolidation as a risk worth taking.
2. Acquisitions to Enhance Core Operations and Internal Efficiencies: The second acquisition strategy involves purchasing digital health startups that enhance or streamline the acquirer's core operations, ideally offsetting the cost of acquisition with the bottom-line savings that would result from new internal efficiencies. Interestingly, many acquirers pursuing this type of M&A approach are provider organizations, which are battling staffing cost surges and rollbacks in post-pandemic relief funding. Despite feeling the cash squeeze, provider organizations announced 11 M&A deals between Q1-Q3 2022, already surpassing 2021's total three-fold. Not all operations-minded acquisitions are made by provider organizations, but deals in this M&A archetype tend to feature targets that innovate at the backbone of provider operations, in areas such as data analytics, interoperability, infrastructure, clinical and nonclinical workflows, and consumer engagement. Across all acquirer types, digital health startups offering data integration and analytics capabilities were the top acquisition targets from Q1-Q3 2022 with 17 targets purchased, including New Directions Behavioral Health's acquisition of behavioral health analytics software Tridiuum, as well as direct healthcare provider Nomi Health's acquisition of benefits analytics platform Artemis Health. Additionally, Digital health startups advancing patient engagement capabilities and supporting EHRs and clinical workflows followed as the the second and third-most acquired company types with 15 and 14 deals respectively.
3. Buy and Build for Complementary Features: A third acquisition strategy involves buying digital health companies with features complementary to the acquirer entity—empowering the acquirer to move more freely upstream or downstream in the care delivery value chain. This stepwise strategy can help acquirers capture market share in adjacent care categories. Similarly, virtual care suite Recuro Health extended into primary care by purchasing WellVia in April and then entered the employer benefits space by acquiring Competitive Health in August. This buy-and-build approach is also helpful in extending care networks virtually or into the home, exemplified by Advocate Aurora Health's acquisition of remote patient monitoring startup MobileHelp in April, propelling the health system into home health and the aging in place.
4. Disruptive Innovation:  Who is best positioned to make the next set of disruptive acquisitions? As interest rates have continued to soar, the relative cost of capital has increased in tandem. With the days of easy money in the rear-view mirror, Rock Health hypothesize that the players best positioned to make headline-grabbing M&A deals are primarily those who used the heady times of 2021 to accumulate and hold serious cash reserves. In particular, Big Tech, private equity, and biopharma firms have profited handsomely over the past two years and have a rich history of holding their cash reserves for tax, R&D, and M&A initiatives. What digital health targets are on the menu for the cash-rich? Prime targets are value-depressed late-stage companies that have established product-market fit and teams with deep vertical-specific knowledge. These companies have often done much of the legwork in demonstrating important clinical evidence and building user bases, but may struggle with business model challenges. However, enterprise acquirers are likely to view these circumstances as opportunities to buy in at a lower multiple and use their scale and organizational know-how to achieve profitability. Yet headwinds remain, especially on the valuation and regulatory fronts.