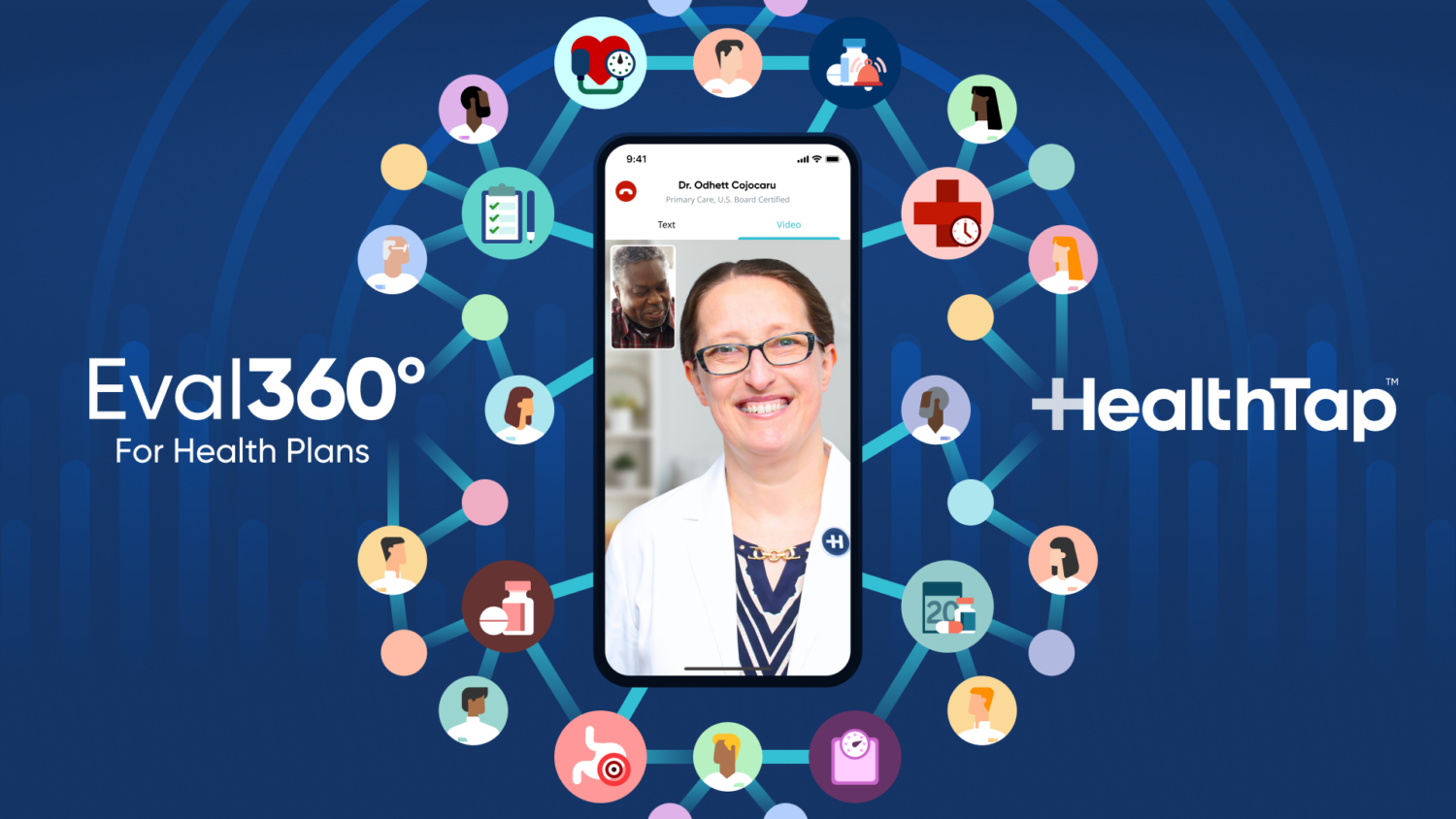 What You Should Know:
– HealthTap, the leading virtual primary care provider, announced today the official launch of Eval360, an innovative product for health plans that enables HealthTap's primary care doctors to conduct comprehensive virtual medical evaluations and easily share useful health data back with those partner plans, by providing a 360-degree view of a member's health status.
– HealthTap completed a successful beta period for Eval360 for over 15,000 seniors through its partnership with a leading Medicare Advantage (MA) plan, and now intends to expand Eval360's reach to plans nationwide of all types, from Medicare Advantage to commercial plans.
---
Connecting Members With Primary Care Doctors That Provide Longitudinal Care
HealthTap is a nationwide virtual primary care provider, delivering quality primary care affordably to all Americans, whether or not they have good insurance. HealthTap provides its members access to their own long-term doctor of their choice to orchestrate all their ongoing health needs every step of the way.
With Eval360's longer visits and detailed screenings, HealthTap's PCPs conduct a review of health and family history, current conditions, medications, lab and device values, risk factors, and social determinants, enabling a personalized and long-term doctor-patient relationship resulting in improved condition management and prevention. Eval360 is instrumental in helping health plans close gaps in care and perform better risk adjustment by digitally capturing a comprehensive view of the patient's health profile and packaging and sharing that structured data with member navigation or population health teams who can act on that information to lower costs and improve health outcomes.
To participate, partner health plans simply enroll HealthTap's medical group as in-network primary care doctors for target plans and markets of their choice and then collaborate and leverage HealthTap's expertise in engaging and driving utilization within populations.
Eval360 extends HealthTap's core offering that connects Americans to a PCP of their choice with same day or week video appointments, responsive text messaging to that same doctor, and 24/7 on-demand urgent care.This market expansion of HealthTap's business comes on the heels of the company announcing a strategic partnership with Samsung, showcasing its accelerating growth towards becoming one of the nation's widest reaching primary care practices.
Developing a long-term PCP relationship to manage ongoing conditions is especially important for the Medicare population as they have an outsized disease burden relative to the broader populace, and require proactive and consistent care management. According to the CDC, about 86% of adults over 65 have at least one chronic health condition and 56% have at least two. Not only does preventive primary care improve patient health, but it can also create a more financially sustainable healthcare system. Eval360's data-driven solution selects top doctors and creates a feedback loop not only for telehealth physicians but for brick-and-mortar offices as well.
"A key to fulfilling our mission of placing a primary care doctor at every American's fingertips is to partner with plans that already regularly reach so many that would benefit from virtual primary care," said Sean Mehra, CEO and Founder of HealthTap. "We realized that our strengths in technology and data integration, quality virtual providers, and patient engagement make us particularly well-suited to deploy a product like Eval360, which empowers plans to engage their members in primary care and learn about them in ways that enables better and more efficient plan administration, but also improves the value, experience, and health of their members."
HealthTap is an industry leader, retaining long-term patients with a Net Promoter Score (NPS) amongst its patients of 80+ and 4.9+ post-visit star rating. HealthTap currently reaches three million Americans monthly and continues to retain engaged patients over several years. The company's commitment to accessible care is shown through strategic initiatives including partnerships with leaders in tech, business, and healthcare. Through the launch and growth of Eval360, HealthTap will partner with America's largest insurers, bolstering the company's commitment to providing low-cost, high-quality care.