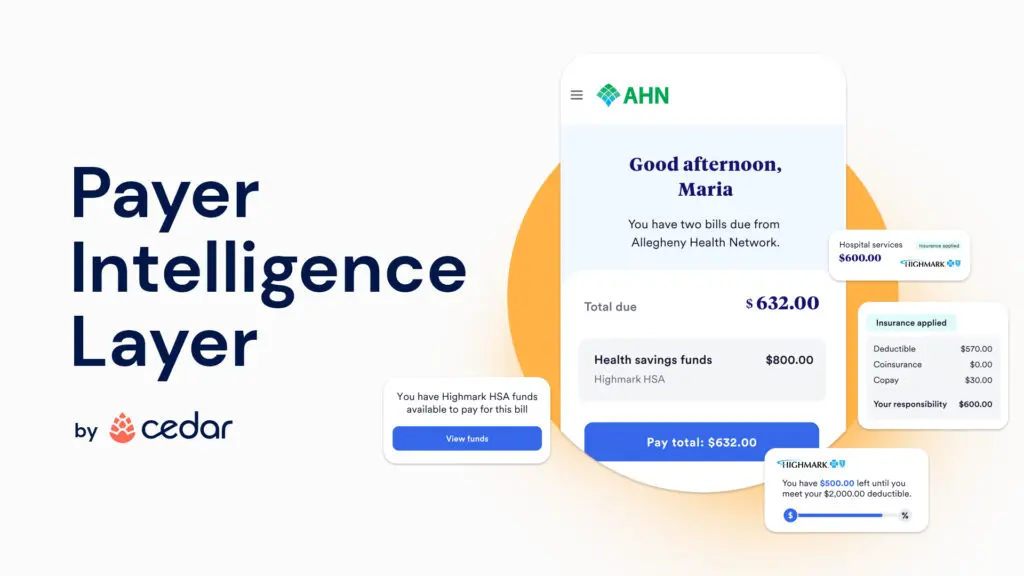 What You Should Know:
– To address the systemic challenges consumers face when paying for healthcare, Cedar, an enterprise healthcare engagement platform that improves the end-to-end consumer financial journey, has developed the Payer Intelligence Layer.
– With the Payer Intelligence Layer, Cedar can now integrate data from health insurers and healthcare providers to help create a single source of information for consumers managing medical bills. A game-changer for the healthcare industry, Pittsburgh-based Highmark Inc. and Allegheny Health Network (AHN) will be the first to launch the new technology for services provided to Highmark Inc. members at AHN wholly owned providers and facilities.
Delivering Real-Time Access to Medical Bills Via An Integrated Payer-Provider Billing Platform
During a single healthcare encounter, a typical consumer may have multiple, disconnected interactions with their provider and payer about the financial aspects of their visit. For example, consumers looking to pay a bill, check their deductible progress or verify their health benefit account balance might have to utilize multiple communications methods, such as phone calls, apps, or provider- and insurer-affiliated web portals.
This lack of alignment leads to frustration and confusion for consumers, resulting in missed payments, overspending, administrative waste and money left on the table for consumers, who may be unaware of their available spending account funds. Not only do U.S. consumers spend 12 million hours a week on the phone with health insurers, but more than one-third of consumers have been sent to debt collections because of a billing issue between their healthcare provider and health insurer. To address these systemic challenges, Cedar has developed the Payer Intelligence Layer.
"For too long, payer and provider misalignment has led to a poor experience and lack of clarity for consumers managing health care bills—this is a system problem, requiring a system solution," said Seth Cohen, president of Cedar. "When each party plays a separate role, neither can fix the experience alone. But by bringing both sides together, we can create the best possible experience, reducing billing friction for consumers while delivering more efficient operations for payers and providers."
Initially available with Cedar Pay, the company's billing and payment solution, the Payer Intelligence Layer enables consumers to access insurance explanation of benefits, real-time deductible status and health benefit accounts in the same place where they view and resolve medical bills—using a single, intuitive interface. Unlike other patient billing solutions, Cedar ensures consumers have the most up-to-date benefits information at their fingertips by directly integrating with health insurers as well as banks, which are responsible for administering health savings accounts, flexible spending accounts and health reimbursement accounts.
"Healthcare billing can be fragmented, cumbersome and overwhelming to navigate," said Neil Kulkarni, vice president, Customer and Clinician Experience Solutions at Highmark Health. "Consumers want clear, easy-to-understand bills for their care and a simple way to pay—with their spending account information available across all channels. As part of Highmark Health's Living Health model designed to deliver a blended and seamless health care experience, our collaboration with Cedar will help us to meet those customer expectations," he said.
AHN and Highmark are collaborating with Cedar in distinct but integrated ways. Patients who visit AHN providers and facilities will experience the new and enhanced billing, statement and call center process, and simplified access to flexible payment options, all driven by the Cedar Pay platform. For AHN patients who are also enrolled as Highmark members, the enhancements multiply. Beginning at the end of October, the nearly 300,000 members visiting AHN providers will now have the added benefit of having their insurance information incorporated directly into a single billing statement. Members will see how their benefits have been applied, available health spending account funds and their progress towards their deductible and out-of-pocket limits—both when paying AHN bills online, and on the mailed paper statements.