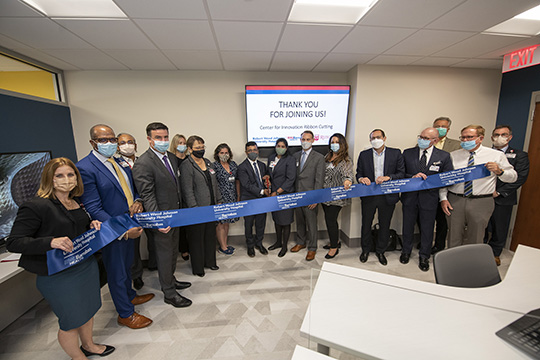 What You Should Know:
– Robert Wood Johnson University Hospital (RWJUH), an RWJBarnabas Health facility, and Rutgers Robert Wood Johnson Medical School (RWJMS) launched a new model for medical research and innovation today at the grand opening of its Center for Innovation, located on the main campus of the hospital.
– The Center for Innovation is a partnership between RWJUH and Rutgers RWJMS to bring together clinicians, researchers and private industry to invent and develop new technologies that address both complex and common healthcare issues.
Developing Innovative Clinical Trials
The ultimate goal is to develop innovative clinical trials that yield medical breakthroughs to improve preventive care and health outcomes for patients. The center's concept and design were led by the Cardiovascular Services team under the direction of Partho Sengupta, MD, FACC, but it is designed for use across all clinical teams and disciplines. Dr. Sengupta is the Henry Rutgers Professor of Cardiology and Chief of the Division of Cardiovascular Disease and Hypertension at RWJMS, and Chief of Cardiology at RWJUH, and is a member of the Combined Medical Group of RWJBarnabas Health and Rutgers Health. The center was made possible via donor funding from the RWJ University Hospital Foundation.
The center's core team for digital transformation will be led by Naveena Yanamala, PhD, Director of Artificial Intelligence and Data Science in the Division of Cardiovascular Disease and Hypertension, RWJMS. Examples of the technology under development at the Center include the use of ear buds to provide real-time heart rhythm metrics such as heart rate and heart rate variability; a medical vest with sensors that can be placed on a patient to record – without blood draw and analysis – "markers" or vital information that may indicate a heart attack; and hand-held mobile EKG technology as a replacement for use of a stethoscope.
Current Clinical Trials
The Cardiovascular Services team has two clinical trials underway, with more expected to initiate by the end of the year. One trial is evaluating an FDA-approved remote robotic ultrasound system to effectively capture expert quality cardiac ultrasound images remotely. The second is an artificial intelligence mobile health trial of a digital platform to study the use of wearable sensors that collect health data from patients diagnosed with high blood pressure and/or early-stage heart failure. The information is then used to initiate guideline-directed medical treatment remotely.
"We're advancing the design of a technology and innovation hub where diverse people including RWJUH and Rutgers RWJMS faculty, community physicians and staff, can come together to create new ideas and designs for clinical care and identify technologies that help find solutions to healthcare challenges," Dr. Sengupta says. "It's important to create a space and environment that is optimized for creativity, innovative thinking and collaboration."
RWJUH President and Chief Executive Officer Bill Arnold said, "The collaboration and innovation that will take place within this center is what differentiates the academic medical center's mission to not just treat illness, but to analyze it, create new pathways to prevent it and then share the solutions across the global medical community. Bringing private industry into this mix adds the crucial ingredient of new technologies – whether they are widely used already or in the incubator phase at a startup. It is exciting to imagine what we can create to improve the health of our communities and to change the course of the health of our vulnerable populations."