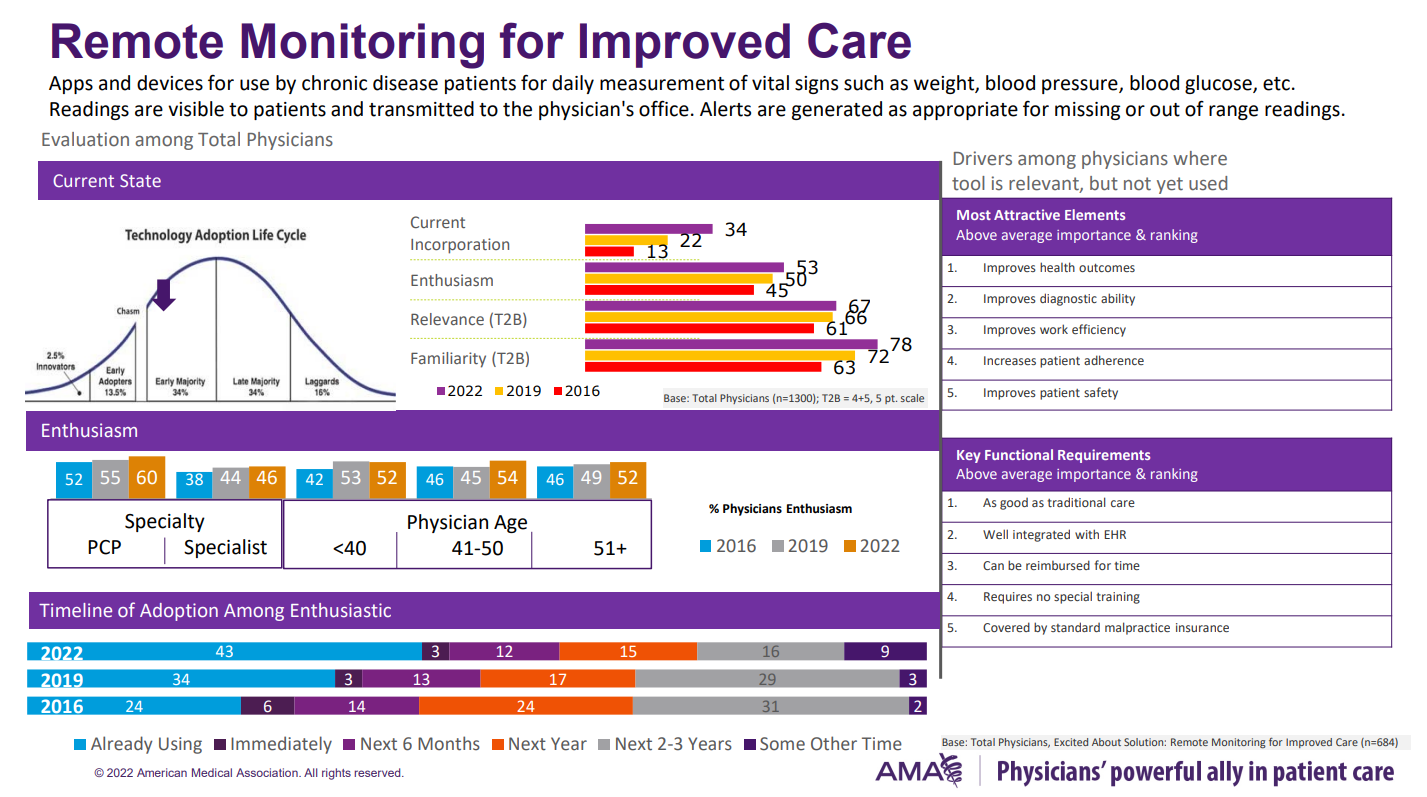 What You Should Know:
– Physicians are increasingly seeing the advantages of digital health solutions since 2016 when the American Medical Association (AMA) first investigated the motivations, requirements, and uses of digital health technology among physicians.
– New AMA digital health research released today shows increased rates of digital health adoption among physicians, provides deep insight into the essential qualities that physicians expect from digital health technologies, and illustrates changes during the last six years.
Increasing Frequency of Digital Health Adoption Among Physicians
The AMA is dedicated to shaping a future that ensures digital health solutions are an asset and not an additional burden for physicians and patients. Also, emerging digital tools must be designed with an equity lens so that they address and do not exacerbate health inequities. Through its ongoing work, the AMA is committed to ensuring physicians have a greater role in leading the design and implementation of health care technologies to ensure they are evidence-based, validated and actionable to enhance patient care, shape a better health care system, and improve the health of the nation.
The AMA Digital Health Research surveyed 1,300 physicians in three regular intervals between 2016 and 2022 to investigate physician motivations and requirements for integrating digital health tools into their practices. According to the AMA survey, the following adoption trends among physicians are propelling the digital transformation of healthcare:
– An increasing percentage of physicians feel there are advantages in leveraging digital health solutions. The percentage of physicians who feel digital health tools are an advantage for patient care grew from 85% in 2016 to 93% in 2022, and increases were measured across all ages and specialties.
– Adoption of digital tools has grown significantly among all physicians regardless of gender, specialty, or age. The average number of digital health tools in use by a physician grew from 2.2 in 2016 to 3.8 in 2022. Improved clinical outcomes and work efficiency are the top factors influencing physician interest in digital health tools. The ability to help reduce stress and burnout has also gained importance as a key driver of digital tool adoption. Liability coverage remains the most important requirement for physician adoption of digital health tools followed by integration with their EHR and assurances for data privacy.
– The largest growth in adoption was among digital health tools that aid in remote care. The percentage of physicians using tele-visits/virtual visits grew from 14% in 2016 to 80% in 2022 while the percentage of physicians using remote monitoring devices grew from 12% in 2016 to 30% in 2022.
– The digital health tools that garner the most enthusiasm among physicians are tele-visits (57%) followed by remote monitoring devices (53%).
– Intentions are high for the future adoption of emerging technologies, but current usage is low. Two in 5 physicians plan to adopt augmented intelligence in the next year, while nearly -1 in 5 physicians are currently using augmented intelligence in their practices. While current usage of digital therapeutics is low, they have the highest percentage of planned incorporation in the future.