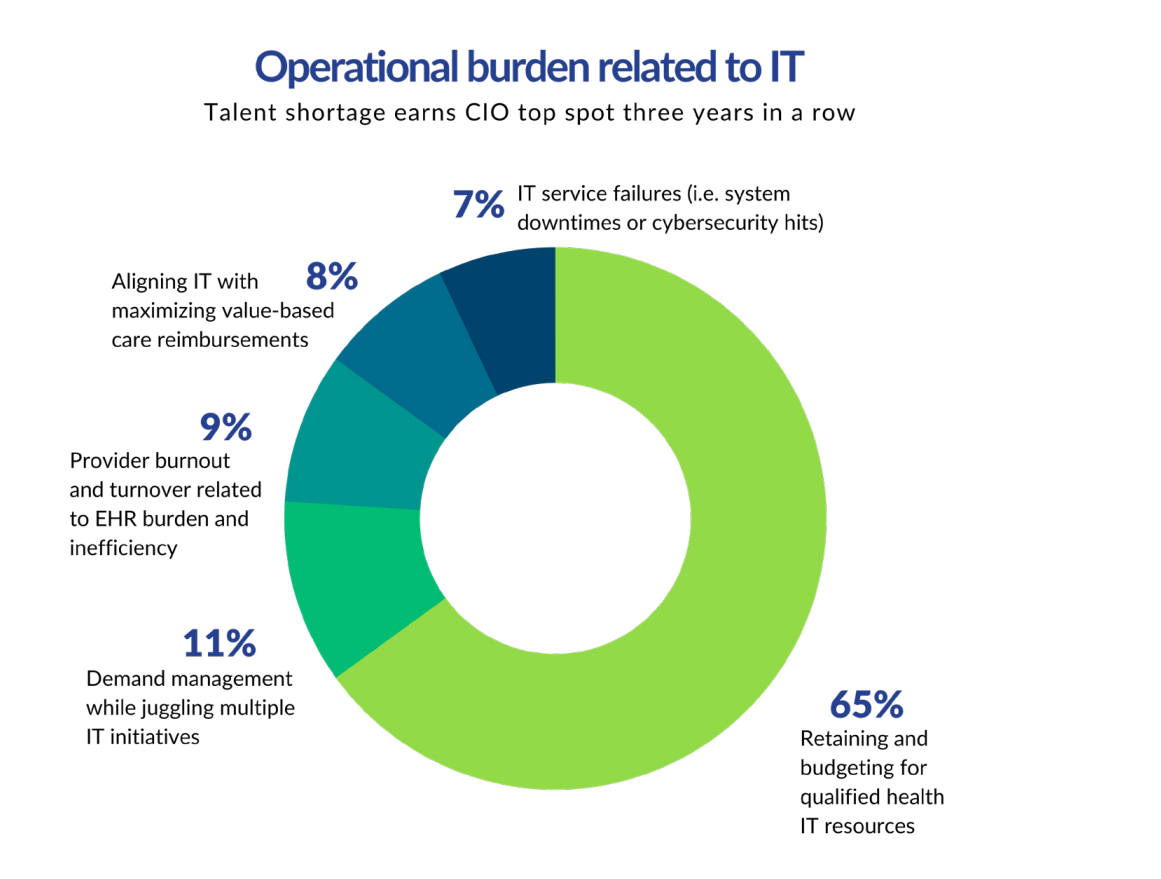 What You Should Know:
– As COVID-19 accelerated demand for more advanced digital health and patient engagement technologies, hospital and health system IT departments shouldered these expectations – rolling out new capabilities in record time, while still balancing daily operational support responsibilities. Now, IT staff burnout has escalated into major career jumps, with many hospital IT departments struggling to fill talent gaps from high turnover.
– Utilizing flexible staffing programs, to address resource gaps and IT catch-up projects, stands as a top-of-mind focus for hospital and health system CIOs, according to Stoltenberg Consulting's 10th annual Health IT Industry Outlook Survey.
Key Trends from the Health IT Industry Outlook Report in 2022
In light of COVID-19 and the immense burden the healthcare industry had to shoulder, the new Stoltenberg Consulting's 10th annual Health IT Industry Outlook Survey provides some interesting insights into the key trends to look out for in 2022. They are listed and explained as follows:
1. The great resignation ripples into HIT operational burden: For a third-consecutive year, IT talent strain looms as a significant concern for health IT leaders. Almost two thirds (65%) of healthcare CIOs pinpointed "retaining and budgeting for qualified IT resources amid the great resignation" as their largest operational burden related to IT this year. This figure hit an all-time high in 2022, rising 10% from last year's top-spot amount of 55%. "Demand management while juggling multiple IT initiatives" (11%) earned the next highest ranking in IT operational burdens felt by CIOs. Additional IT concerns — "aligning IT with maximizing value-based care reimbursements," "provider burnout related to EHR burden and inefficiency," and "IT service failures (i.e. system downtimes or cybersecurity hits)" — all stood below 10%, with the latter two earning half the votes as the previous year.
2. Flexibility helps balance competing IT initiatives: As CIOs face pressure to cut costs while contending with resource and competing project strain, they seek new staffing support solutions. When asked to identify the top area of IT where they wished they had more support, over half of healthcare CIOs (54%) said, "flexible IT staffing support to ramp up or down with real-time project demands. Clinician end-user education and knowledge transfer (30%) came in at No. 2 for additional support requests, while telehealth end-user onboarding and technical support (9%) and the IT help desk (7%) ranked lower in the IT support wish list.
3. Ensuring ROI from current IT investments: Amid supply chain issues, high talent turnover and a turbulent market, healthcare leaders are increasingly vying to identify cost savings and make do with current purchases. For a second-consecutive year, "getting the most out of existing IT purchases" ranked as the highest CIO priority for IT-related financial goals at 64% in 2022. Although no other IT financial priority came close, "reducing claims denials and speeding up insurance and/or patient payments" (13%) and "facilitating value-based care reimbursement maximization" (9%) trailed in next. "Improving the speed, accuracy and value of financial reporting" (7%) and "driving down vendor support costs" (7%) tied as the lowest IT-related financial focuses.
4. IT spending and mission critical events align: While EHR new version upgrades earned the highest IT spend focus, they also ranked as hospital and health system CIOs' most recent or near future mission critical event (25%). Virtual care program deployments (20%), from pandemic-era care shifts, came in second, while M&A system consolidation activity (18%) reemerged across the industry in third place. Whether upgrading internal EHR instances or linking hosted, community-shared EHRs with surrounding healthcare organizations, many hospitals are doing multi- version upgrades. These jumps aim to get them back on pace with their EHR vendors for functionality, security and interoperability advancement. Additional, less common mission critical IT events were cybersecurity responses (14%); "other" (12%), which included revenue cycle system replacements and infrastructure changes; and system, server or software patching (11%).
5. End-user frustrations causing EHR burnout: For a second year in a row, healthcare CIOs expressed that end users are most frustrated with inefficient system workflow (43%). In second place, IT ticket resolution ineffectiveness grew 10% in votes from last year, impacting over a quarter (27%) of hospital and health system end users in 2022. End-user frustrations with poor support analyst communication (18%) rose more than double last year's amount, while IT issue and/or help desk call wait times earned 12% of end-user concerns. As noted by trends in poor ticket handling, end-user customer service feels the ripple effect of IT teams being stretched thin. With staffing strain and resource costs mounting, IT support performance metrics may slack.
6. Continued emphasis on operational catch ups: Pivoting back to operational projects put on hold during COVID-19, CIOs are refocusing on their IT systems' health and coordination within their evolving organizational footprint. For a second year in a row, EHR new version upgrades and/or system alignment (43%) took the top spot of where healthcare organizations are investing the most IT dollars. Aligning with industry hot topic concerns, cybersecurity (23%) took the No. 2 ranking for IT budget prioritization. Additional areas of IT spend included "other" — comprised of votes for infrastructure modernization and revenue cycle optimization — and maximizing data analytics programs, which tied at 11%. AI initiatives (7%) and telehealth support (5%) landed at lowest prioritization, likely indicating that the pandemic's initial telehealth platform boom has plateaued.
7. Cybersecurity concerns: Lastly, as seen in media and conference headlines, cybersecurity took the leading spot for hot topics, with just cause. According to the U.S. Department of Health and Human Services (HHS), within 2022 alone, there are over 298 major healthcare data breaches under investigation by the Office for Civil Rights2. Aligning with this data, within the Health IT Industry Outlook Survey, over a third of U.S. hospital and health system CIOs said that beyond continued COVID-19 recovery, cybersecurity (42%) is the biggest health IT industry focus for the year.
Patient engagement, which earned the top spot in last year's survey, followed in second place with 29% of votes, while interoperability (21%) ranked third. Trailing behind in industry focus, AI earned 6% of votes, while greater marketplace competition earned last place with 2%.
In its 10th year, the survey demonstrates the evolution of health IT industry trends and the CIO leadership role — with COVID-19 serving asa trigger for change. In prior years, the elusiveness of value-based care dominated industry focus. Now, value-based care alignment has expanded into consumer-driven digital health advancements. Traditional patient care evolved into digitally enabled methods, with telehealth, virtual care and hospital at home programs serving as more convenient revenue-generating care that expands patient reach.
With the emphasis on virtual care, remote work enablement, digital infrastructure alignment and cybersecurity, the health system IT department bears higher than ever burden. Many CIOs noted that IT demands are greater than they've seen in many years. Now, CIOs serve as the force unifying the advancing technology footprint needed to sustain competitive health system growth. In doing so, the healthcare CIO holds a much more prominent seat at the decision-making table.