Medical billing issues cause many consumers to shop for different providers. Customers expect a simple, automated billing experience. Insider Intelligence's recent Spotlight on Modernizing Medical Payments looks at what drives consumers away from their medical providers, and what providers can do to modernize their billing processes.
---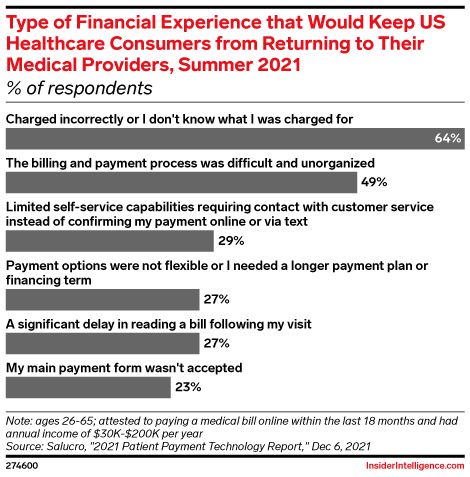 Incorrect or Confusing Bill Cause Patients to Leave Their Doctors
According to a December 2021 report on Patient Payment Technology, 64% of respondents cited incorrect and/or confusing charges as their reason for switching providers. 49% complained of difficult and unorganized processes. Other challenges included limited self-service capabilities, delays, and rejected payments.
Additionally, a survey from Flywire found that one-third of adults missed payment of a medical bill due to an overly complex process. The same percentage stated that they would not pay a bill if they could not understand what they were paying for. With more than half of patients getting hit with unanticipated bills months after procedures, the lack of clarity and automation in medical billing comes with a hefty cost for providers.
Medical Billing Transparency Helps
Consumers crave simplicity. According to a 2021 survey from Salurcro Healthcare solutions, two-thirds are willing to move on from a provider that does not offer a straightforward billing process.
A North Carolina health system met this need through a platform that delivers cost estimates prior to receiving care. As a result, the health system saw a 28% uptick in pre-service collections.
Furthermore, the pandemic has forced traditional methods of bill payments to evolve. A February 2021 survey from U.S Bank and Elavon reported that fewer consumers are getting their medical bills mailed in 2021 (51%) than 2020 (67%). While older patients still prefer mailed bills, most respondents enjoy the flexibility of automated payment options.
Click here if you're interested in more information about purchasing this report.