New Insider Intelligence report highlights the current state of digital pharmacies in 2022 along with the challenges and digital opportunities for online pharmacies to appeal to consumers.
---
With cost and convenience at the forefront of consumer spending decisions and US prescription drug spending continuing to rise through 2026 to an estimated $730.50 billion, winners will offer consumers more robust online resources including pricing transparency, discounts, generic options and more information about the drug itself.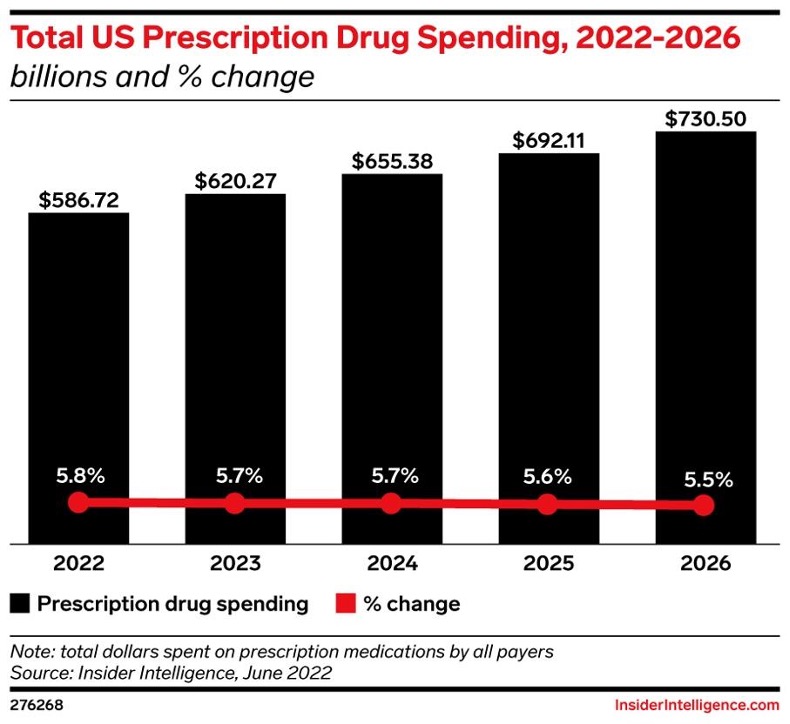 According to a 2022 MARS survey by Kantar, 34% of total U.S. adults aged 18+ stated that they purchase prescriptions or over-the-counter drugs online. Of those who buy online, 52% go through Amazon, 31% go through drug store websites, and the remaining 48% buy from online pharmacies, club store sites, or mass merchandisers. What's driving these trends? A March 2022 DiRx report indicated lack of transportation was the biggest challenge for obtaining their prescriptions (11% of respondents); an additional 8% stated they don't have pharmacies nearby. For these consumers, the opportunity lies in the ability to shift to hybrid models with a focus on digital experiences.
In addition to the convenience of online purchasing, the same DiRx report said 41% of consumers used pharmacy coupons, 26% visited price comparison sites, and 11% searched for online-only pharmacies to save on medications. Price isn't the only thing online prescription shoppers look for: Many use online tools to learn more about their prescriptions: 64% searched on Google, 46% used health/healthcare-focused sites, 17% searched through drug company sites, and 10% turned to social media platforms for more information about their prescriptions and over-the-counter medications. Many of these online shoppers, armed with more information, expressed a preference for generic medications as a lower-cost alternative.  
Since the pandemic bump for all pharmacies is waning as demand for vaccinations and tests dwindles, traditional pharmacies must provide robust online options. For example, partnering with a telehealth provider adds convenience and builds trust. Additionally, when paired with discount programs, price transparency tools, and seamless payment and delivery options, cost-conscious consumers will feel assured that they have received the best price. 
Click here to purchase this report directly from Insider Intelligence.