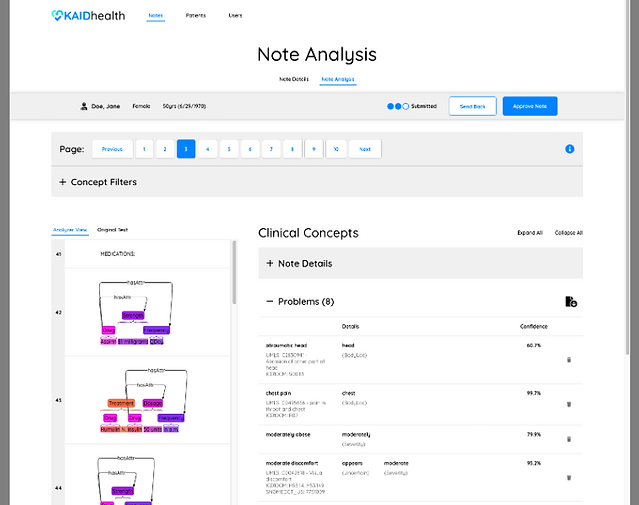 What You Should Know:
KAID Health,makers of anartificial intelligence-enabled clinical analysis and provider engagement platform,today announced its $4.25M in Series A funding bringing their total capital raised to $6.45M.
– The funding will fuel growth of the provider/payer platform that integrates with the electronic medical records (EMR) to identify high-value tactical care and coding interventions. The company will also expand its Boston, MA office and will hire new team members across a variety of job roles.
Driving Actionable, Profitable, Payer/Provider Collaboration
KAID Health allows providers to profit from delivering more informed coordinated care. Its natural language processing-centric Whole Chart Analysis solution integrates with the electronic medical record (EMR) to identify high-value tactical care and coding interventions. Its Whole Chart Analysis platform extracts all relevant data from EMRs, including structured data and text, using artificial intelligence and natural language processing. The solution identifies the patient care interventions needed for providers to achieve their clinical, financial, or operational objectives. In parallel, KAID Health extends to payers a comprehensive view of members' health by combining claims and EMR data.
The solution pushes identified gaps into the provider's workflow, making it easy for them to intervene appropriately. At the same time, the system can financially reward providers for their timely completion of assigned tasks.
Today, KAID Health's technology is used for a wide variety of use cases in an array of clinical settings. For example, KAID Health improves Medicare Advantage coding accuracy and completeness at a large multi-specialty group. The platform helps automate quality metric reporting for primary care providers. The same solution streamlines chart review for prior authorization and identifies pre-operative risk factors at a large academic medical center. KAID Health will bolster its market footprint among providers while furthering collaboration between providers and health plans, payers, and Accountable Care Organization partners.
"KAID Health is solving three fundamental problems facing providers and payers today. First, how to make clinicians more efficient. Second, how to translate that efficiency into more cost-effective care. And lastly, how to grow both provider and payer revenues to capture this newly created value," explained Kevin Agatstein, founder and CEO of KAID Health. "By finding the right intervention and simplifying how the work gets done, KAID Health saves clinicians time, reduces waste, and ensures all care is paid for appropriately. Built in conjunction with leading provider organizations, we have already created over 10 times the return on investment for our customers."