Several hospital telehealth vendors enjoyed great success in 2020 as they benefitted from unprecedented demand for their IT and services during the pandemic. But as lockdown restrictions were lifted and the strain on hospitals' in-house capacity across the ICU and other acute care wards eased into the second half of 2021, were the vendors able to maintain their growth? With full-year results from several of the leading hospital telehealth vendors now published, here's our take on the recently announced financial and business developments for these vendors.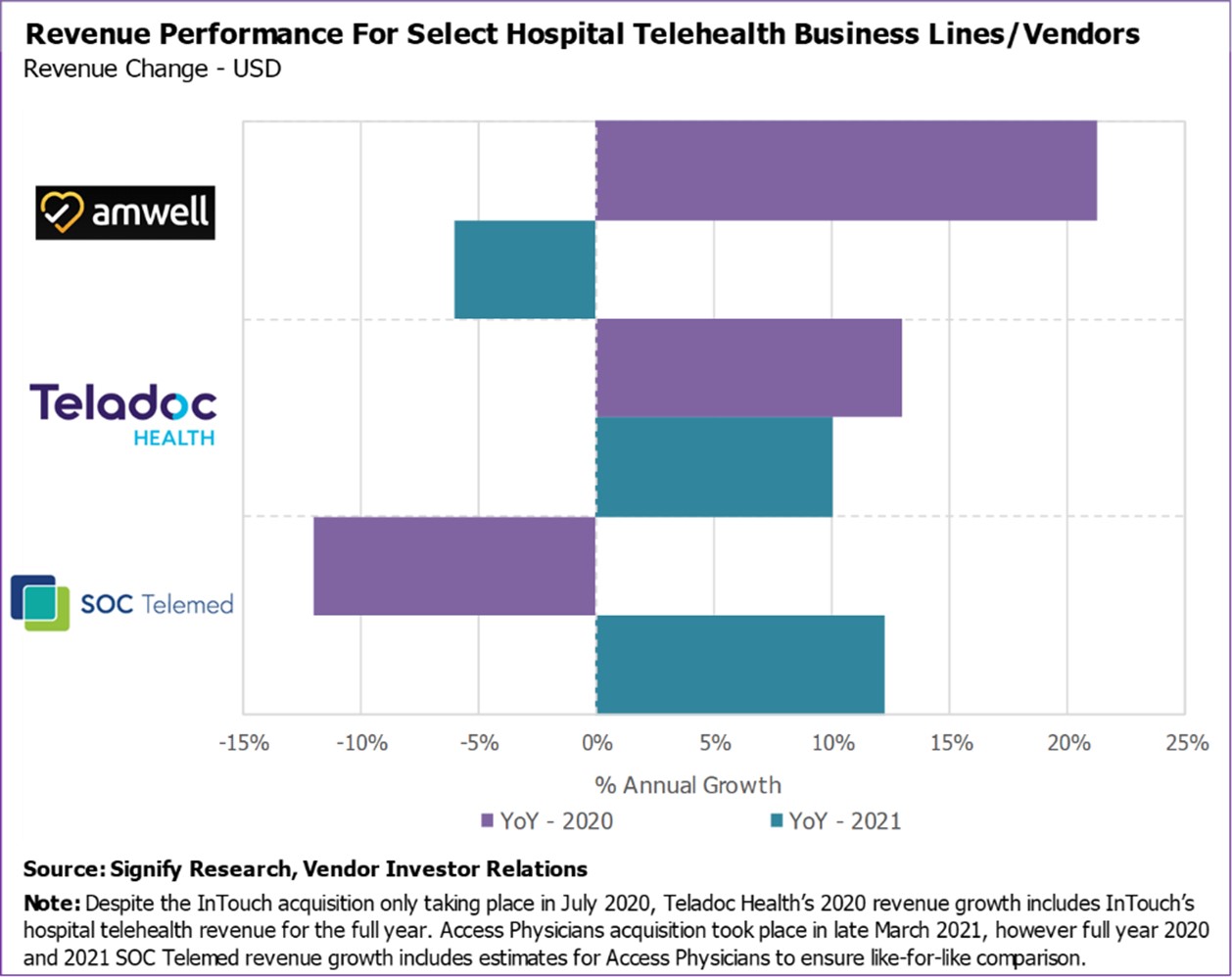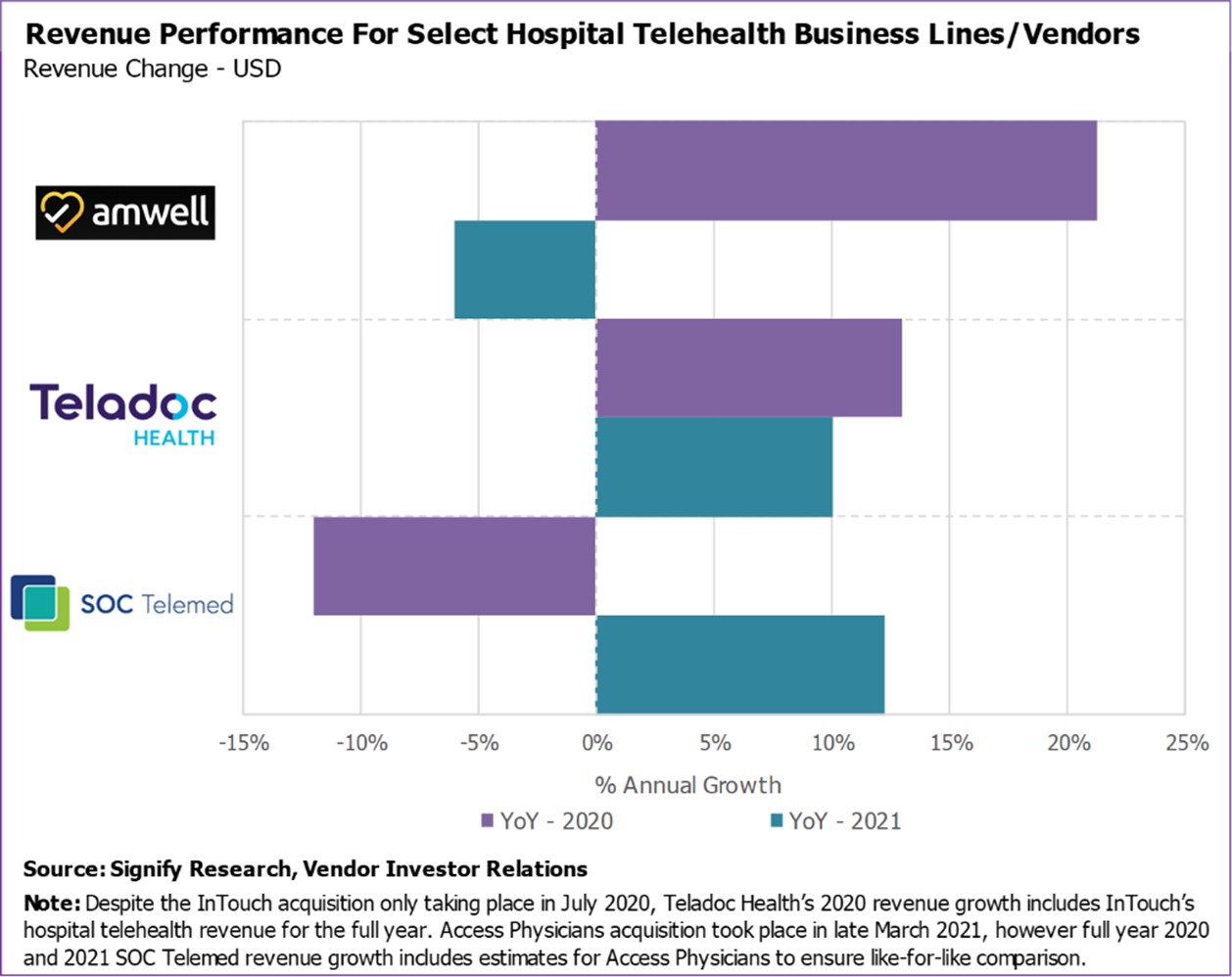 Amwell
Amwell has established itself as one of the leading telehealth providers globally. As the telehealth market matures towards enterprise-scale demand, it is essential that suppliers to the market evolve their offerings to address this, and Amwell has done this well via product development and acquisition. Since its strategic acquisition of Avizia in 2018, Amwell's rapidly expanded its customer base to providers using telehealth for inpatient and virtual clinic applications. Amwell's most recent acquisitions (July 2021) include SilverCloud Health, a digital mental health platform provider, and Conversa Health, a provider of automated virtual healthcare. By integrating these recent additions onto Amwell's platform, the vendor will be better placed to enhance its own behavioral health offering and scale its services across different settings.
Amwell's platform supports both telehealth consultations provided by its own physicians and those provided by its provider customers directly. The Avizia acquisition brought with it the Avizia One platform, targeted more at provider-to-provider telehealth, into its portfolio alongside customer endpoints such as its "Carepoint" carts and peripherals. The above platforms were superseded in April 2021 with the launch of Amwell's Converge platform, ensuring a single interface and extensive third-party vendor integration. Further, the Amwell Exchange allows its partners and customers to connect in order to provide additional support services. The integration of Avizia into its legacy platform means that its able to offer providers a complete enterprise-scale platform that can be used to address nearly all the potential telehealth needs of a provider. As of December 2021, 53 of its clients had deployed Converge, and the intention is to ramp up adoption in Q3 2022 to transition all existing clients by the first half of 2023.
Diving into Amwell's financials, the vendor reported growth in its overall telehealth business revenue of 65% in 2020 to USD $245m, although its 2021 revenues had largely flattened (+3%, USD $253m). To some extent, the lack of growth in its hospital telehealth business in 2021 reflects the performance of the overall business. Its Carepoint business, which includes revenues for its hardware and services to support provider-to-provider hospital telehealth consultations, rose by 21% to $USD 29.7m in 2020, driven by the increased sales volume of its hardware and consultations to support providers during the pandemic. However, it was unable to maintain growth during 2021 as revenues fell by 6% and consultations dropped to an estimated 1.1m volumes. Whilst a return to the annual growth rate achieved during 2020 is unlikely, it is anticipated that the Carepoint and services business, which represents approximately 10% of its overall company revenues, will continue to witness the growth and represent a relatively stable proportion of Amwell's business.
Teladoc Health
US-based Teladoc Health is a leading enterprise-scale provider of solutions across all telehealth settings. Via several acquisitions, it has expanded in terms of products offered and the vertical markets targeted. The USD $600m InTouch Health deal in July 2020 created a market-leading company with an offering that spanned most areas of telehealth, and also expanded Teladoc's international footprint significantly. The missing piece in Teladoc's portfolio was Remote Patient Monitoring (RPM), something it addressed with arguably its most significant deal to date, the USD $13.9bn acquisition of Livongo Health in October 2020. It is one of c. 50 vendors are profiled in Signify Research's new dedicated report on the RPM – World – 2022 market publishing this month.
In relation to hospital telehealth specifically, the InTouch acquisition has enabled Teladoc to build on the success the former achieved in serving US health systems in inpatient applications, particularly in the areas of emergent consultations (Clinical Examinations/Medical Support) and ongoing patient management (Tele-ICU/Clinical Surveillance). Despite the InTouch acquisition only taking place in July 2020, Teladoc Health's 2020 revenue and consultations in Signify Research's analysis below include InTouch's hospital telehealth revenue for the full year.
Within the hospital telehealth setting, Teladoc was the world's leading provider of Clinical Examinations and Medical Support IT (hardware, platform, IT services) in 2021 with an estimated revenue of c. USD $100m, up by around 10% versus 2020. It was also the largest provider of consultations, with 4.1m volumes reported in 2021, up by 4.2%. The slowdown in growth, illustrated in its quarterly platform enabled sessions (consultations) during 2021 was expected and proved hard to match, due to the tough comparable quarters in the previous year. However, as highlighted in the first graphic earlier in this insight, Teladoc was the only vendor to achieve revenue growth in consecutive years. As the effect of the pandemic fades further into 2022, Teladoc is well placed to build on its leading market position and will feel confident in sustainable growth.
SOC Telemed
The Physician Support Services segment of Signify Research's Hospital Telehealth analysis is led by SOC Telemed. The vendor had its origins in providing services addressing telehealth requirements in neurology. However, growth in recent years has accelerated via M&A activity, starting in August 2018 with the acquisition of JSA Health, a provider of behavioral health telehealth services. SOC's M&A strategy picked up pace during the pandemic, initially in October 2020 with the completion of its merger with Healthcare Merger Corp, allowing SOC to begin trading as a public company.
SOC enhanced its position as a leading provider of hospital telehealth with the acquisition of Access Physicians in March 2021, diversifying its service line offering from emergency to inpatient with the addition of seven service lines including cardiology, infectious disease, maternal-fetal medicine, nephrology, and endocrinology, and trebling the size of its employee network to 750+. The acquisition solidifies SOC's standing as the largest dedicated acute telehealth physician support service provider in the US.
Many leading hospital telehealth vendors reported positive financials in relation to their hospital telehealth business in 2020, however, SOC Telemed was one of the major anomalies due to its heavy reliance on generating revenues from its core business of physician support services (surgical/medical consultations represented 98% of SOC's overall revenue in 2019 – USD $66m). This suffered reduced utilization during 2020; consultation volumes fell by 21% and SOC's overall revenues dropped by 12% to USD $58m. However, it did experience rising demand for its Telemed IQ platform-only business during the pandemic, which doubled in absolute revenues to USD $2m in 2020, albeit from a small base.
Acquisition fuels the rebound
Whilst 2021 saw a return to growth in SOC's legacy consults (145,000, up by 12% Y-o-Y), this was still shy of pre-pandemic volumes (163,000 in 2019). However, factoring in consults contributed by Access Physicians, it generated an additional 110,000 volumes in 2021 (26th March -31st December), bringing the total figure to 255,000 since the acquisition. SOC's legacy annual 2021 revenue (USD $65m) was also just short of its pre-pandemic level, although once more the Access Physicians contribution (almost one-third of additional revenue) propelled the total figure to $94m (+63% Y-o-Y, although +12% adjusted to include like-for-like comparison).
Diving deeper into the financials, almost $100 was trimmed off the overall business' 2021 revenue per consult ($333) compared to SOC's legacy 2020 figure ($430). Access Physicians historically generated a much lower figure due to its wide service line mix and huge variation between the duration of each consult, so it's no huge surprise that SOC's new, broader portfolio and strategy pursuing cross-selling of services and new revenue streams resulted in a trade-off with its 2021 revenue per consult.
Valuation Reset
It's worth noting that SOC's market valuation has suffered significant turbulence since its October 2020 IPO (valuing the vendor at USD $720m); in early February 2022, its value had plummeted by 90%. Further, the public listing lasted just 18 months as SOC was acquired by Patient Square Capital in an all-cash transaction last month (April 2022), valuing the business at USD $304m. However, SOC's not alone in experiencing a plunge since its initial IPO valuation; Teladoc and Amwell are just some other high-profile examples of digital health vendors experiencing a striking contrast in fortunes between the beginning of 2021 and 2022. High values driven by strong revenues during the height of the pandemic have been offset by factors such as constant losses and missed targets. Further, outside of the vendors' control are huge global economic uncertainties caused by interest rate hikes – particularly problematic for Teladoc and Amwell as they remain unprofitable and will likely face increased borrowing costs – and Russia's assault on Ukraine, badly damaging investor sentiment and contributing towards a mass-market sell-off in recent months.
Market Optimism Remains
Nevertheless, with a 2020-2025 CAGR of 14% and 16% respectively projected across the Tele-ICU/Clinical Surveillance and Clinical Examinations/Medical Support market revenues, the outlook looks promising. There are many reasons for vendors to remain optimistic in relation to the hospital telehealth market development, as previously highlighted in a complimentary sample of the Hospital Telehealth – World – 2022 report, and summarised below.
---
About Arun Gill, Senior Analyst at Signify Research
Arun Gil is a Senior Market Analyst at Signify Research, a UK-based market research firm focusing on health IT, digital health, and medical imaging. Arun joined Signify Research in 2019 as part of the Digital Health team focusing on EHR/EMR, integrated care technology, and telehealth. He brings with him 10 years of experience as a Senior Market Analyst covering the consumer tech and imaging industry with Futuresource Consulting and NetGrowth Consultants.