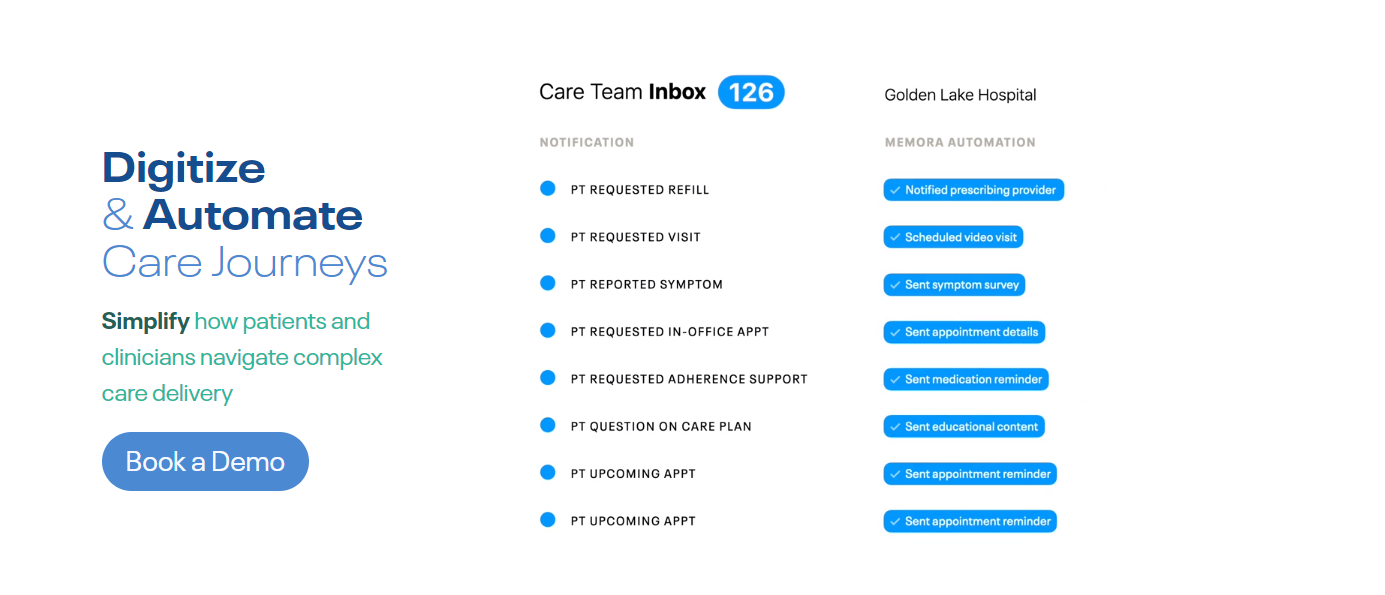 What You Should Know:
– Memora Health, a San Francisco, CA-based technology platform for virtual care delivery and complex care management, today announced the completion of a $40 million financing led by Transformation Capital with participation from Andreessen Horowitz, Frist Cressey Ventures, Edward Elmhurst Health, AlleyCorp, and others. As part of the financing, Todd Cozzens, Managing Partner at Transformation Capital, will join Memora's board.
– Memora continues to rapidly grow with key healthcare organizations, having brought on leading health systems, health plans, life science companies, and digital health companies as customers over the last several years.
Digitize & Automate Care Journeys
Healthcare delivery faces an identity crisis evidenced by the long tail of the pandemic: administrative inefficiencies, the shift to value-based care, and consumerization of the patient experience have made it critical for healthcare organizations to modernize how they deliver care and reach patients. With U.S. health care spending on a trajectory to exceed $6 trillion by 2028, there is a critical need to transform the crux of how care teams manage their patients outside the walls of the clinic and help patients navigate their healthcare.
Founded in 2017, Memora supports healthcare organizations in extending care beyond the four walls of the clinic by digitizing and automating complex care workflows. The company's platform integrates seamlessly into EHRs, CRMs, and existing clinical and administrative workflows – training artificial intelligence technology on the massive amount of clinical data that is generated in the course of routine care in various clinical settings. Memora's platform supercharges care teams by intelligently triaging patient-reported concerns and data to appropriate care team members and providing patients with proactive, anticipatory communication on their care journeys.
Memora has digitized clinical workflows in partnership with several leading healthcare organizations, including the Mayo Clinic, Edward Elmhurst Health, and Penn Medicine, powering complex care workflows ranging from automated closing of care gaps to intelligent remote monitoring to proactive care coordination.
"Our vision is to make care more actionable, accessible and always-on. To do that, we need to unburden the care teams and connect the entire clinical workflow in a way that simplifies complex care for both patients and clinicians," said Manav Sevak, co-founder and CEO at Memora Health. "We're building technology that meets patients where they are in their health journey, and empowers clinicians to spend less time on screens and more time being the super humans they were trained to be."