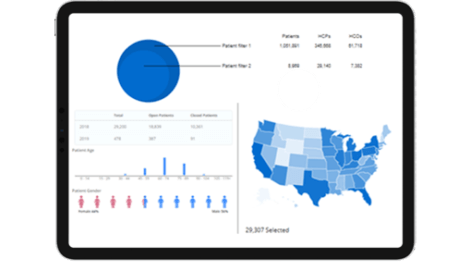 What You Should Know:
– Today, Komodo Health is capping off a month-long flurry of activity by announcing the launch of its Prism and Sentinel solutions — opening up access to its Healthcare Map to drive the next generation of AI innovation. 
– Prism and Sentinel allows life sciences teams to tap into detailed patient behaviors and treatment patterns based on the real-world patient journeys of more than 325 million patients. The breakthrough software also allows life sciences teams to create new algorithms and machine learning applications in one simple application that allows them to pair their own, proprietary data with Komodo's real-world patient data and analytics.
Built on Komodo's First-of-Its-Kind Healthcare Map
The foundation of the Prism and Sentinel platform is Komodo's Healthcare Map. The industry's largest and most complete record of de-identified, real-world patient insights, the Healthcare Map uses artificial intelligence and advanced data analytics to track encounters with the U.S. healthcare system for over 325 million patients. Drawing from across the healthcare system, Komodo's Healthcare Map is the only system of insight of its kind to provide a longitudinal view of the patient journey at scale. By combining Prism and Sentinel with Aperture, Pulse, and Iris, Komodo has created a breakthrough enterprise workflow suite that delivers the most accurate, timely, and patient-driven insights available today.
Adoption
The software has already been used by more than 30 Komodo Health clients, including large and small life sciences companies and consultancies. Use cases have included commercial strategy, market engagement, clinical development, and health economics and outcomes research for therapeutic areas ranging from ultra-rare diseases to oncology and COVID-19 vaccines.