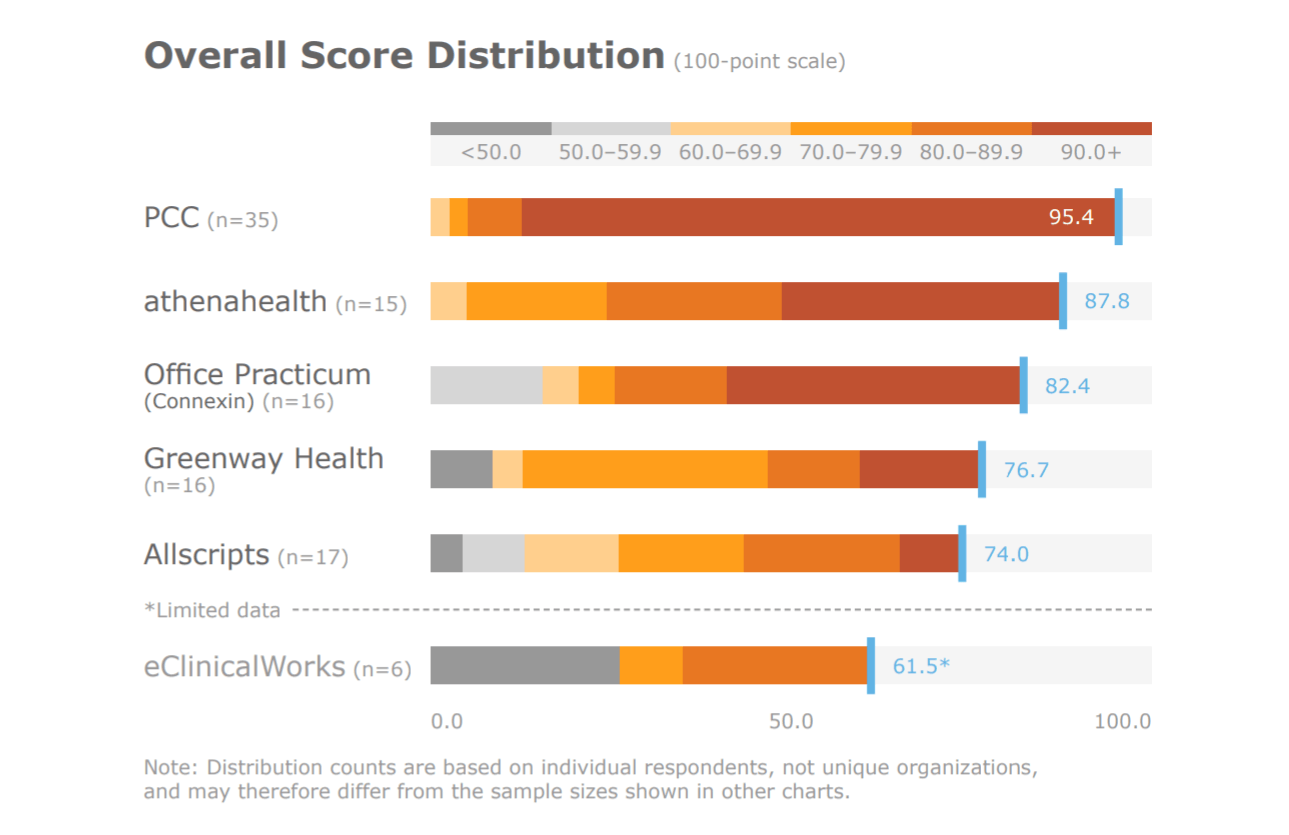 What You Should Know:
– According to a recent KLAS report, Allscripts and eClinicalWorks EMRs are not a good fit for pediatric practices, while Greenway Intergy is improving.
– PCC, athenahealth, and Office Practicum EMRs named best suited for pediatric offices.
---
Despite their unique needs, many ambulatory pediatric offices are expected to "make do" with generalized EMR templates and charting. From growth charts, to well-child visits, to immunization tracking, to registry integration, pediatric offices often find their EMR doesn't meet their needs. KLAS' latest report, "Pediatric Ambulatory EMR 2020: Best EMR Performers in Pediatric Settings" examines which EMR vendors best ensure pediatric provider success by providing an outstanding EMR and tailored service. Note that this report is focused on ambulatory-focused vendors, including pediatric-specific EMR vendors.
Allscripts and eClinicalWorks EMRs Not a Good Fit for Pediatric Practices; Greenway Intergy Making Improvements
While Allscripts' EMR is highly customizable and can be tailored for use in pediatric settings, customers report that in order to make the solution work for their needs, KLAS reports customers have to dedicate large investments of time and resources (e.g., hire an IT team to run and customize the EMR) for customization/optimizations. These investments are not always communicated to pediatric practices during the sales process, leading to mixed results and expectations around Allscripts' pediatric functionality. In addition, customers cited issues with Allscripts' support is often subpar or nonexistent.
Although KLAS conducted a limited number of interviews with eClinicalWorks customers, they cited a negative view of the EMR's quality, saying it does not meet the needs of pediatric practices and does not come with necessary pediatric-specific content or workflows. Multiple respondents also complain about bugs, crashes, and problematic upgrades that introduce new problems without bringing substantive fixes. Historically, Greenway Health customers have felt the solution falls short in aspects like ease of use and needed functionality; however, a number of interviewed customers feel the vendor is making more of an effort to listen to customers' problems and deliver requested pediatric-specific functionalities.
PCC, athenahealth, and Office Practicum EMRs Best Suited for Pediatrics
KLAS reports PCC (one of two pediatric-specific vendors in this report) stands out with the highest overall score and the most consistent customer satisfaction. They have a proven history of and reputation for supporting customers and delivering the pediatric-specific technology needed to successfully run an ambulatory pediatric practice.
KLAS reported athenahealth's EMR also performs well in pediatric settings; more than 90% of pediatric customers are satisfied with the solution and its pediatric specific functionality. Additionally, customers of Office Practicum (the other pediatric-specific EMR vendor) are generally satisfied with the functionality they receive and feel it helps make their practices successful. Recent issues with nickel-and-diming and buggy updates have caused some frustration for a number of interviewed customers.
For more information about the KLAS report, visit https://klasresearch.com/report/pediatric-ambulatory-emr-2020/1378