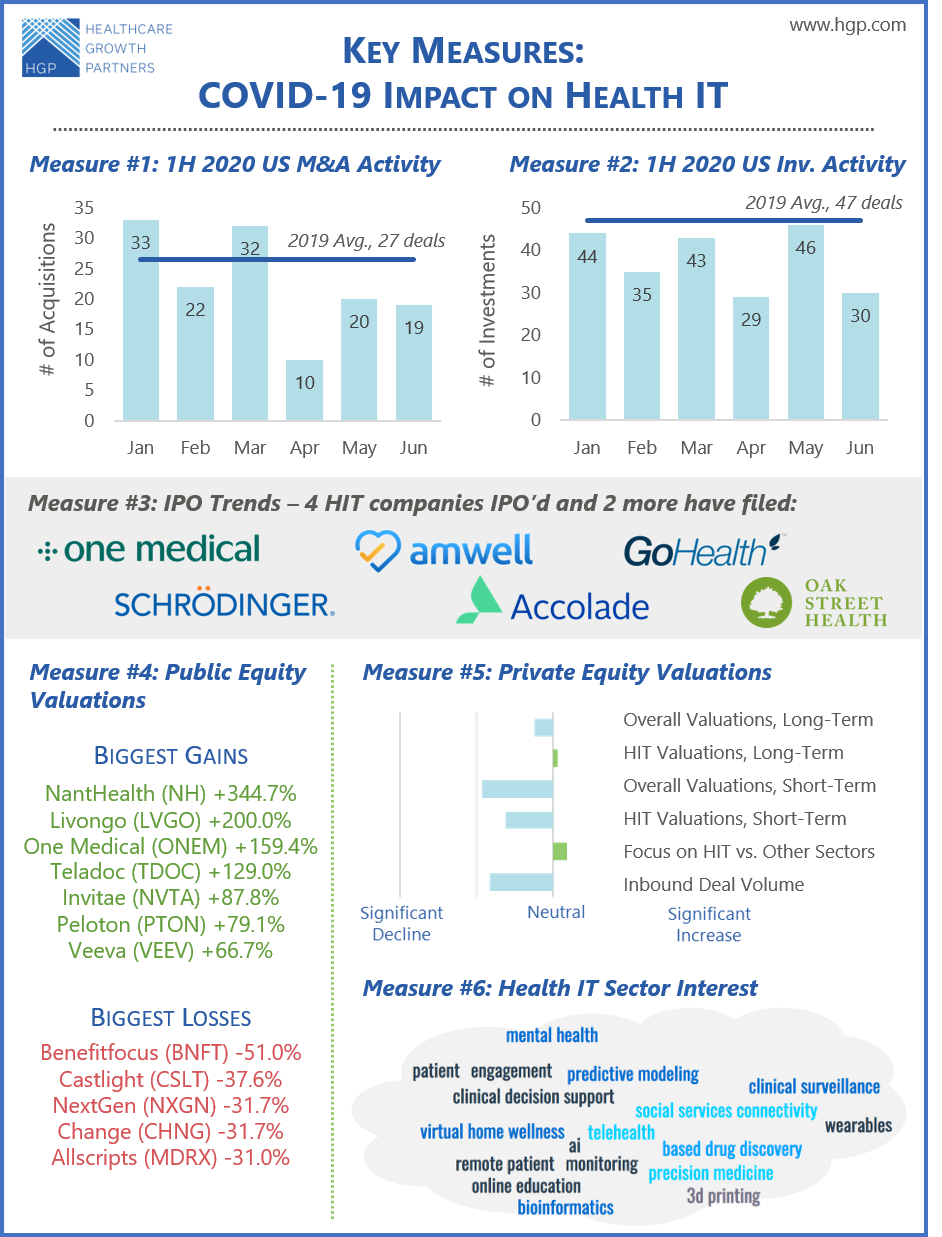 Healthcare Growth Partners, an Investment Banking and Strategic Advisory firm exclusively focused on the transformational health IT market, today announced the release of its Semi-Annual Health IT Market Review report that summarizes M&A and private equity activity across health IT, health information services, and digital health.
Report Background/Methodology
This edition of the report includes feedback from our survey of private equity professionals and their response to COVID-19, as well as an overview of trends seen in the first half of 2020 including COVID-19's slowdown of the financial markets, digital health IPOs, investment activity, and mergers and acquisitions. The report leverages the Healthcare Growth Partners database to evaluate M&A and investment trends, valuation multiples, and capital markets activity across the health IT, health information services, and digital health sectors.

The Semi-Annual Report includes the following:
– Overview of COVID-19's Impact on Health IT M&A and Investment Trends
– Results from HGP's Private Equity Survey Covering COVID-19 and Health IT Investing
– Health IT Market Analysis
– Health IT M&A and Investment Activity
– Health IT Valuation Trends
– Macroeconomic Trends
Key Findings
Here are six key findings from the health IT semi-annual market report:
1. 1H 2020 US M&A Activity: M&A saw a sharp decline in April followed by a tentative recovery in May and June. The universe of strategics bifurcated between passive and active acquirers, contracting the field of buyers. Due to the liquidity crunch and uncertainties about the reopening of the economy, it is likely M&A activity will remain stunted through the rest of 2020.
2. 1H 2020 US Investment Activity: activity is down across most health IT investment themes because of COVID-19. This is in part due to a contracting deal pipeline as well as overall risk-aversion. The primary exception is the remote delivery of care, which swiftly gained interest as a result of CV-19. Deal pipeline activity appeared to be returning in late Q2, indicating a stronger 2H.
3. IPO Trends: The surge in health IT IPOs that started in 2019 continued into 2020, with 4 companies completing their IPO, and another 2 hoping to capitalize on the market's rebound in 2H 2020. Strong public valuations are enticing new offers.  
4. Public Equity Valuations: Companies that facilitate the remote delivery of care saw significant rises in value, while those susceptible to a replacement market or the recent downturn in case volume saw value decline. As evident by the NASDAQ, tech valuations are at record highs.
5. Private Equity Valuations: Over the short-term, investors were slightly bearish on valuation and deal flow, but seem to expect that health IT may be more resilient than the overall market in the long-term with both valuations and interest expected to rise over time.
6. Health IT Sector Interest: Patient-facing solutions have gained interest in the COVID-19 era as well as those leveraging data, including AI to enhance outcomes and the delivery of care. Sectors directly impacted by the reduction in procedures, such as RCM faced near-term challenges.
For more information, the full report is available for download here.