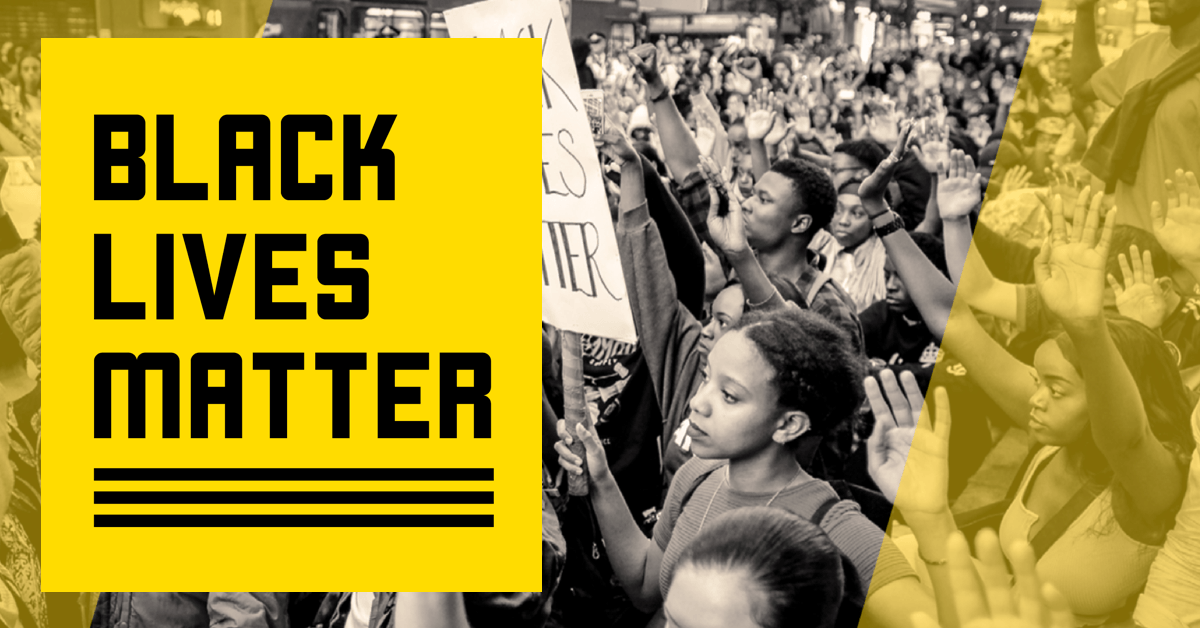 All lives truly matter. However, the world does not exist in a vacuum void of institutional racism, subconscious, and implicit bias. As a result, every life within America is not valued the same, as is evident by the recent George Floyd murder. When all lives are not treated with the same opportunities and respect, whether in matters of criminal justice, employment, housing, education, health, and healthcare evidence shows the result is that only some lives actually matter. One cannot change the evidence and facts surrounding the existence of inequity merely to appease the unweakened mind of individuals who simply chose [not] to self-awaken intellectually. 
As a result, within America, all lives haven't mattered. Today, those lives, which happen to not be treated the same within the aforementioned systems, happen to be the lives of black and brown skin human beings. Hence the distinction "Black Lives Matter." When the whole of something is missing a part of itself it may no longer be considered whole, or, "All."
Health Information Technology 
The goal of health IT, in part, is to monitor data input, process it, and along with data output so that systems may adjust themselves to meet goals of an individual, group, organization, system, and as much as a nation and manner by which it may govern for the betterment of all of its people. If health and healthcare inequity, which may further exacerbate and provoke racial tensions, is to realize a paradigm shift then those providing healthcare must be first enabled to ensure sustainable change from the inside outward. Implicit or unconscious bias, which may lead to health and healthcare inequity, is not a switch that an individual may readily turn off or on-on demand. For the healthcare provider, inadvertent bias occurs at the subconscious level without warning as with all human beings. 
To say I do not see color or race and am therefore not bias is a false construct. Nonetheless, in the case of the US healthcare systems (Urban, Rural, Native American, Veteran) and their healthcare professional's bias leads to health disparity and healthcare inequity, i.e., unacceptable variances in rates of mortality and morbidity between black and brown skin populations vs. white, or, European American populations. 
While disparity within US healthcare looms and has festered among most diseases, such as diabetes, various cancers, heart disease, obesity, liver disease, Alzheimer's, asthma, etc., it is only recently in the wake of the COVID-19 pandemic in America that society at large has begun to open its eyes and see firsthand that which has been veiled by denial and ignorance for far too long.  Toxic environment (unaddressed social determinants of health) exposure may alter human genetic expression, slowly, over time occurring at the human cellular biomarker level before presenting as obvious or exacerbated chronic disease.
 As a result, notwithstanding health interventions such as traditional annual physical exams, or, in the case of untimely emergency room visits, health screening that is well-intended falls short often leading to premature hospital discharge. From a population health and individual health perspective, this may be devastating and leads to catastrophic public health costs and implications. 
Health IT's Missed Opportunity
Inadvertent shortcomings of healthcare and healthcare policy are not the clinician or hospital administration team's fault. There is an unwritten belief among Payer Organizations not to boil the ocean of individual and population health. Meaning healthcare should not look too deeply into the health of an individual given the potential implications such a clinical approach may have on the total cost of care. In the wake of pre-existing conditions and their effect on COVID-19 patient outcomes, is it now safe to say avoiding boiling the ocean of population health is what has got us here? 
Is refusing to boil the ocean of health a [self-serving] false construct?
May this mindset be linked to lead to the unimaginable biblical proportion of disparity in COVID-19 mortality and morbidity of white vs. black and brown-skinned Americans? Had the proverbial ocean of individual and population health been boiled generations or decades before the outbreak of COVID-19 the underlying conditions of health may have been far less prevalent and less of an influence on COVID-19 patient outcomes among black and brown-skinned Americans? Healthcare providers (payers), in effect, may have markedly mitigated the economic burden of healthcare inequity and catastrophic outcomes we have witnessed within the US. 
To this profound end, imagine how much preventative disease and disease management data was missed by not boiling the ocean? It is imperative that at each point of patient care the physician-patient encounter is better positioned to result in more meaningful standards of good health and wellness. The inherent limitations of US healthcare policy, traditional physician-patient physical exams, and screenings, and, as much as the telemedicine physician-patient physical exam leaves the population health of America wanting and our nation vulnerable? Health IT  may literally transform healthcare delivery.
Mitigating Inequity With Health IT
An overview of health IT utilization among healthcare providers notes certain characteristics that may disproportionately affect minority populations (and their health outcomes):
– Current and emerging health IT use among racial and ethnic minority populations
– Need for social media applications in healthcare education and delivery structured for minority populations. 
– Removal of technology barriers for providers 
– Create specific opportunities to address healthcare disparities through health IT use at the provider, patient/caregiver, and healthcare system levels.
Health IT companies are uniquely positioned to transform health, healthcare, and healthcare delivery. Artificial intelligence is arguably the game-changer. Through artificial intelligence, i.e., health IT, quantitative objective real-time digital data may be harnessed. And with it, the healthcare provider may finally possess and control the switch that may turn implicit bias off on demand. However, the onus is on health IT companies to create such solutions and educate their consumers (clinicians and healthcare industry) on how health IT may enable prolific health parity within US healthcare. 
Health IT Diversity And Inclusion
There is a very short list of health IT companies currently walking the talk of diversity and inclusion with intention. Their leadership and culture, from the top down, resemble the kind of tapestry of diversity desperately needed to sever antiquated systems governed by dated norms and mores whose only truth is to sustain status quo, the illusion of their self-preservation, and illusions of their so-called social progress. Why is it that such a socially conscientious HIT company structure and commitment is so important?
Without proper perspective at the top of corporations that may only be garnered from a racially diverse perspective, no matter how educated a CEO, COO, Research and Development Executive, or Sr. Human Resource Executive is they would remain profoundly limited by their own social filters, which have governed, influenced, and shaped their privileged existence. As a result, their health IT end product may not speak to radical change but rather more of the same status quo only packaged in a different box. 
The cornerstone of health IT and all companies committed to the auspices of "we are all in this together" is robust diversity and inclusion. This does not mean one should merely in name only raise a banner of fake love in an attempt to appease and quell the flames of demand for justice. It must be something far and away more meaningful, substantive, and sustainable. Meaning it must be a conscientious substantial weighted investment of resources dedicated to addressing inequity and lack of diversity, and not from the fringes of margins but rather an uncomfortable portion of corporate earnings.  Accordingly, the health IT industry must own their transformation. 
In a final analysis; according to the CDC "Reducing disparities requires national leadership to engage a diverse array of stakeholders; facilitate coordination and alignment among federal departments, agencies, offices, and nonfederal partners; champion the implementation of effective policies and programs; and ensure accountability. U.S. healthcare policy and healthcare delivery philosophy that prevents and discourages "boiling the ocean" of individual and population health may have proven to be the very origins of health & healthcare inequities and that of "underlying conditions" of individual and population health, which plague US healthcare and communities of black and brown-skinned human beings.
The only optical device that blinds the clinician, policymaker, and provider to race and color is called objective quantitative data. It may be harnessed, and shaped by health IT created and delivered through the lens of diversity and inclusion. This is the untapped potential of health IT. So, health IT industry, where are you?
---
About JohnMatthew Douglas 
JohnMatthew Douglas is the President and Founder of iPressForward LLC and has over 20 years of diverse US healthcare sector experience. During the span of his healthcare career, JohnMatthew has evolved to more greatly serve the community, population, and public health, most notably Social Determinants of Health. JohnMatthew's passion to serve community and US healthcare delivery fuels his tireless career commitment.
In recent years under the company name iPressForward, LLC Doughlas has consulted venture capital investment firms, marketing agencies, and global startups sharing his passion, wisdom, and subject matter expertise understanding of social determinants of health, healthcare group purchasing, community health, and US healthcare delivery and systems.