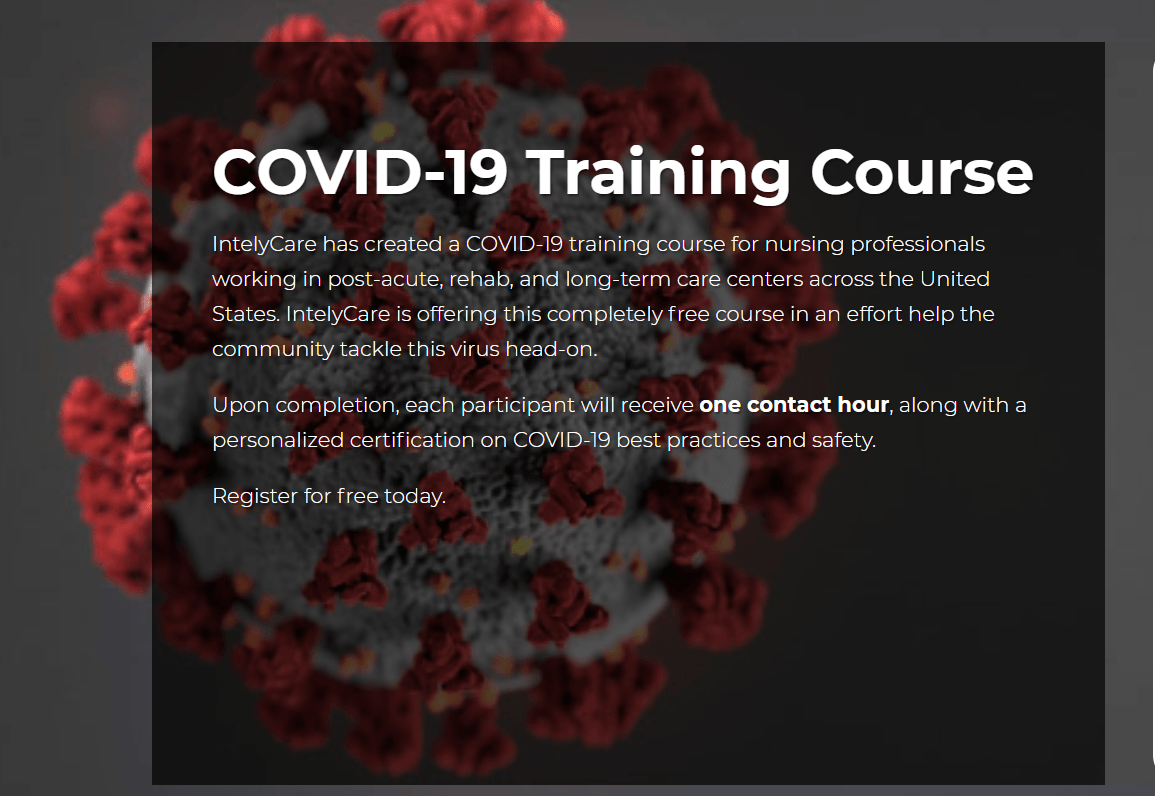 What You Need to Know:
– Nurse staffing technology provider IntelyCare is launching free COVID-19 training certification for nursing professionals.
– The free, web-based version of the training to all nurses in the U.S., and requiring its nursing employees to complete the COVID-19 Best Practices Course in the IntelyCare app before taking shifts.
---
In response to the global COVID-19 pandemic, IntelyCare, a leading intelligent workforce management solution for post-acute facilities, is launching the first training certification program specific to nursing facilities. The training will update nursing professionals on COVID-19 prevention and treatment practices in order to maintain the health of nurses and patients during the outbreak.
COVID-19 Impact on Nurses: Most Nurses Willing to Work, Need Training and Support
The coronavirus outbreak is placing intense strain on the already-taxed healthcare industry, exacerbating the existing workforce shortage which, before the virus, was expected to reach a dearth of 1M nurses by 2030. IntelyCare conducted a broad survey of its nurses to gather feedback, determine the biggest needs, and project the potential impact of the virus on the workforce. It found:
– 74% of nursing professionals are still willing to work
– 55% of nurses want to limit exposure to multiple facilities and want to know if a facility is infected
– 26% of nurses would consider reducing or stopping work to avoid infection
Surveyed nurses reported wanting more transparency surrounding outbreaks, training, infection control questionnaires, and other communication via IntelyCare's app or text/email. They also prioritized hand sanitizers, masks, and hazard pay. Nursing facilities' biggest needs were knowing if nurses are safe to work and trained to treat and prevent the spread of COVID-19, or if any nurse has been infected.
"As we monitored the spread of coronavirus, it rapidly became clear that nursing homes are ground zero and healthcare workers are at high risk of infection. We recognized an immediate need among our facility partners and nurses for training specifically designed for these vulnerable communities," said David Coppins, Co-Founder and Chief Executive Officer, IntelyCare. "By offering training courses free of cost to our nursing employees and the larger nursing community, we are ensuring that nurses and facilities are better protected, informed and equipped to care for patients in this unprecedented time."
Using the IntelyCare Platform to Flatten the Infection Curve
IntelyCare will require that all nursing employees complete the COVID-19 Best Practices Course in the IntelyCare app before taking shifts. The company will also offer a free, web-based version of the training to all nursing professionals in the U.S., meeting a wider demand for corona-specific educational tools and support. All nurses that take the training, whether employees of IntelyCare or not, will receive continuing education credit of one contact hour.
The company has launched an additional prevention protocol for its network of facilities and nurses, leveraging its app to share real-time updates as well as to track and mitigate infections. By enacting this comprehensive training and response plan, IntelyCare is taking critical steps to ensure healthcare gig workers don't promote the spread of infections across facilities.
"We are seeing unprecedented demand on our platform and app from nursing facilities and nurses, all looking for support in dealing with coronavirus," said Chris Caulfield RN, NP-C, Co-Founder and Chief Nursing Officer, IntelyCare. "We have enacted protocol to immediately notify our nurses if they have worked at an infected facility, and we're requiring nurses to take a symptom survey to ensure they are asymptomatic. We are also alerting facilities if any nurses have direct contact with an infected patient, utilizing a 14-day lookback to project potential spread. By moving swiftly and using our app to prepare our network, we hope to not only slow the disease spread but to share our best practices with other nurses and facilities to flatten the curve on a wide scale."
To access IntelyCare's free, a web-based training course for nursing professionals dealing with the coronavirus outbreak, visit http://intelycare.com/covid19training.