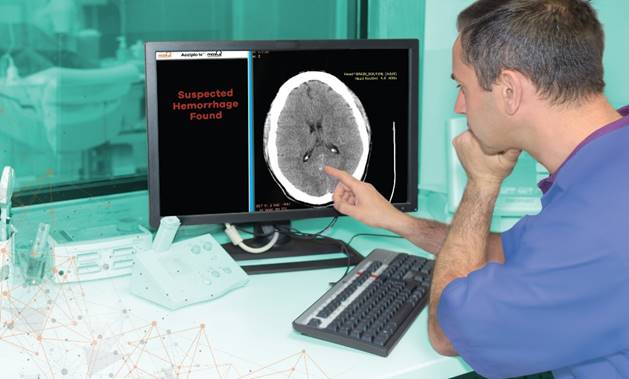 – As the digital pathology market grows, facilities that rely on digital pathology will start using artificial intelligence (AI) to assist. AI could help health professionals cope with the gigantic quantities of data
– Discover why healthcare facilities increasingly realize that AI could help achieve significant impacts with digital pathology.
Thanks to approvals from the Food and Drug Administration (FDA) for applications such as primary disease diagnosis, digital pathology is rapidly becoming the new standard of care.
However, this advancement creates challenges that artificial intelligence could help solve.
The State of Digital Pathology
Digital pathology enables capturing pathology information, such as whole slide images (WSI), and working with it digitally using a specialized scanner. Acquiring, studying and managing data in this way allows sharing between parties on a computer or mobile device. 
According to experts, the global digital pathology market was worth $689.2 million in 2018. It's also expected to grow at a rate of 11.7% each year between 2018 and 2026. 
Why Does Digital Pathology Need Artificial Intelligence?
As the digital pathology market grows, facilities that rely on digital pathology will start using artificial intelligence (AI) to assist. AI could help health professionals cope with the gigantic quantities of data that digital pathology images create. 
"The shift from traditional patient care to digital pathology continues beyond virtual microscopy, or even radiology PACS (picture archiving and communication system) solutions," says David Dimond, Chief Innovation Officer Global Healthcare & Life Sciences at Dell Technologies. "This entails very specialized technology solutions that pull information from a wide range of disparate healthcare and research databases – inside and outside individual facilities. The pathology workflow and patient experience is very different as the pathology patient gives biomaterial which is more than just an image as leveraged in radiology."
"For example," he says, "due to the pure volume in size of slides leveraged in digital pathology (2-3GB per image), they must be processed using an updated digital workflow, which requires unprecedented scale. The slides are then scanned and imported into a software program, which uses machine learning to spot subtle patterns and provide detailed information to the pathologist."
"This convergence of advanced imaging, automation, and powerful analytics like natural language processing (NLP), machine learning, and artificial intelligence (AI) in healthcare and life sciences organizations are bringing together the tools needed for scientists and clinicians to unlock medical breakthroughs at a pace like never before," says Dimond.
He continues: "Determining how to integrate AI technology into workflows is a first step to change how pathologists work on a day-to-day basis – and many organizations are implementing the traditional and digital workflows in parallel in order to optimize the benefits of modernizing their pathology departments."
How Does Digital Pathology Affect Patient Care?
Digital pathology could potentially improve the quality and speed of patient care forever. One of the benefits is a pathologist can look at a whole slide at once, then choose to zoom in on areas of interest. In contrast, a conventional microscope does not allow for looking at an entire tissue sample. Such fragmented views can cause even the most experienced pathologists to miss things. 
Moreover, digital pathology allows looking at several images side by side. This option could be particularly useful when looking at multiple pictures of tumors over time, for example. These benefits transfer to patients by helping them receive the correct diagnoses sooner. Also, since digital pathology facilitates information sharing, it's easier for clinicians to get other opinions from colleagues. 
"The application of AI to digital pathology can serve as a supplementary analysis or a validation tool in imaging analytics for pathologists and help process more slides in a shorter duration," says Dimond. "By implementing digital pathology, pathologists can be more easily guided to specific regions of interest through algorithms and other advanced analytics like AI which cannot be performed on a physical specimen."
"AI in digital pathology also has the potential to radically change the patient experience – with apps and mobile devices giving them direct access to everything from their electronic health records (EHR) to their radiology images," he says. "However, AI in digital pathology is enabling an even greater and profound impact on the patient experience. New capabilities enabled by AI and emerging technologies is allowing patients to be much more engaged with their treatment. From the moment the patient comes in for a diagnostic test, the goal should be to remove as much subjectivity from the process as possible. AI offers the ability to present computational guidance and analysis and contextualize their digital pathology data with references to genomics and other population-based health data."
Five Reasons AI and Digital Pathology Are an Effective Combination
Discover why healthcare facilities increasingly realize that AI could help achieve significant impacts with digital pathology.
1. More Personalized Treatments
Evidence suggests that AI, along with digital pathology and the other resources available to physicians could lead to more patient-centric treatments.
For example, one challenge for oncologists is that there are more than 120 types of cancer and related hereditary syndromes. A single kind of cancer can also have hundreds of possible diagnoses.
AI and digital pathology help health professionals make more informed conclusions about patients. AI can analyze data quickly, meaning treatment can begin sooner.
2. Improved Efficiency
Electronic health records (EHR) are arguably among the top developments in recent years, bringing about better patient care and more convenience for physicians. EHR platforms allow healthcare professionals to engage in real-time sharing of information. 
Efficiency is also something AI provides when applied to digital pathology. The technology is so powerful that it can provide results substantially faster than humans. Moreover, AI can help with tasks, such as diagnosing common kinds of cancer or triaging biopsies. 
3. Positive Changes to Workflows
Google recently developed an AI algorithm called LYmph Node Assistant (LYNA) that's drawing attention from people who work in digital pathology. The company reported that it could successfully detect metastatic breast cancer on slides 99% of the time. 
Pathologists who used LYNA reported that it gave time-saving benefits during tasks. For example, when analyzing small metastases, professionals say they cut their average slide review time in half. This advantage means pathologists can spend more of their workdays on challenging tasks, letting AI take care of the labor-intensive ones. 
4. More Accessible Technology 
An AI algorithm is only as good as the training data used to teach it. Some healthcare facilities may believe they can't invest in AI and digital pathology due to the amount of time it'll take to see results. Researchers at the University of Queensland hope to change that perception. 
They developed an AI training system that allows running several graphical processing units in parallel. This method reportedly makes AI pathology training hundreds of times faster than previous techniques.
5. More Time Devoted to Cases
Many pathology departments are understaffed, and, as mentioned earlier, the vast amount of data generated could exacerbate the problem. In one report, physicians claim the majority of biopsies they see are normal. They'd prefer to spend more time addressing abnormal cases. 
One American gastrointestinal pathologist said more than half of the biopsies from endoscopic procedures he saw were problem-free. AI learns what's normal and can flag the cases pathologists need to investigate further. 
What Challenges Exist?
Despite the benefits, many facilities are unable to use digital pathology and AI. Outdated IT infrastructures often pose problems, and modernization is costly.
Dimond says that "[a]lthough the adoption of AI to digital pathology varies for each healthcare organization, key challenges include:
·       Storage space limitations: Large image file size requires significant storage space (3GB per slide scan). Unstructured data have specific hardware and software requirements – overlaying these large image archives with machine learning and AI allows for predictive analytics.
·       Network latency: In order for AI solutions to be responsive enough, it needs to assimilate significant data quickly – requiring low latency access to images. However, these algorithms need to access data that exists in multiple clouds.
·       High performance compute Rapid data processing, indexing and analysis needed.
·       Lack of interoperability: Digital pathology information needs to be integrated in the EHR record."
Additionally, AI applied to this field is still relatively new. The platforms pathologists rely on must be user-friendly and trustworthy enough to spur adoption. 
AI and Digital Pathology — The Road Ahead
"The cost of precise genetic testing will continue to decrease over time," Dimond points out. "As a result, more patients will have access to precision medicine solutions such as digital pathology. This trend, combined with the ongoing increase in patient empowerment, will mean that patients will want more control over all their healthcare data. Just like they have access to their radiology images today, patients will want access to their digital pathology images in the future – and not just on a CD, but on their mobile device. Also, patients will begin to want this data to be portable and readily accessible to avoid additional tests and biopsies when going to different specialists."
"In parallel," he says "we see that AI in digital pathology will result in the democratization of pathology. By 2020, some patients may not have to meet with a specialist for an initial diagnosis. Patients can potentially add their images in an app and then you run an algorithm against your own images in the cloud for an initial diagnosis – allowing patients to provide electronic health records and consumer-grade genomic analysis to 'pre-stage' their own disease."
The obstacles above won't get solved quickly, and more barriers will likely arise as adoption grows.
However, when healthcare centers recognize the advantages of digital pathology and AI and work through temporary difficulties, they reap benefits for patients and medical professionals alike.